9. London Regenerating Areas for Property Investment
08-16-2004
The tabulation shown was prepared PropertyInvesting.Net to help property investors - it provides a summary of many of the key investment areas within East and South-East London which are likely to be positively impacted by the following new infra-structure developments in the next ten years:
South London Line tube extension via New Cross, Brockley and Peckham (2010)
East London Olympic bid (2005, if successful 2012 based in Stratford)
Dockland Light Railway extension to Woolwich (2008)
Thames Gateway Bridge near Thamesmead (2012)
Tube extension to Hackney (2010)
Crossrail - Stratford to Heathrow (2014)
Eurostar International Station at Stratford (2007)
City airport expansion (ongoing)
Canary Wharf office space expansion (ongoing)
Property purchased close to these new stations and infra-structure projects, preferably within quiet Victorian neighbourhoods, are likely to see significant above trend house price movements in the next ten years, continuing the trend experienced in the last 5 years. Why? Because the population of London is forecast to expand by 800,000 people by 2015 - and most experts cannot see anything like the house building required to keep up with this demand. In addition, London is likely to remain a critically important global financial and services centre - providing solid and relativley high paid employment.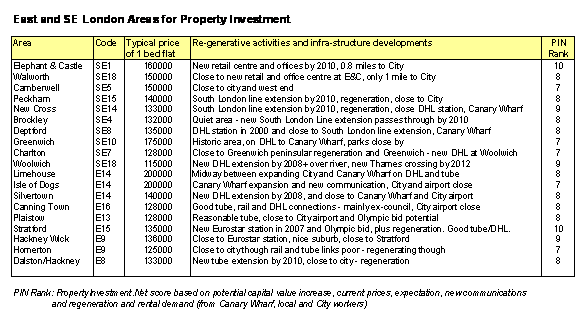 If customers have any comments about the tabulation, other views or areas that they believe should be included, please contact enquiries@propertyinvesting.net