143: USA population boom - key investment areas (hotspots & coldspots)
06-30-2007
PropertyInvesting.net team
All US property investors take note. These are the projected population increases per state in the USA from 2000 until 2030 (using official Gov't numbers). Our analysis shows that:
· States with the biggest increases are: Nevada, Arizona, Florida, Texas and Utah
· States with depopulation over this period are: Columbia, North Dakota and West Virginia
· States with very low population growth include: Iowa, Ohio, New York and Pennsylvania
This projected demographic project is a key trend that should underpin real estate prices moving forwards for the next 2-3 decades. For the long term real estate investor, to invest in areas of high population increase will lower risks. To invest in depopulating areas will increase risks and lower returns.
Hot Areas are Hot: Interesting to note the areas of largest population increase are in hot areas – half are arid and half are subtropical. This is probably partly because these areas are closer to the large immigration flows from Mexico, South America and the Caribbean - and these current populations tend to have larger families. Further, these areas are popular retirement centres for the wealthy babyboomer population – e.g. Phoenix in Arizona and Las Vegas in Nevada.
With such a massive increase in population in the arid states, one wanders where all the water will come from to feed the local water supply and leisure activities (e.g. golf, watersports) – this is likely to be a bigger issue in the future as such states grow. Investment in land and water infra-structure could be a good business opportunity.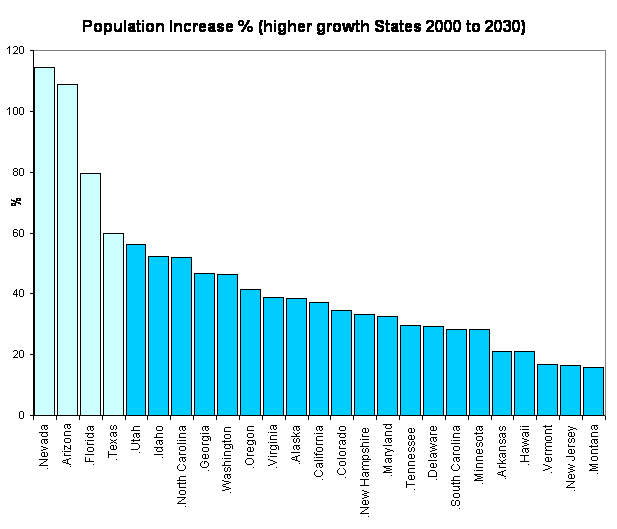 Texas Hotspot and the Babyboomers: One of PropertyInvesting.net's favoured investment locations is Houston in Texas. With the boom in oil/gas and refining business and rapidly expanding population, plus years of stagnant real estate prices from 1987 to 1998, it's likely Houston and Dallas will see prices significantly beat the USA average in future. Austin and San Antonio in Texas are pleasant cities with good Universities which are growing and will be popular with both retired babyboomers and young students.
Phoenix in Arizona will start running out of land, so prices should keep rising. Ditto Las Vegas. Salt Lake City is another potential growth area.
Florida is a long time favourite of PropertyInesting.net that will overcome the recent oversupply issues and outperform most areas in the long term – primarily because of massive increase in population, land shortages and wealthy new entrants from NE USA.
Cold Spots are Cold and Deserted: Best to avoid depopulating areas – particularly those heavily reliant on old agricultural industry. Areas that have plentiful coal and oil shale such Wyoming and NE Colorado will likely boom albeit their population will not rise much.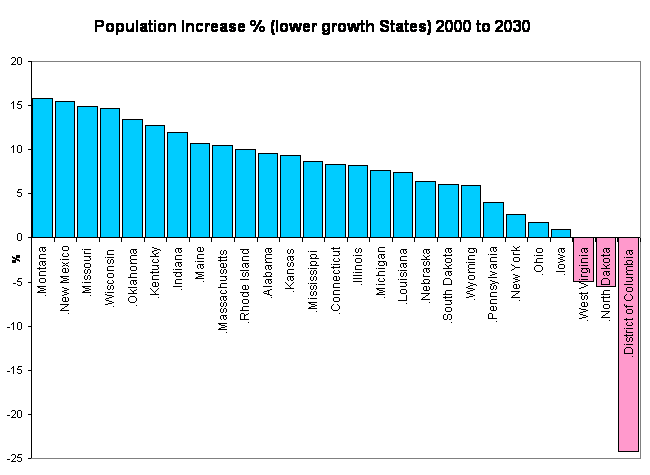 Services Sector Important: States exposed to services and banking such as New York, Atlanta and most areas of California will also likely do well. And Bakersfield in California should benefit from the boom in oil prices.
Carolina and Georgia: North Carolina and Georgia are worth a special mention. These states have mountains, pleasant climate, proximity to New York and rapidly expanding services sector. North Carolina also has beautiful beaches and waterways. So these states will likely see prices outstrip the average US real estate prices in future (as has been the case since 2000), with strong demand in the cities – Greenville, Raleigh, Greensboro and Charlotte spring to mind. Moorhead City and Monteo on the coast will become even more popular with the babyboomers (boating centers along the inland waterways and islands). Atlanta is a large city of 3 million in Georgia which will further benefit from the expanding services sector – as long as the US financial situation stays stable. The booming population should help drive GDP growth at rates of 3% per annum or more for the next 30 years.
USA General – don't be too gloomy: For all those Doubting Thomas's – the USA is the only significant OECD developed country that will see a significant increase in population in the next 30 years. This will drive real estate prices higher as GDP growth is driven by this population increase – land shortages is cities will become more common. The fundamentals are good as long as the US deficit is kept under control. In 30 years time, USA, China and India will be driving global economic growth. The Western European population will be in decline as will Russia's and Eastern Europe's population (London and Moscow are likely to be two exceptions). The USA had 150 million people in 1950, has 295 million today and will have 365 million by 2030.
· Florida's population will grow by 12.7 million (80%)
· Texas's population will growth by 12.4 million (60%)
· California's population will growth by 12.5 million (37%)
The USA will see big movements in GDP, business growth, employment - and real estate prices should follow this trend. We hope the chart below helps - if one considers states with land shortages and massive population increases - Florida is evident from the analysis - Miami, Fort Lauderdale and Orlando in particular are clusters of population with constraints on expansion. Surely if Florida's population increases by 80%, environmental concerns increase and land is in short supply - there will be a rise in real estate prices in the longer term!
If you have any comment on this Special Report, please contact us on enquiries@propertyinvesting.net