172: Make serious money - best investment sectors
11-10-2007
PropertyInvesting.net team
Oil Prices Skyrocketing: On 14th August when oil prices were at $70 / bbl – we predicted oil prices would rise to $125 / bbl by end 2008. They are already at $96/bbl and heading higher. We have written ten special reports on this topic – we suggest all serious property investors should read these reports prepared with the help of expert analysis and insights:
In these reports, you'll find, for free, all you need to know about how to make serious money from the predicted boom in oil prices. The analysis of producing oil nations has taken years to prepare. The results show that we are now on a plateau production rate, meanwhile demand is increasing by 1.3 million barrels a year. We spotted this abnormality on 7th June 2007 and we now think prices will skyrocket.
As we advised in 2006, any oil price above $80 / bbl risks driving inflation far higher. It now seems this price could be higher since inflationary pressures are still relatively subdued when we consider prices have risen from $20/bbl in 2000 to $96/bbl in 2007. But if inflation starts rising above 3-4% because of increasing oil prices feeding through, interest rates could rise further and property prices would then respond by dropping. It's very important the property investor keeps in eye on oil prices and if they want a good hedge, it is to purchase property in oil towns and cities or areas positively exposed to high oil prices.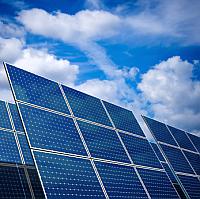 We also now think there will be a boom in renewable energy sources – this will be a topic of a future special report. But what we are getting at is, when oil prices skyrocket (this has not happened yet) then there will be a scramble for other energy sources to power electric cars. Solar and wind are good examples.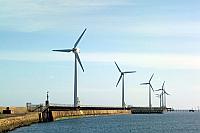 Technology will drive solar cost down further and billions or trillions of dollars will be spent developing secure new energy sources. We need to predict where these areas will be – where the investment will be made – and this is where property prices will rise as employment benefits and money is pumped in. So don't be surprised to see huge swathes of desert near Las Vegas covered with solar panels in 15 years time. Or a massive expansion of wind generation in windy areas. Climate change is only one facet – the more pressing requirement will be to provide power when the decline in oil production starts.
Investing in Alternative Businesses: We have expanded our list of investment areas for the asset rich property investor. As property prices have risen, you might choose to shift some of your capital into the following businesses – in part to hedge against the energy crisis on the horizon. Instead of worrying about energy prices, you can make serious money in alternative businesses.
Are you flush with cash and itching to put it to good use, but cannot find any property bargains any more? Then consider these businesses - and remember, if you purchase rental or commercial property in boom towns exposed to these industries you cannot go far wrong:
Oil and gas – oil prices are rising – investing in oil companies and oil services companies is worth considering. Investing in property to rent to oil companies in oil towns is a safe option.
Uranium mining - uranium prices are skyrocketing – demand will increase and supply will run short. Research uranium mining towns in South Africa and worldwide. We believe there is a 70% chance that nuclear power will come back into fashion and expand as a result of climate change (CO2 emissions) and high oil and electric prices.
Oil sands – this will boom in Canada – any oil sands company is worth taking a serious look at and any land or real estate near oil sands projects, e.g. Fort MacMurray in Canada, also Calgary for oil HQs.
Gold – watch out for the continued dollar decline – but in times of inflation and global insecurity, gold is a good place to invest. We expect gold prices to rise from $800/ounce to $1000/ounce by end 2008. This will be in part lead by Chinese, Middle Eastern and Indian demand plus supply constraints.
Food – shortages are occurring because of water shortages, land shortages, climate changes and land being given over to corn (ethanol) production. Wheat is a good example.
Water – the global population is booming, water consumption is rising dramatically – water costs will increase. Investing in water companies or water rights is worth considering
Coal – demand will keep rising to fuel electric generation around the world – coal will make a strong come-back to mitigate against damaging electric supply disruptions
Metals and Mining – company that specialize in mining have seen their stocks double in value in the last few years. But we believe there is more to come – China and India's demand for copper, iron/steel, uranium, lead and other metals for their development will lead to massive shortages. Supply will be constrained by environmental issues and demand will continuing rising. Mining is a good place to invest. Anglo-American, BHP and Rio Tinto are three big companies worth considering investing in.
To demonstrate how far energy has dropped in % market capitalization, we enclose the graph below by Bud Conrad. The sector has dropped from 29% in 1980 when oil prices were $220/bbl in today's money, to 9.3% today. But when oil prices rise to over $125 / bbl by end 2008, the energy companies market capitalisation should be about 40% higher. We really are bullish on energy and resources stocks. Not on any other stocks though!
Any company that has good growth prospects and heavily exposed in upstream oil internationally is worth considering investing in. Avoid telecommunications, consumer and banks in Europe and the USA. There will be a massive shift of wealth from the USA and Europe to Middle East, Russia and China/India. Canada and Norway are the lowest risk countries in the western world and their currencies should also do well.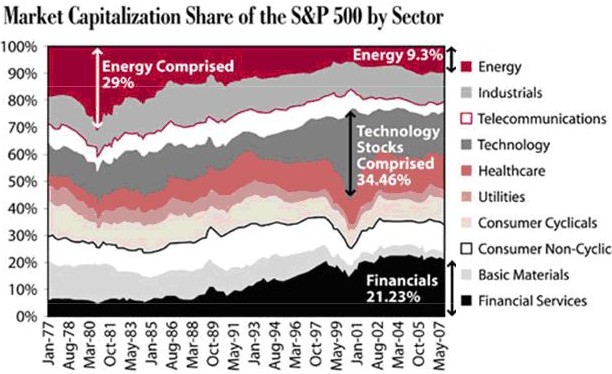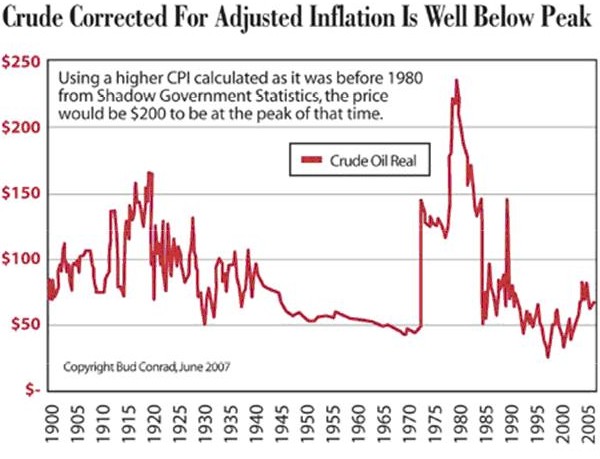 As previously advised, these are almost all natural resources businesses. As the population booms and demand increases as GDP rises, massive money will be made from these industries in the next 15 years. The commodities super cycle has just begun. Barring a global recession, we believe prices of these commodities will continue to boom. If you are convinced about commodities, if you leverage up and/or go into hedge fund trading – betting on increases, this is the quickest way to make serious money. But it's also very risky – if your short or long trade goes pear shaped – and you cannot pay a call, then it could send you under. Prudent long term investing in the above businesses is advised. If you don't understand these business and like property – which is likely – then, as advised, purchase investment property in all cities towns and areas exposed to these business. And if you are not sure where these are, review the special reports listed above.