226: London Property Hotspots - Tube, Olympics, Regeneration
09-24-2008
PropertyInvesting.net team
We have analysed all the infrastructure developments that are due to take place in the next 8 years and have prepared a London Property Hotspot Map or the period 2009-2012. We believe these area have the highest change of large price increase because of:
South London Line tube extension via New Cross, Brockley and Peckham (2010) through to Croydon
East London Olympics (2012 based in Stratford and Lower Leas valley east of Bow)
Dockland Light Railway extension to Woolwich (2008)
Tube extension to Hackney (2010)
Crossrail - Stratford to Heathrow (2017)
Eurostar International Station at Stratford and St Pancras/Kings Cross (finished 2007)
City Airport expansion near Silvertown (ongoing)
Canary Wharf office space expansion (ongoing)

Property Hotspots London Map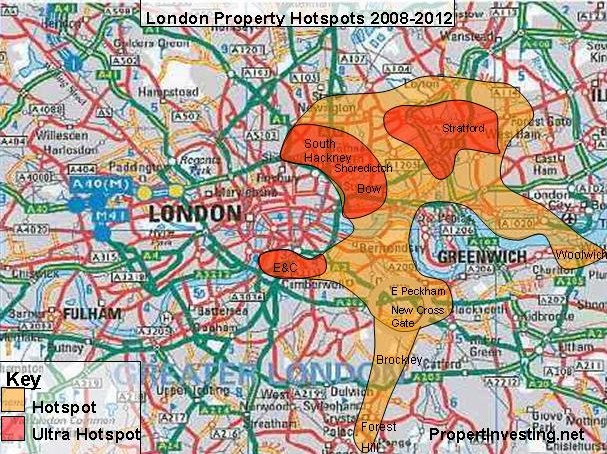 Hotspot
The continuing importance of London as a global financial centre and international business - tourism centre should underpin these area - the City and West End are close by with links set to improve, acknowledging the current market turmoil as something that may continue until end 2009.
Property purchased close to these new stations and infra-structure projects, preferably within quiet Victorian neighbourhoods, are likely to see significant above trend house price movements in the next ten years, continuing the trend experienced in the last 5 years. Why? Because the population of London is forecast to expand by another 600,000 people by 2015 - and most experts cannot see anything like the house building required to keep up with this demand. In addition, London is likely to remain a critically important global financial and services centre - providing solid and relativley high paid employment.
If you have comments or other views on areas that they believe should be included, please contact enquiries@propertyinvesting.net
If one considers the all new infra-structure developments together, then work out when these will occur and their overlapping spheres of influence from an impact and time stand-point, one can then work out the highest change of positive change, and the biggest impact re-generation will have within these areas. If positive change and regeneration take place, is highly likely the prices will firstly rise, and secondly rise at a high rate than surrounding areas. Good examples of areas with profound overlapping spheres of influence are:
Bow and Bow Church
Stratford
Hackney Wick
Plaistow
West Ham
Hoxton
Canning Town
Shoreditch
Kings Cross
Woolwich North
Woolwich
New Cross
Limehouse
Brockley
Forest Hill
East Peckham
Surrey Keys
Crystal Palace
Croydon
Leytonstone
Forest Gate
These are some of our top potential regeneration hotspots for the next four years in the UK - all of these will be positively impacted by the Olympics, East London Line, Eurostar, City and Canary Wharf financial developments, and Docklands Light Railway extensions.
For some super paintings of the Olympic Canary Wharf, Thames, Bow and the Olympic site/area, go to this webite: www.bernardevans.co.uk .
We hope you have found this special report helpful - if you have any comments, please contact us on enquiried@propertyinvesting.net