23: Why are UK buy-to-let investors still confidently investing?
01-29-2005
PropertInvesting.net team
Most buy-to-let investors that started in the late 1990s are still actively buying property. Their basis for this is that they have made huge capital asset value in the last five years – but a different investment model is now required to extract the next slice of value for the individual. In a word – INCOME.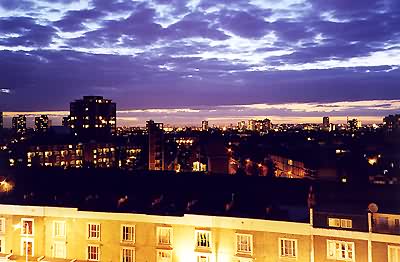 Income, Income, Income: It does not matter very much if house prices go up or down if a property makes very high net passive income. You just "sit on it" – it's a "cash cow". The most discerning investors who stay in the UK are now concentrating on getting the highest possible yields to protect against any house price decline or economic downturn.  The key is to find properties with very high rental demand – renting at a reasonable price. Providing good quality accommodation to tenants at fair rental prices.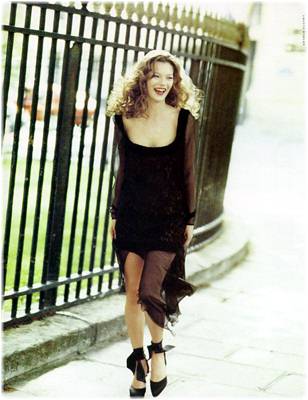 Changing socio-economics: With the increase in divorcees, single people living alone, elderly widowers and young people that cannot afford to buy a property, rental demand at the lower end of the market will likely strengthen. The market for single rooms in shared houses, bedsits, studios and/or flat-lets will remain strong in areas of high employment and housing shortages. This includes almost all parts of southern England and London.
According to Housing Futures, despite the level of house prices today, they predict  the average house price is set to double in value from £145,897 to £300,643 by 2020. Imagine how well you would do if you beat the 'average'? Imagine if you leverage your cash at 75% - the doubling of value would lead to an eight-fold increase in your net worth. It would be time to start giving it away to charities and other worthy causes. 
Slow Building: House-building can't possibly keep up with demand – the UK's Population is predicted to rise 10% in the next 25 years (that's 6 million people!). There are NO plans to build 6 million houses – even talk of 0.5 million houses gets an extremely frosty reception with local populations. Very little concrete progress has been made since the Barker Report came out in March 2004 – there's been a lot of talk, a lot of high level plans, but the amount of new building has not risen. Infra-structure is not being built. There are few plans to improve infra-structure to handle such increases in home building. Meanwhile, there has recently been talk of demolishing Victorian terraces in the north of England and putting a tax on land held – ideas that could actually contribute to the housing shortage.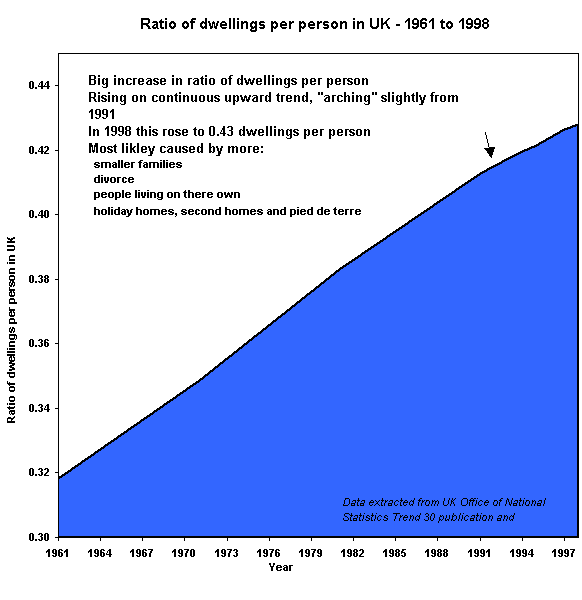 Rental Demand: According to the Centre for Economic Business research, rental demand will nearly double inside ten years. Talk of rental market saturation is overdone. Yes, in some new build luxury apartments and larger houses, rental demand is slack, but in the lower end of the market in areas of high employment, the rental market is quite buoyant in most areas.
If the truth be known – we are in the early throws of a major housing crisis. At PropertyInvesting.Net we firmly believe that in London, southern England, SE Wales and southern parts of the Midlands and East Anglia, the pressure on housing is set to intensify. This will drive prices higher when interest rates start to drop again. What the Barker Report missed was the reduction in the number of people living in houses over the years – and if this trend continues, the crisis will worsen. These trends are shown in the PropertyInvesting.net analysis chart above - this shows a consistent increase in the number of houses per person - some 25% in 25 years. If this trend continues along with only half the pojected rise in population, then the number of dwellings will need to increase from 26.2 million to 31.8 million!
Think of all those wealthy retiring baby-boomers, who decide to "Mousehole" – e.g. take a small cottage in the countryside, a flat in a city and a holiday home abroad, and spend their time migrating between the three. Lots of empty properties.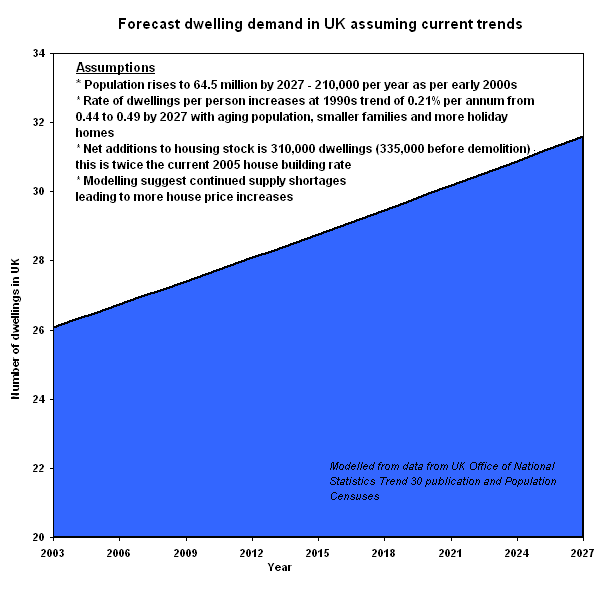 Add to this the increasing amounts of wealthy foreign individuals who will have property in London – mostly lying empty – and the ever increasing number of divorcees – and what you get is further pressure on property.
Baby-boomers and their offspring:  All this provides good opportunities for property investing in the next ten years, particularly in southern cities and town, London and coastal retirement areas. Providing good quality rented accommodation for people that cannot afford to buy a property – it's worth considering that when students came out of University 25 years ago (5% of he population), they had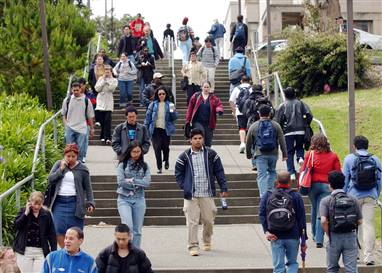 average debts of about £700. Now, about 45% of people come out of university with debts in the range £20-30,000. 25 years ago, people got married for £2000. Now, the average marriage costs £18,000! No wander there are no first time buyers around – they are all saddled with huge debit already. It's not so much high prices, but negative equity from the onset. The only hope is to get a free hand-out from their wealth baby-boomer parents, but they cannot afford it because most pension plans are depressingly under-performing. Any please consider – if you want to retire and live on £30,000 a year (£15,000 each) and live for another 30 years, that's £900,000 AFTER tax – equivalent to say £1,500,000 before tax. So baby-boomers – 99% of them cannot afford to give large hand-outs to their offspring – please consider this if you have not already. You need the money – and they have 50 years to overturn their debit and make their million!     
Retiring abroad? So what about all those people who say they will retire abroad? Whilst there will undoubtedly be an increase in the number of holiday homes abroad bought by UK citizens, they will likely retain a home in the UK – as a base to visit family and friends, or to let out. There is not likely to be a wholesale exodus to foreign parts. The weather abroad is attractive, but most people get bored of a lonely existence in a sunny place after a while – many will want to be part of the city cultural scene and close to family and friends. At least many will retain a bolt-hold in the UK.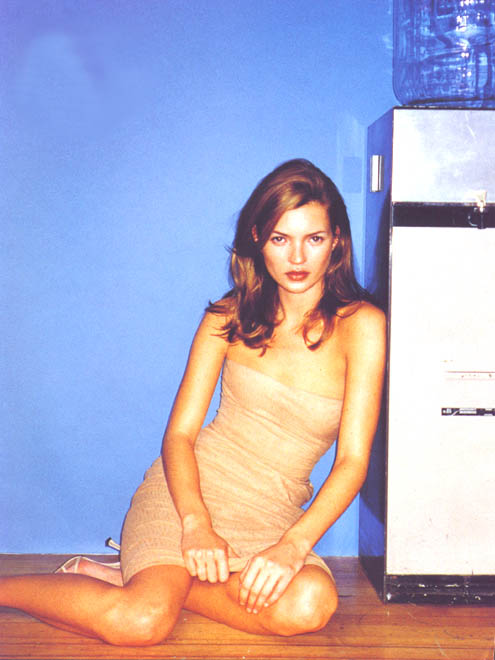 SIPPs: The introduction of SIPPs for residential property – that is, Self Invested Pension Funds, or PIFs – which is Personal Investment Funds most likely in April 2006 is likely to further increase the demand for rental property. Large institutions and pension funds will enter the market, with targets for capital investment. They will be competing with the traditional small buy-to-let investor and the first time buyers and are likely to drive the asset prices up further. This will be particularly so if a dramatic increase in house building is not seen in the next few years.
At PropertyInvesting.Net – we analyze and follow underlying socio-economic trends – for this reason, we feel confident the investment buy-to-let property market is set to continue to rise in the medium to long term. There might be a say -5% decline in prices in the next six months, but after this, they should continue to rise again in a more sustained and slow pace in most parts of the UK.
Locations to beat the average: Our favoured investment locations at present are:
London – Peckham, New Cross, Brockley, Limehouse, Stratford, Hackney Wick, south Hackney, Bow, Canning Town, Battersea, Clapham, Woolwich, North Woolwich, Silvertown, Beckton, Wembly, Kings Cross, Wapping, Barking, Croydon

Kent – Gravesend, Bean, Northfleet, Meophem, Southfleet, Swanscombe, Ashford, Folkestone
Southern England – Hastings, Plymouth, Hayle, Weymouth, Swanage, Dover
Midlands – Corby?, Milton Keynes?, Handsworth

Wales

– Barry Island, "the valleys", Newport centre
North – Liverpool L1, Bradford BD5/BD1, parts of Doncaster and Scunthorpe, Skinningrove, Leeds-Holbeck/Beeston
East – Kings Lynn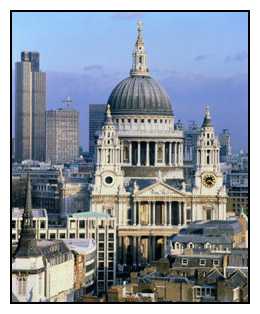 Almost all these areas will experience positive change in the form of new infra-structure, communications and developments
Favoured investment property types of large flats, homes of multiple occupancy, besits and large terraces (student houses). Any property with very high rental income with strong rental demand.
PropertyInvesting.net hope this has been helpful to provide insights in the market in the medium to long term. Please note, this guidance is objective and impartial in its views and based on much experience and analysis. If you have any comments on this special report, please contact  enquiries@propertyinvesting.net