265: How to Profit from Peak Oil - USA, UK and Europe
05-24-2009
PropertyInvesting.net team
Oil Over $60/bbl again: Oil prices rose to $60/bbl last week from a low of $35/bbl last year through a combination of the following reasons:
Funds moving in as a hedge against inflation and the declining dollar
Following a trend of oil-commodities linkage with the overall value of US and global stock markets
After first signs of economic green shoots were seen and an expectation the global recession may end in late 2009
Lower oil imports noticed in the USA
Expectation that OPEC would maintain its oil production quota cuts at its 28th May meeting and an overall reasonably high compliance to OPEC cuts from OPEC member states
The Chinese stimulus package seems to be working, implying strengthening Chinese oil demand in H2 2009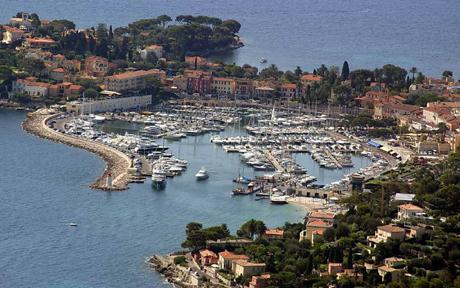 Peak Oil Reports: As our regular visitors to PropertyInvesting.net will know, we believe the world "Peak Oil" was July 2008. Let's not labour the point here – if you would like to know more detail, please read our Special Reports listed at the end of this report.
Making Money: We know most of the visitors to this site only visit because they are interested in property investing – making money – improving their investment returns. They want to learn more about making money. Admirable we would call this. Lets focus on making money.
Peak Oil – How to Profit from Peak Oil: Firstly, we expect oil prices to rise through 2009 into 2010. In the USA we expect gas prices to rise from ca. $3.5/mbtu (Henry Hub) to something like $5-8/mbtu through the end of 2009 towards end 2010 as demand picks up. Any oil price above $60/bbl and gas price over $4/mbtu will lead to significantly higher energy business and development-drilling activity in the following areas:
Shale Gas in the USA
Oil Sands development in Canada
Engineering activities – in employment focus areas such as Aberdeen and Houston/Dallas
Shale Gas
Let's introduce you to this Play. Rigs drill horizontal wells in Shale Gas reservoirs to ca. 11000 ft then fracture the rocks using hydraulic fraccing techniques - then produce gas from wels at rates of 2 to 25 mmscf of gas per day. To keep on plateau of to increase production, drilling is intense, and the number of rigs required is high. It is labour intensive. But still profitable. Since gas prices in the USA crashed from $12/mbtu to $3/mbta Q3 2008, drilling activity has reduced – though is still reasonably high. Shale Gas developments have really only boomed since discovery of new efficient production-drilling techniques in 2004 onwards. Four big new Plays (called "Big 4") have opened up in the USA since then – activity escalated through 2005 and peaked mid 2008 – then activity dropped back. But this boom is merely taking a breather. We believe it will ramp up again mid 2009 and continue unabated and at a more intense level in 2010 and beyond.
For the property investor this means strong rental demand for properties that are close to drilling locations. Each rig has a population of about 80 - 100 people in country areas. About 450 rigs are active in these areas – we expect this to increase to ca. 600 by end 2010. That's 50,000 to 60,000 direct jobs – with about half of these needing rented accommodation in often fairly remote country areas. These areas are some of the poorest in the USA, so real estate prices are particularly cheap. Good quality rented accommodation for gas workers is the key. Apartments and staff houses to rent to gas companies or gas employees is key.
Shale Gas Plays Map USA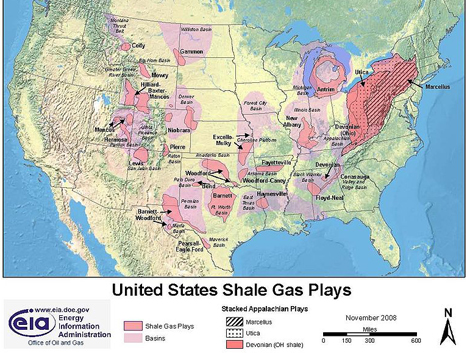 US Shale Gas Country Areas Experience Boom: To help you locate these area in the USA, we provide above (and below) some geological maps of the Shale Gas Plays. The key areas are:
NE Texas and NW Louisiana – Shreeveport (Haysenville Shale) * biggest boom area
North-Central Texas (Barnett Shale, Woodford Shale) * boom area
NNE Pennsylvania (Marcellous Shale) * future boom area post 2010
Arkansas (Caney and Woodford Shale)
SE Wyoming - (Green River Shale) also Coal
Quebec Canada - (Utica Shale)
Gas reserves in 2000 in these Gas Shale reservoirs was put at about 60 TCF, but recent revisions suggest reserves could more more like 450 TCF and even up to 1000 TCF - in any case, enough to give US gas for a 100 year timeframe! As oil supplies drop, the USA will start to convert to gas - and don't be surprised to be driving a nature gas powered car in 10 years time. Yes, we're serious! If you are very worried about peak oil in the USA, the other silver lining is that high quality coal reserves in the US are the largest in the world. Yes - oil will run short, but gas and coal, plus wind can make up the shortfall - but a proactive stance is required to ween the mighty US population of 300 million people off gasoline guzzling 4x4 SUVs and Trucks doing 15 mpg! (and reduce the gigantic 9 million bbls/day, $400 Billion/year oil import bill!)
Because of the US Real Estate slump, there are many foreclosures that provide further opportunities to acquire low cost real estate.
The key risk to this investment strategy is that natural gas prices stay low and drilling activity is subdued or drops off.
The key upside is that gas prices recover or sky-rocket and drilling activity and associated energy jobs rise dramatically.
If you can purchase low prices foreclosures, fix them up, then rent them out – you will likely find very good yields and asset price increases.
US Oil Cities Set To Boom: If you want to be safer in your risk-investment approach, consider purchasing properties close to big oil-gas company offices. As oil, gas and coal prices recovery, these companies will hire more high paid professional engineering workers – who need/want good quality homes in safe, urban areas close to their offices with good schools. The key oil-gas towns in the USA are: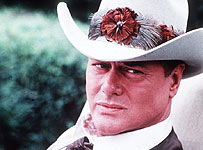 Dallas-Irving-Fort Worth (Texas state)
Houston (Texas state)
White Plains (New Jersey)
Oklahoma (Oklahoma state)
New Orleans (Louisiana)
UK Cities: In the UK, these are:
London (west-central London, plus Sunbury and Reading)
European Cities: In the rest of Europe these are:
St Petersburg, Moscow (Russia)
Oslo, Stavanger, Bergen, Christiansen (Norway)
The Hague-Rijswijk (Holland)
Avoid Refining Employment Area
Just a word of caution. When we say oil-gas business, we mean "upstream" exploration, development and production. We do not mean refining. As oil production decreases, oil refineries will close - so avoid areas exposed to oil refining and marketing jobs in SE Houston, Texas City and Galveston, New Jersey port areas and New Orleans. Focus on upstream jobs in places like Woodcreek - Western Houston and Central Houston. In Holland, avoid western Rotterdam, but The Hague-Rijswijk should be okay. In the UK avoid Humberside, Teeside, Pembroke Docks and Ellesmere Port - all refining areas exposed to closures in the next ten years.
Peak Oil Kicks-In: As Peak Oil kicks-in, oil prices we believe will rise again to over $150/bbl – even though oil and gas production may drop, profits for energy companies and services companies located in these cities will skyrocket – and along with this, high paid jobs and employment spin-offs.
In the UK, house prices have dropped about 20% from their peaks end 2007. Aberdeen has also been hit by a 16% drop in the last year. But we believe as oil and gas prices rise again, these c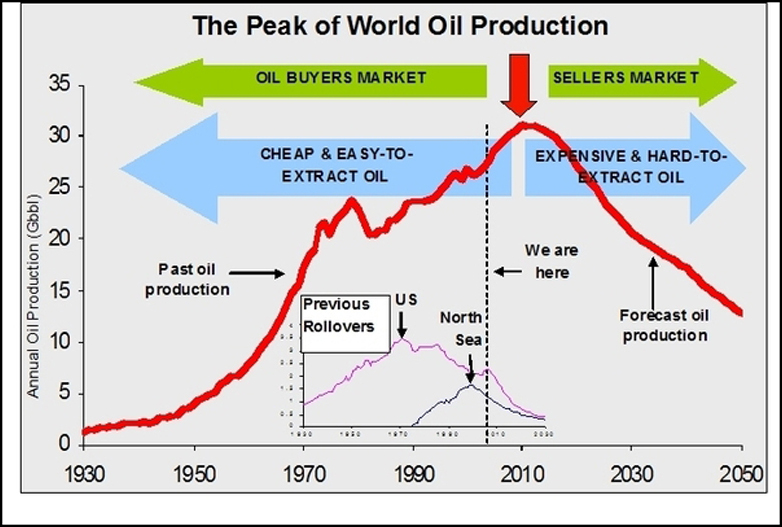 ities will benefit from improved economic activity, jobs and earnings – house prices will recover in these specific areas if oil prices rise above $60/bbl and stay below about $130/bbl. Despite declining oil production in the North Sea, Aberdeen will remain an important global engineering hub for oil-gas upstream (Africa, Norway and Middle East business).
So we advise monitoring oil-gas prices and if you believe (like we do) that they will rise and continue to rise – these are the best areas to invest in – the best property hedge against Peak Oil, inflation and resources shortages in USA and Europe.
Green Tech: You may have noticed we have up until this point not mentioned Green Tech and Renewable Energy. It's not that we are not keen on these energy forms and we believe this investment sector they will also boom in areas like Scotland and offshore Thames Estuary (wind) – plus in the USA windy belts east of the Rockies, but the world will need energy from all forms. Green Tech will make a significant contribution to new energy forms in the next ten years, but it's too late already – oil/gas prices will rise again quickly and it will be all hands to the deck on any energy form that the world can get its hand on – oil, gas, coal, wind, solar, nuclear, hydro – each one has its own set of environmental challenges and set-backs – and development of all will be held up in some shape or form – leading to higher energy prices all round. So don't be too concerned about picking the right one – because – in our view – they will all boom in the next ten years to make up for the shortfall in oil production after Peak Oil July 2008.....
Green Tech Employment: In general, the Green Tech employment and property investment opportunity footprint will tend to follow the oil-gas-electricity footprint quite closely because the electric grid infra-structure and engineering knowledge-base is in place, and accessible. Hence in the UK, Green Tech focus areas for employment will be: Shetlands, M4 high-tech corridor from Reading to Central London, Thames estuary and possibly M11-Cambridge High Tech corridor. In the USA, it will be the eastern Rockies and West Texas (wind) and California (solar, other Green Tech new business development and start-ups). And as oil-gas prices rise, Green Tech employment will boom – creating further strong real estate demand in these focus areas. It is likely to resemble mild version of the dot.com boom - but watch out for any bust!
Just to give you a pointer, we also supply below the Wind, Tidal and Solar Maps for the UK, Europe and the USA.
That's it!
Hope you have enjoyed this Special Report – which we hope encapsulates the spirit of Peak Oil for the property investors in USA and Europe. If you think a friend or colleague may be interested in this Special Report, please feel free to forward it to them.
Copyright PropertyInvesting.net 2009
148: Take advantage of the oil/gas/coal boom - key insights
Shale Gas Map NE USA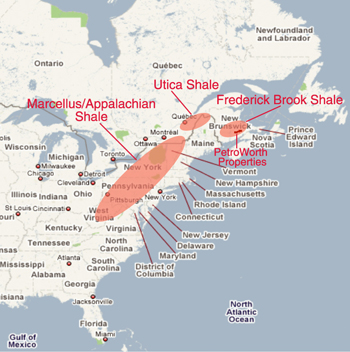 Shale Gas Map (courtsy Layne Energy)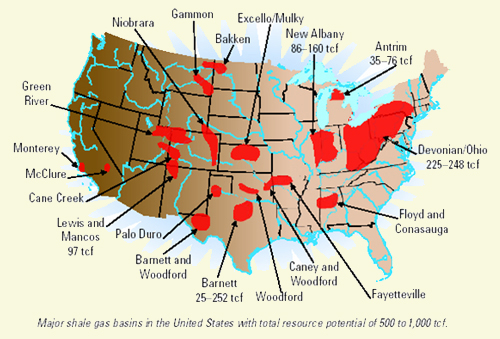 WIWASOTI Wind, Wave, Solar, Tidal energy system

- a Green Tech Renewable energy for UK's energy needs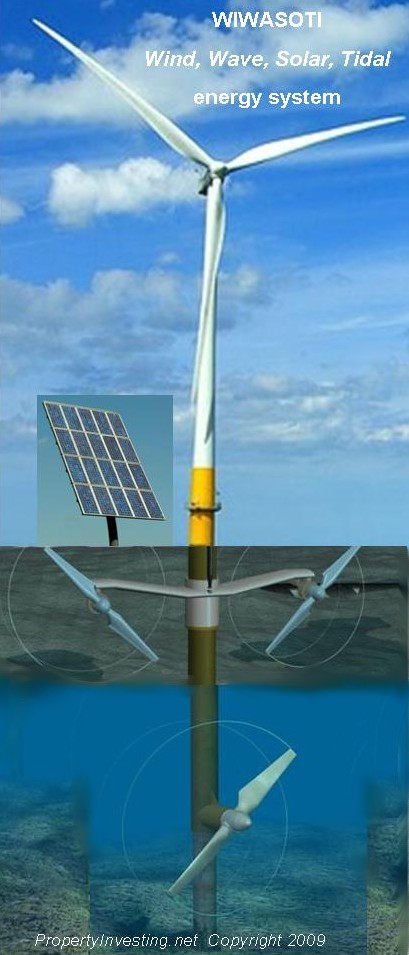 Wind Map UK England and Europe
UK Tidal Power Map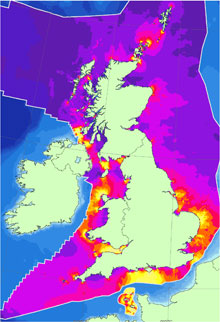 UK Wave Power Map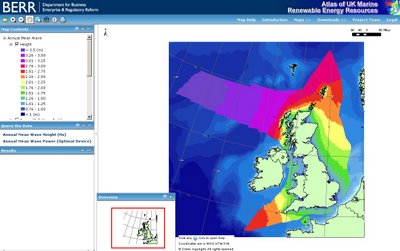 Solar Map Europe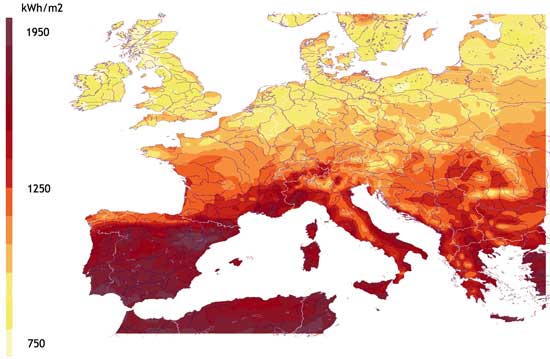 Solar Resourse Map World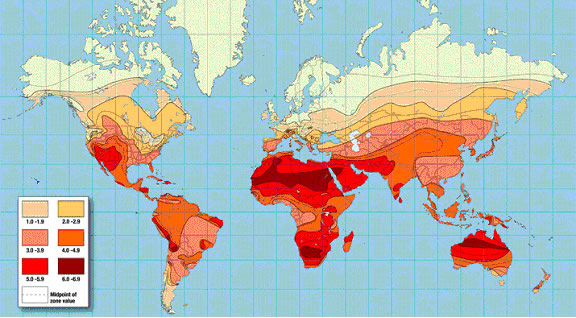 Solar Map Europe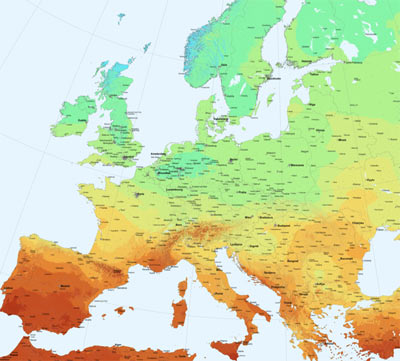 Solar Map Usa - Solar Insolation