266: London Olympics Regeneration and Infra-structure Boom
05-30-2009
London 2012 Olympic Park - Stratford East End regeneration and property boom. The Lower Leas Valley from Stratford, Pudding Mill, Old Ford to Canning Town is the largest regeneration project in Europe. A "buy recommendation" from PropertyInvesting.net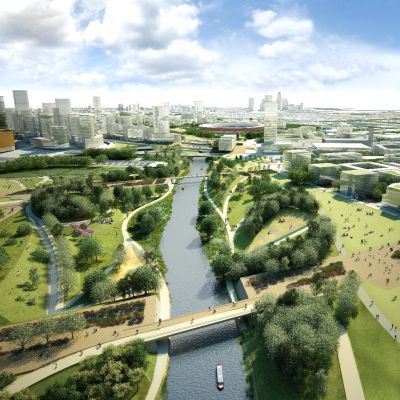 London 2012 Olympics - map - a property investing hotspot around Stratford - we particularly like the "Stratford Village" area - just SE of the City Centre - a series of Victorian terraced roads just north of Ham Park.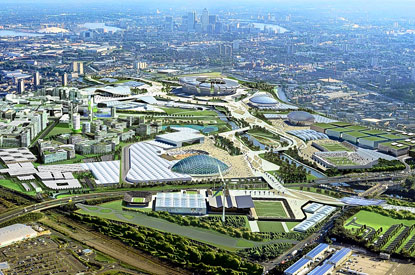 London 2012 Olympics Velodrome - Stratford Lower Leas regeneration - artist's impression - to be completed in 2012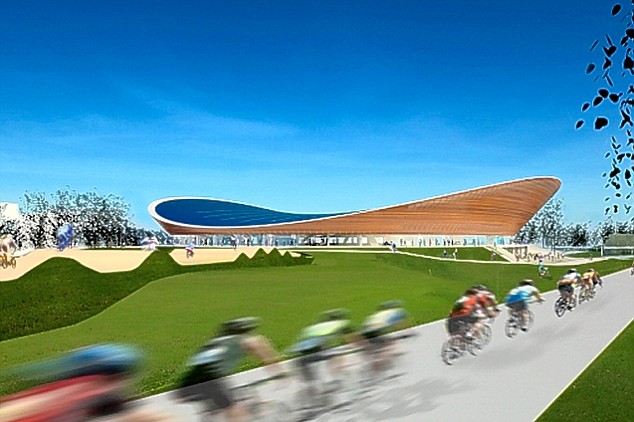 London 2012 Olympic Venues - Olympic Park Stratford - Lower Leas Valley - Eurostar Stratford International Station is the East-West tending white strip just SE of the Hockey. Stratford City centre is 0.3 miles further SE on the map.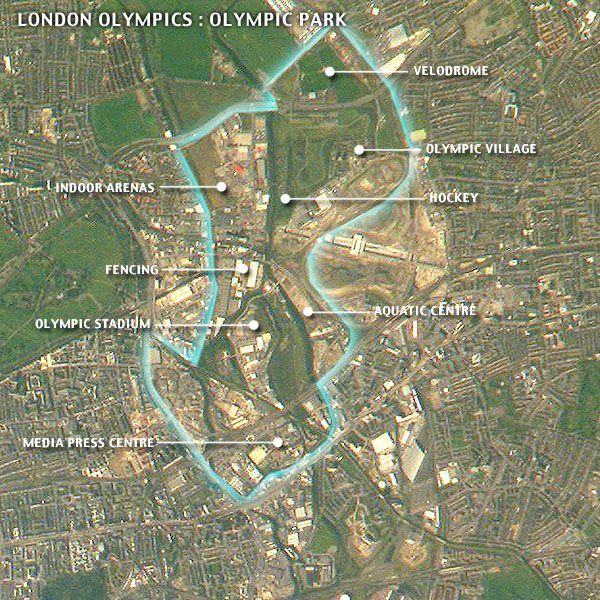 London Olympics 2012 Village Stratford - view looking SW towards Canary Wharf. Notice the Greenwich Dome in the mid-top left. This massive regeneration thoroughfare will bring big benefits to Hackney Wick, Stratford, Maryland, Bow, Bow Church, Pudding Mill, Old Ford, Canning Town, Plaistow and West Ham. Forest Gate, Shoreditch and Greenwich will also benefit as will Leytonstone, Hackney and East Ham.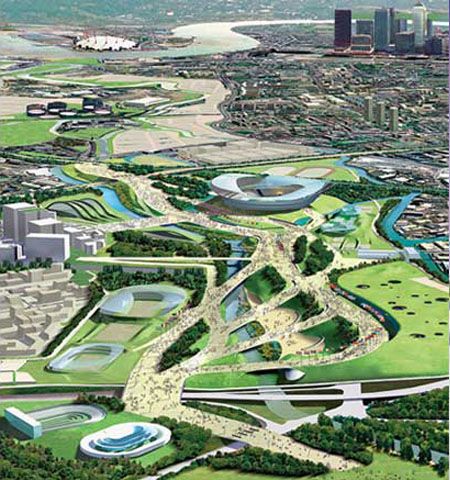 London Property Investment - Westminster at night - one of the most expensive areas in London and very popular amongst the wealthy because of access to West End, City and airports etc.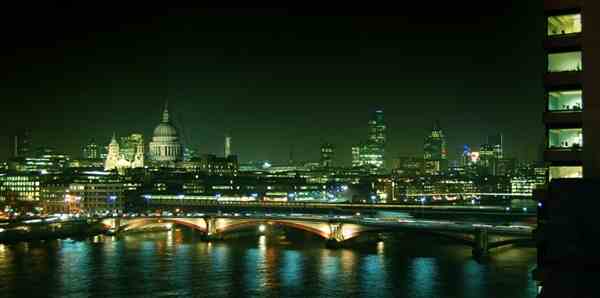 London Property Prices - expected to rise with Olympics - view from South Bank towards the City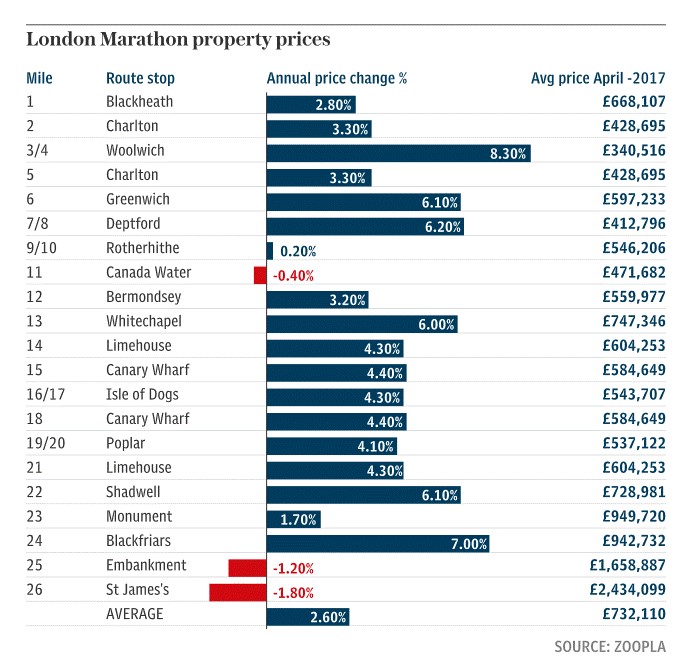 London Olympic Map 2012 - main venues with the Olympic Park in white being the focus (80+% of development activity will be here)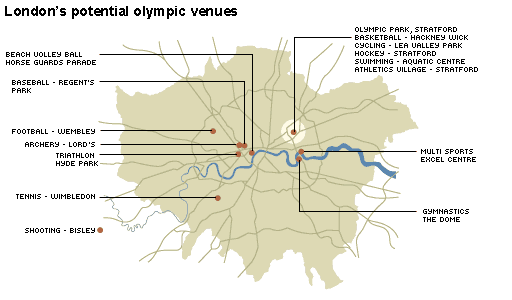 London Olympic Stadium - artist's impression after completion in early 2012. Building work is well on course - there is talk of using this stadium for the England World Cup 2018 bid
London Olympics Aquatics Centre Games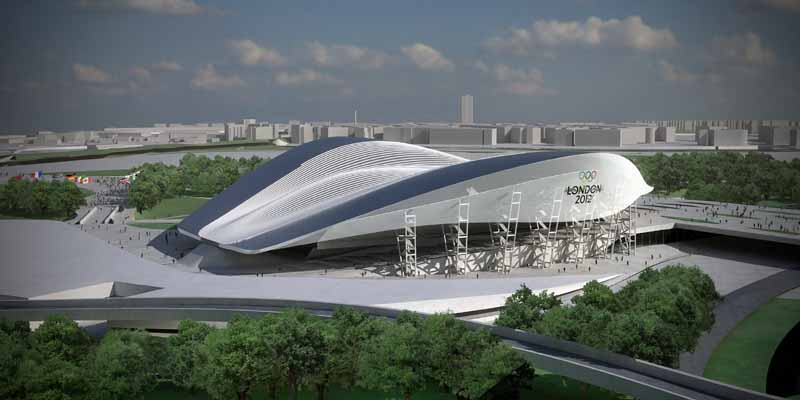 London Olympics Bridge 2012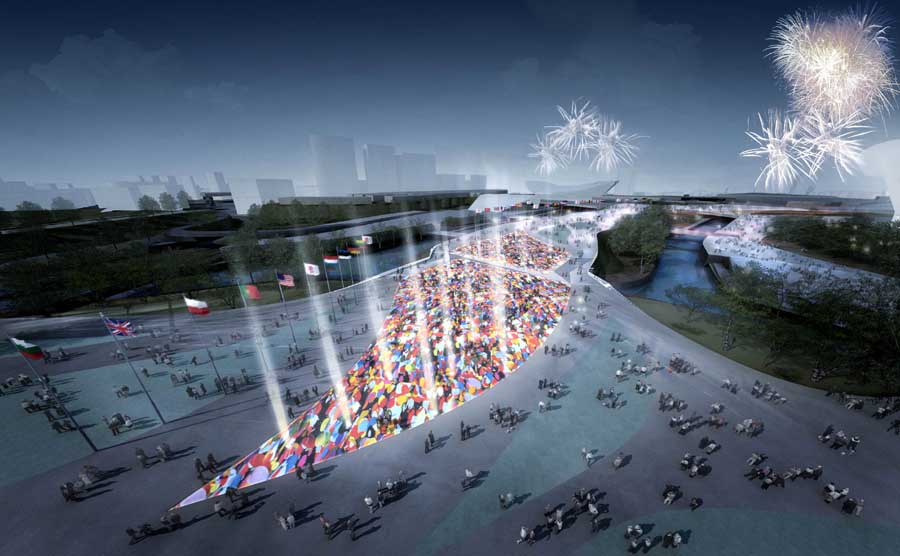 London Olympics Park 2012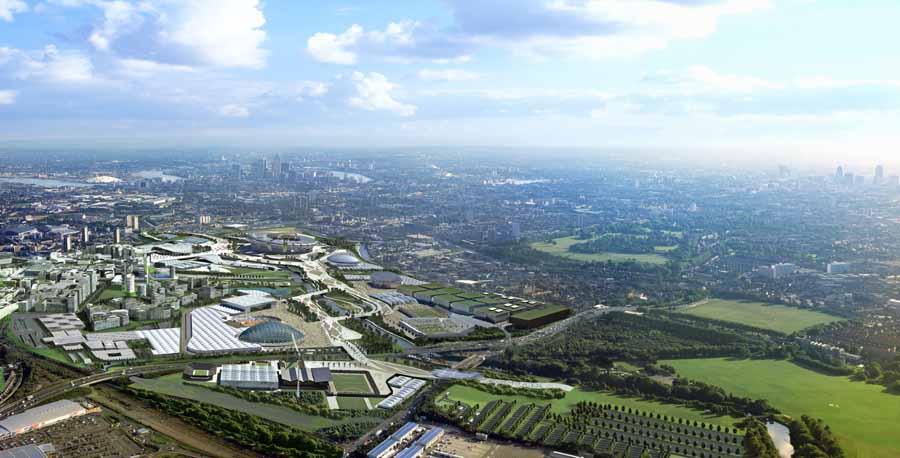 London Olympics Park in Sport Legacy - the park will create a last positive legacy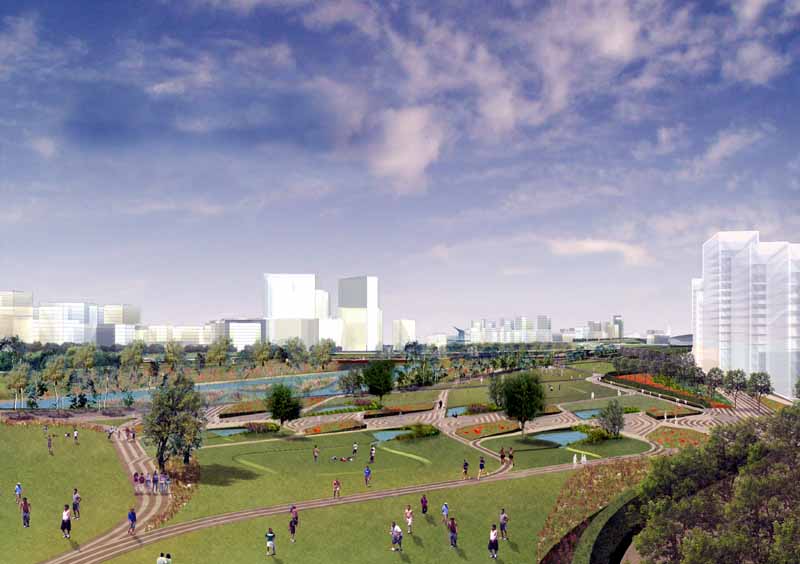 London
Olympics Pumping Station ODA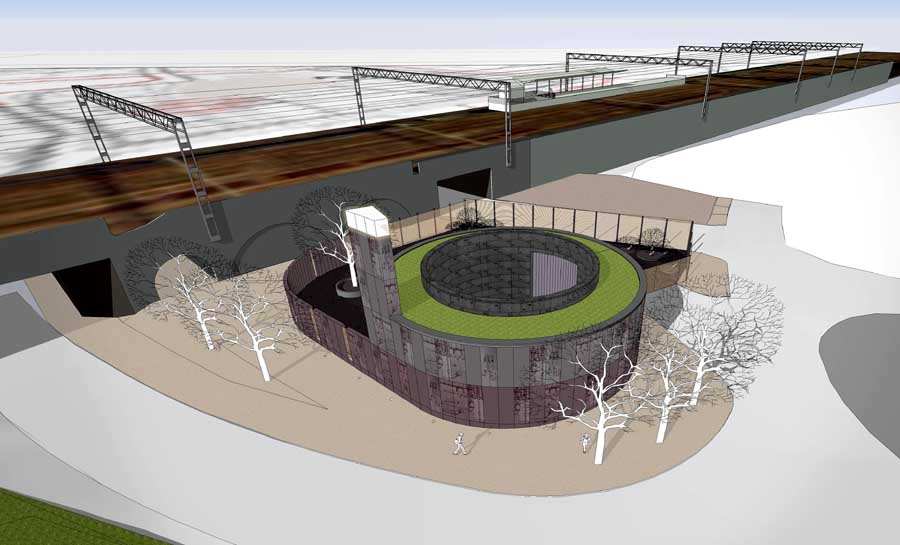 London Regeneration Olympics - map showing Lower Leas Valley - massive redevelopment area - "property investors focus area" Note: International Station in the middle (east-west trench), with Olympic Village in the NE and Stadium in the south-centre. Hackney Wick is NW, Stratford east-centre and Canning Town to the SE.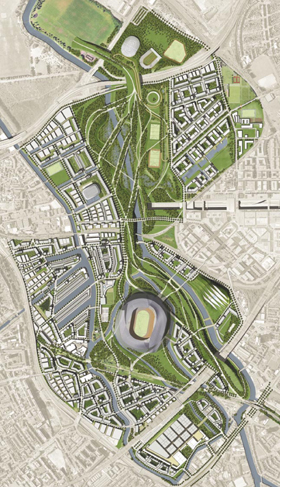 London Barking Dagenham Road North Regeneration - a new regeneration project to start shortly. Barking Arts Quarter is another highlight. "Barking has started to come up in the world - worth a look"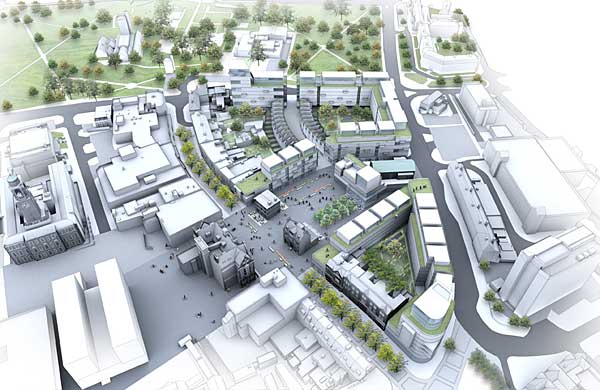 London Battersea Power Station Nine Elms - massive regeneration project and new US Embassy. The hot property tip is to pruchase good quality spacious Victorian property and apartments close to the new US Embassy in Nice Elms - for rental to Embassy staff. Reember the Americans like large open plan kitchens with a good view towards the Den - or living space for kids. Bathrooms need to be immaculate - with power shower.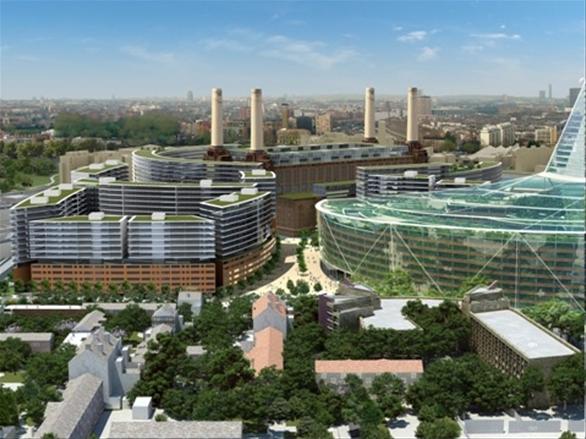 London Battersea Regeneration Area Map - a property hotspot. Good quality property close to Chelsea will always be in demand. The Nine Elms US Embassy will also benefit the area. Battersea continues to be on the up.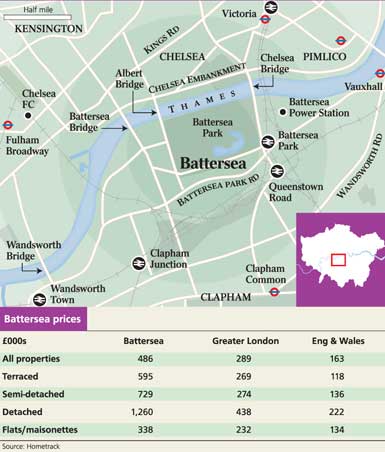 London Boomerang Tower - regeneration project in planning phase - close to London Bridge. Low prices property just SE of London Bridge (not too far out though) and along the South Bank between London Bridge and Waterloo will always be very popular with City workers, second home owners and the more adventurous international buyers. Definately an up and coming area.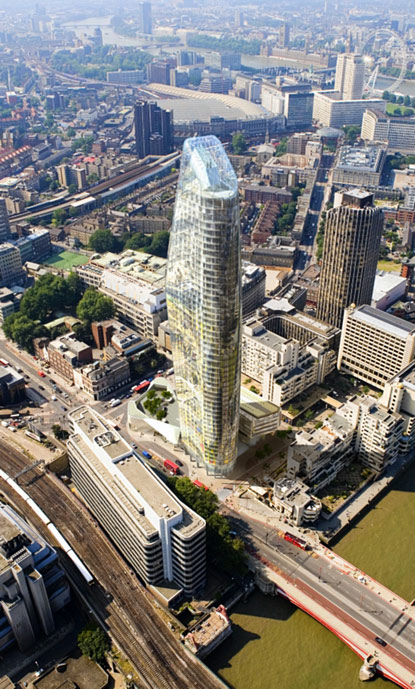 London Canary Wharf - continued development, expansion and new jobs. fast regenerating areas just north of Canary Wharf - Poplar and Bow - are interesting. Prices are still very low in most of these areas - and are likely to benefit from being between Olympics, City and Canary Wharf - "surely this will help!"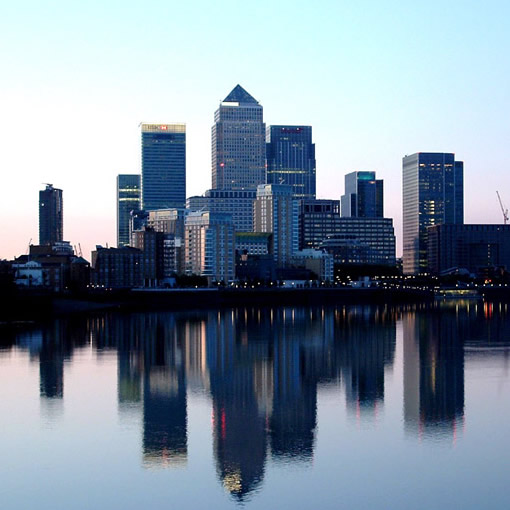 London Canning Town Rathbone Market - the project got the go-ahead early 2009 - "yes, even Canning Town has a regeneration project"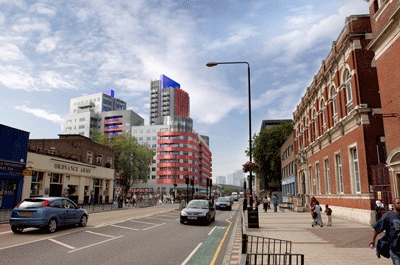 London Chelsea Barracks Development - currently stalled but likely to proceed ahead in the next one or two years - "Prince Charles made a formal complaint - and this has stalling the project - alternative plans will be submitted and we are fairly sure the project will eventually get the go ahead"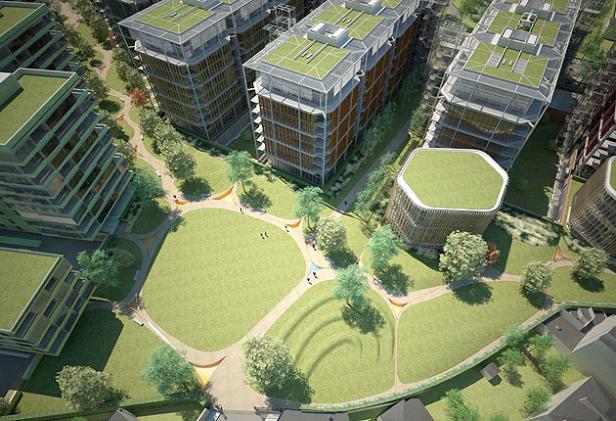 London East Queens Market - regeneration at Canning Town East London - "very low prices, relatively unattractive area historically, but improving dramatically - definately worth a look"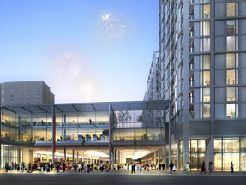 London East Regeneration Area -Olympics 2012 - courtesy Elektron - showing main infra-structure elements for property investors - "with so many major developments, its difficult to see prices not rising in the run up to the 2012 Olympics"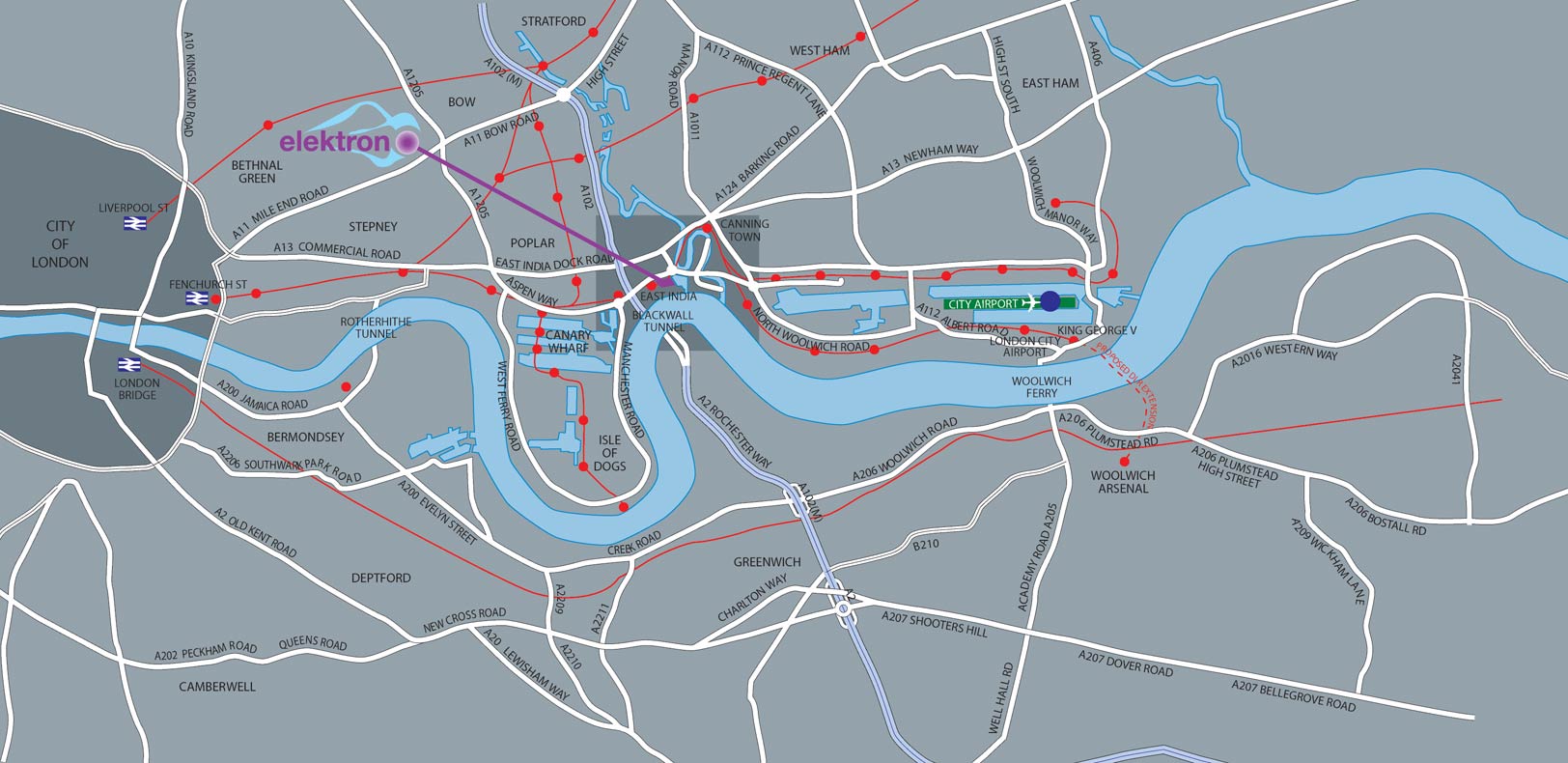 London Eurostar Stratford High Speed One Rail - brings regeneration benefits to St Pancras, Stratford, Gravesend and Dartford and areas within 15 minutes drive of the stations. "Note: Ebbsfleet (Gravesend) to London St Pancras soon in 10 mins - Gravesend prices should rise!"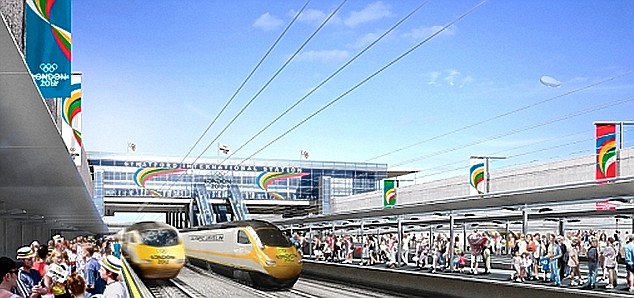 London Ferrier Estate Regeneration - a one billion pound redevelopment got the go ahead early 2009 - will bring benefits to SE London (see Canary Wharf and Dome in top left (NW) corner. Ferrier Estate is close to and just SW of the A2 road. "The bleak estate will get much needed major improvements - a billion pounds is a lot of money"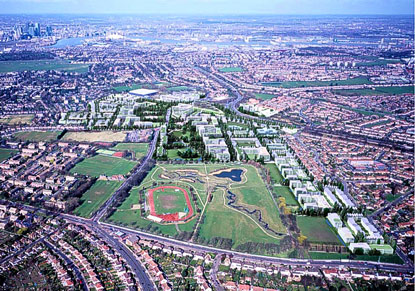 London Gateway Crossing and DLR (Docklands Light Railway) map. The DLR was to Woolwich was opened early 2009. "The Thames Gateway bridge, in our opinion, is unlikely to be built (funds will likely need to be directed towards Crossrail) - but Woolwich will see radical improvements after the new station opened in Feb 2009 - driect access now to Canary Wharf and City jobs etc"

London Grateway Regeneration Area Map Olympics 2012 (in dark green) - "massive projects at Stratford, Barking, Gravesend, Ebbsfleet. Other areas to benefit are Dagenham, Dartford, Romford and Tilbury - all up and coming areas that were hit by industrial decline in the 1960s-1980s".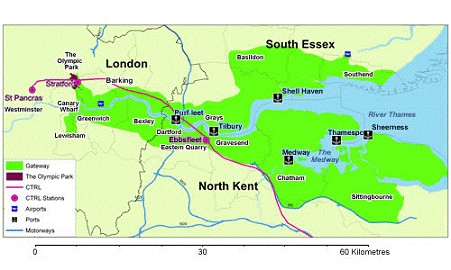 London Green Lanes Cycle Map Olympics - these should be open by 2012 and make for good cycling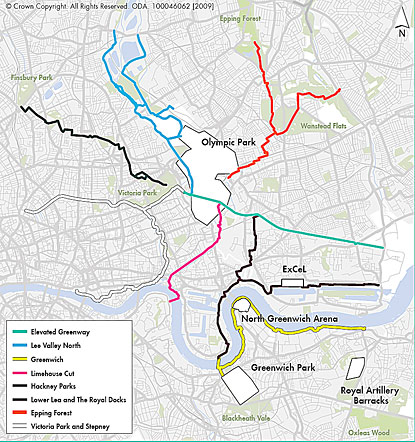 London Greenwich Olympics Regeneration 2012 - a boom in development on the peninsula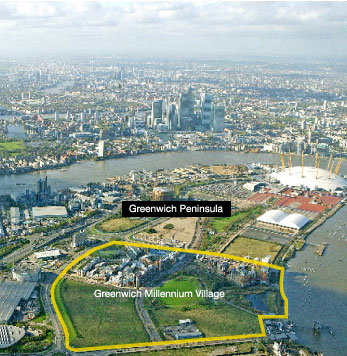 London Lower Leas Valley Olympic Regeneration Area - a property boom leading up to 2012 -new business and enterprise zone to tranform this part of East London that suffered massive decline after bombing in WW2 and industrial decline 1960-1980. Things have been on the up since Canary Wharf started in 1980. In the last 1990s, the Jubilee Line Tube Extension kick-started a massive regeneration programme. Newham rejoiced with the Olympic big being won in 2006.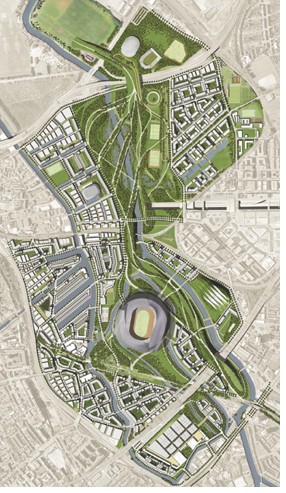 London Map Property Hotspots -Olympic Regeneration Boom Areas - property investors expect high returns leading up to the 2012 Olympics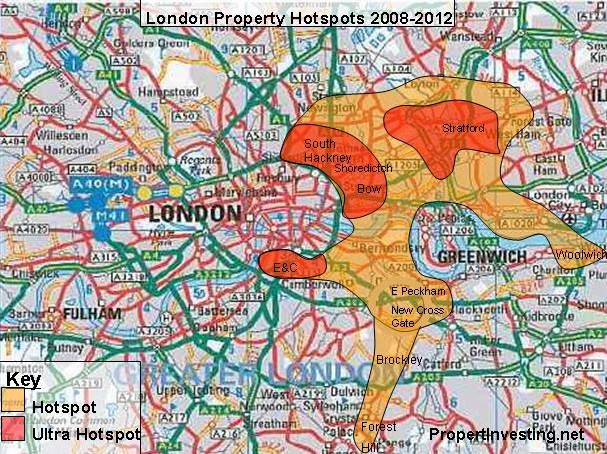 London Olympic Construction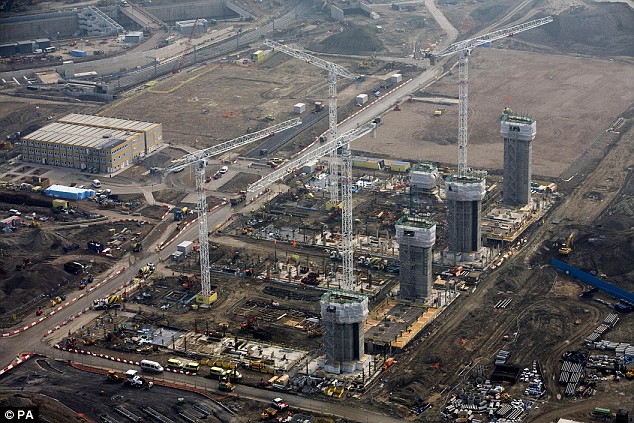 London Olympic Park Construction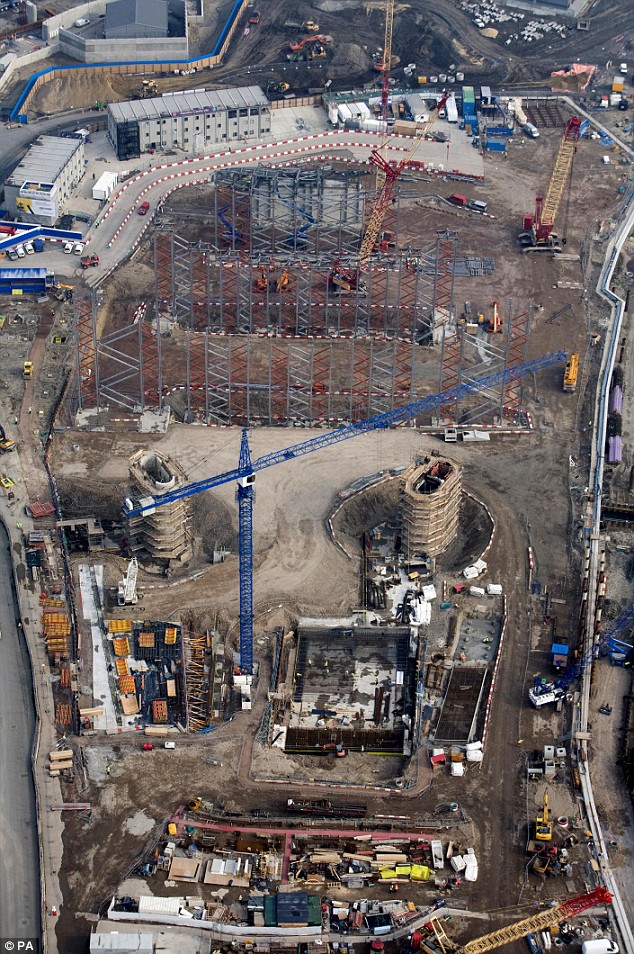 London Olympic Event Map 2012 - a summary of the events and development that will drive property investment and prices up to 2012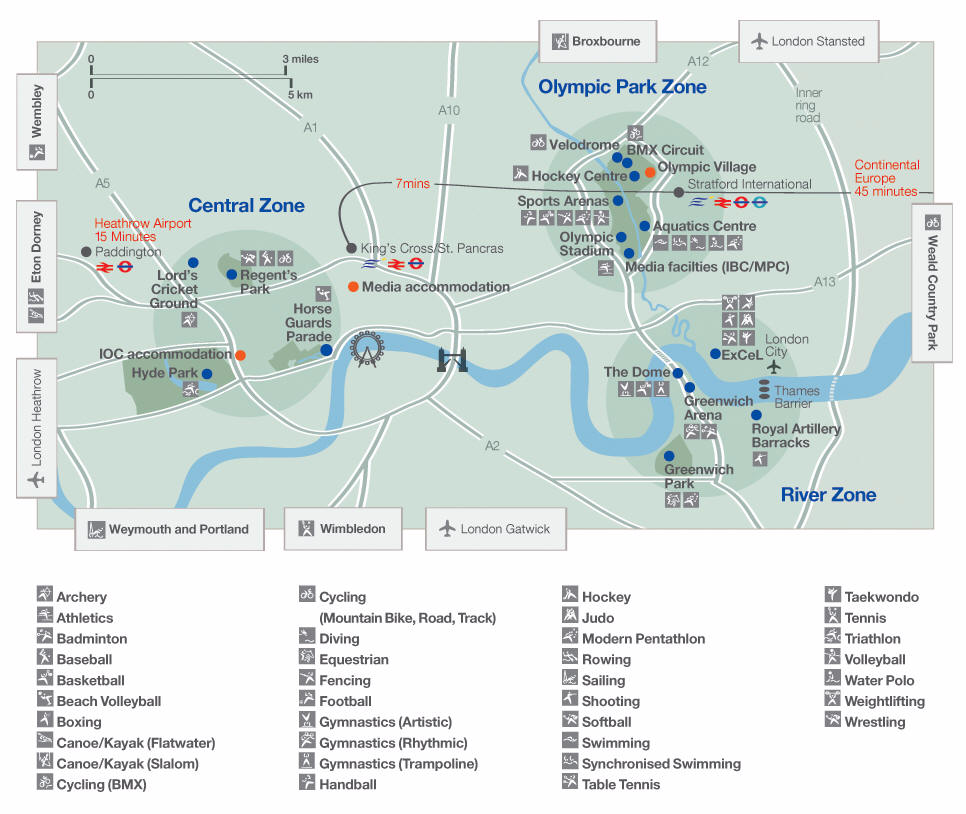 London Olympic Legacy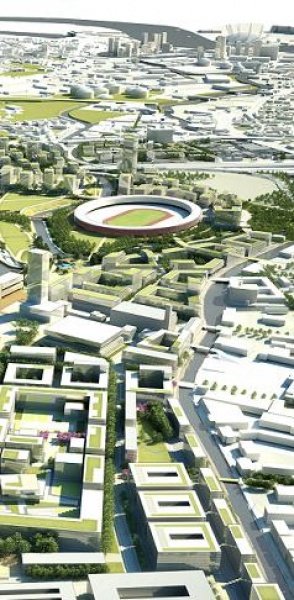 London Olympics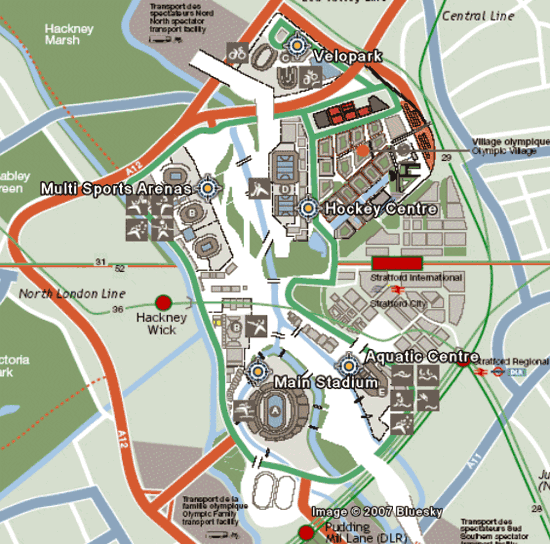 London Olympics 2012 Park Stratford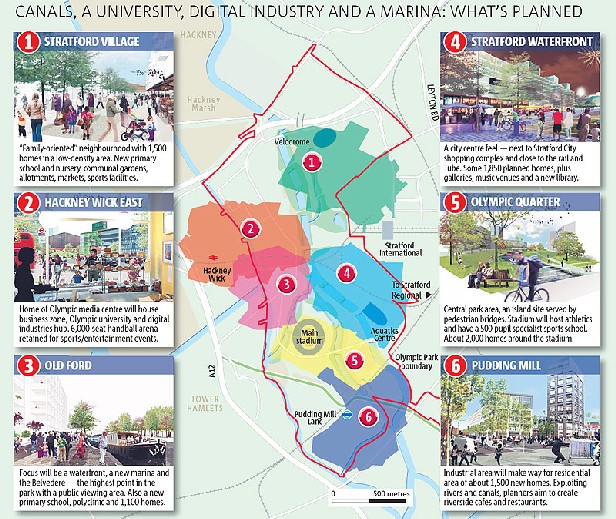 London Olympics 2012 Shooting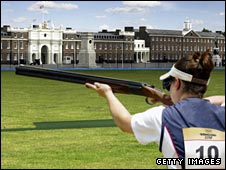 London Olympics 2012 Stratford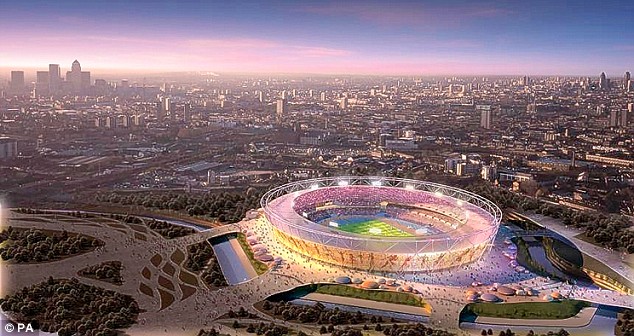 London Olympics Greenwich Park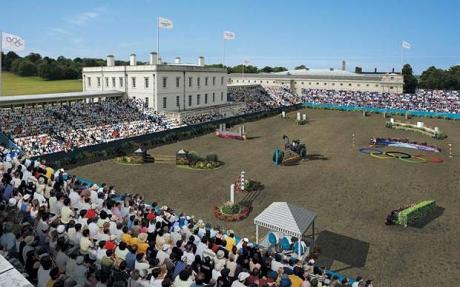 London Olympics Site Stratford 2012 Property Boom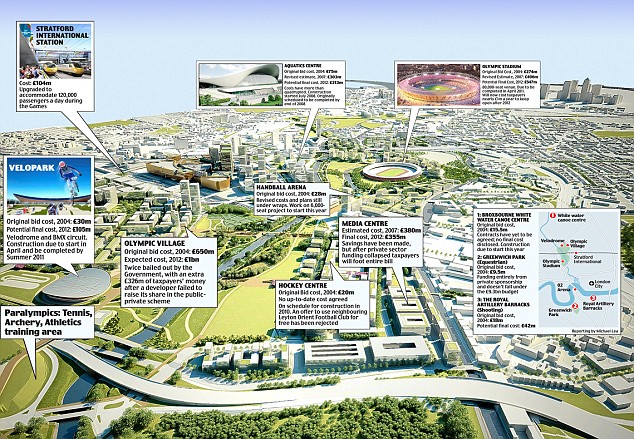 London Olympics Stratford - plan view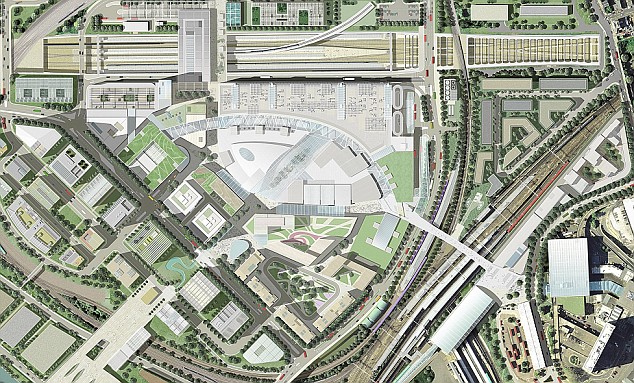 London Olympics Venues - courtesy PlanetaryVisions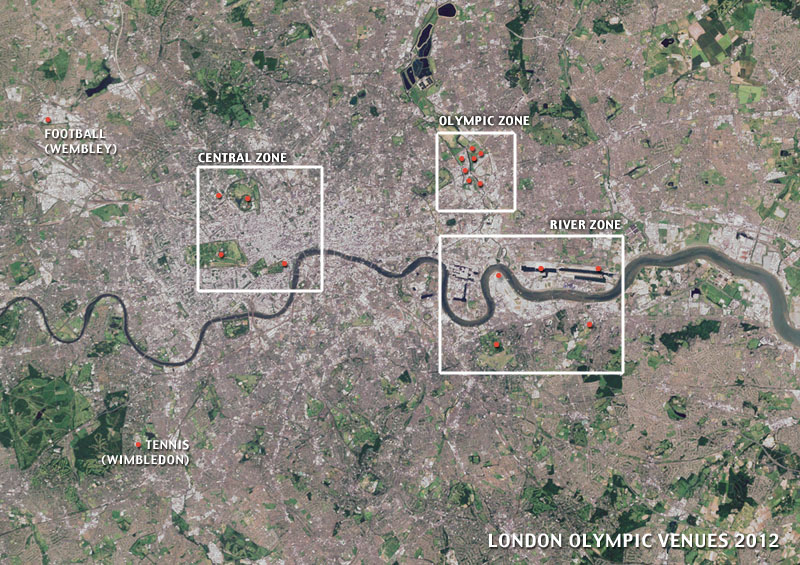 london-property - Landmark East Tower
london-regeneration-areas-map
London Second Homes - a large proportion of apartments in the City, West End and Canary Wharf (Tower Hamlets) are second homes owned by wealthy international investors and UK citizens. Infra-structure development will make second homes more attractive in Bow, Stratford, Hackney Wick and Shoreditch. The West End - Mayfair, Chelsea and Kensington will remain number one for ultra-wealthy investors who wish to purchase high end apartments.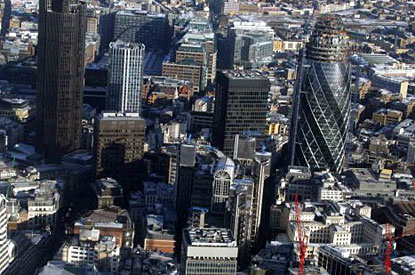 London Shoreditch Arnold Circus E2 - an example of an up and coming area which will become far more attractive for wealth international investors - between City, Canary Wharf and Stratford Olympics - with good access to City Airport. Also close to the new East London Line railway. Kiera Knightly purchased an apartment close-by in 2008. Definately a good area to invest in when you consider all the positive things happening - in all directions - around the quiet enclave of London.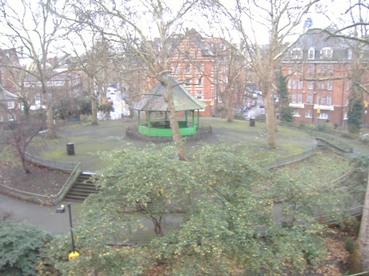 Underground Map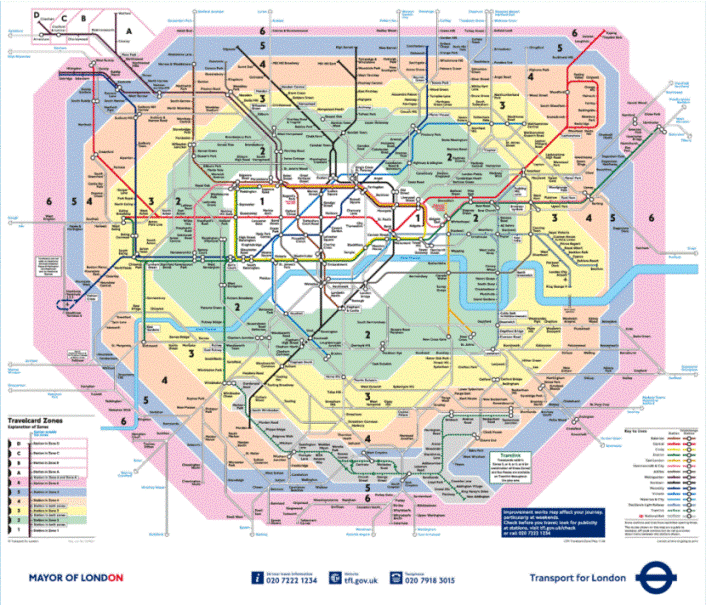 London Tate Modern - South Bank is definately a good place to invest - anywhere at low prices close to the river (close to the higher priced North Bank). The arts and culture expansion is impressive.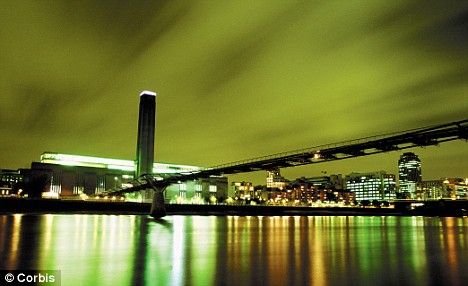 Olympic Village Stratford - early building has started and the village will be completed in early 2012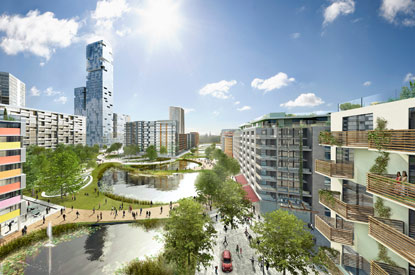 Property Investing London Olympics - massive regeneration - the large project in Europe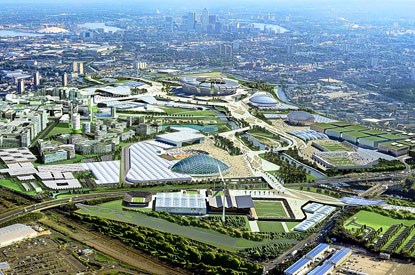 Thamesmead in South-East London - film setting for Clockwork Orange in the early 1970s. The estates are rather bleak but some new developments and investment is improving the area. About the lowest priced area in South London - only slightly more expensive than Dagenham and Tilbury in the far East London. Be careful though - make sure any property is close to transport links which are particularly poor in the part of London. Many concrete properties are difficult to re-sell and rents are low.

East London Railway Map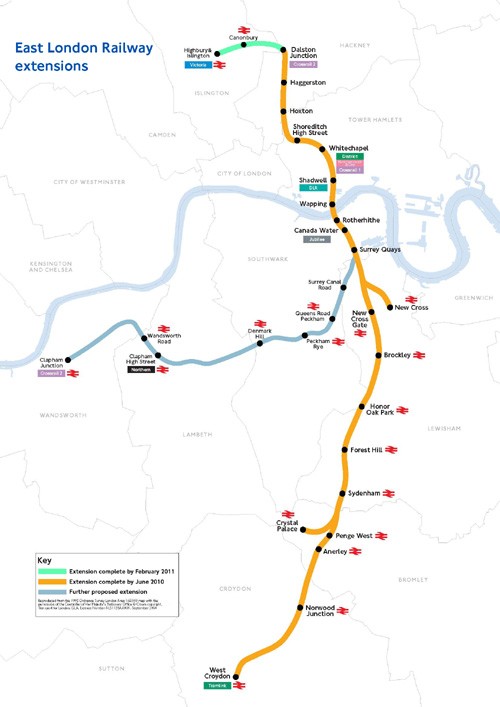 Eurostar Routes Map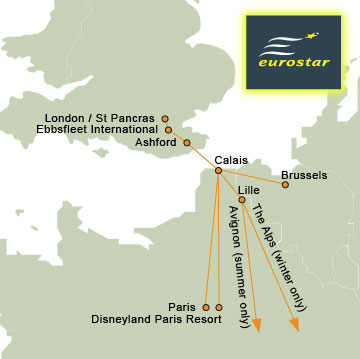 Eurostar Train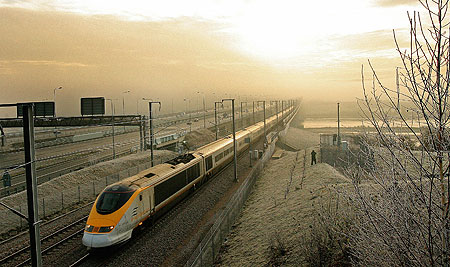 Gravesend Clifton Wharf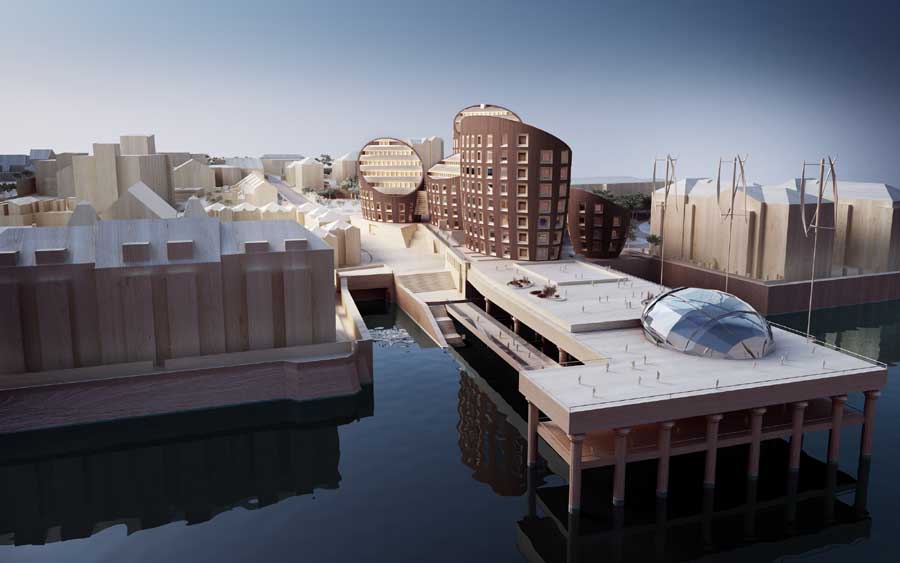 Gravesend Riverside Renewal Clifton Wharf Regeneration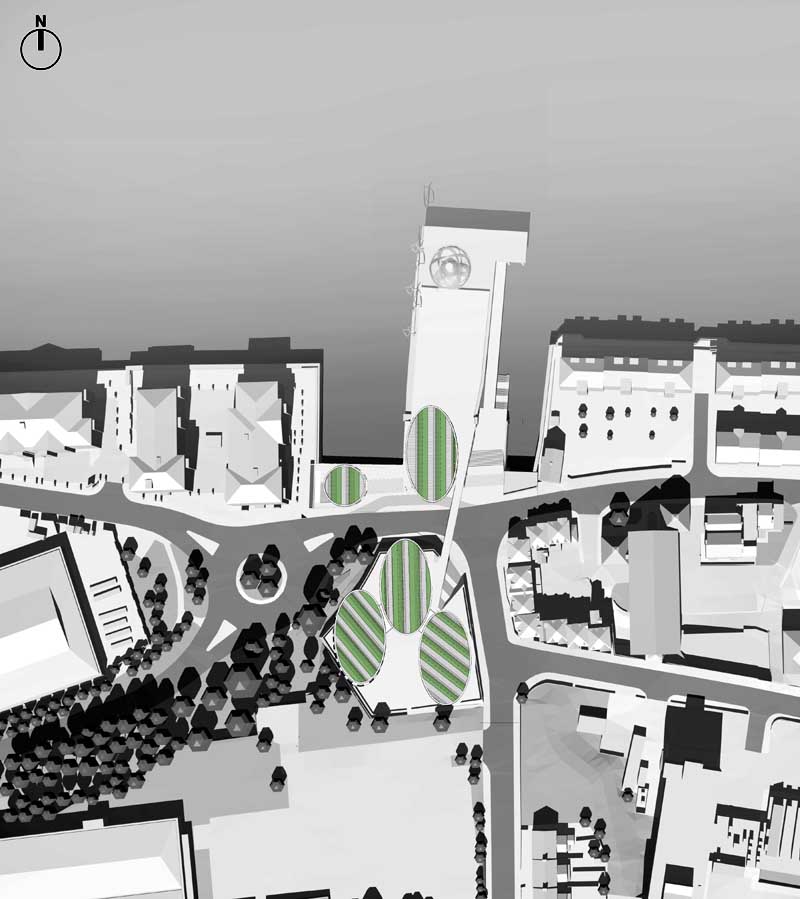 High Speed Trains Europe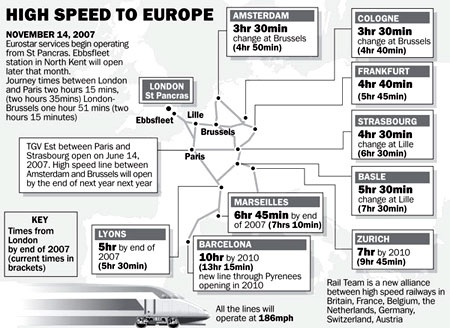 2012 Olympics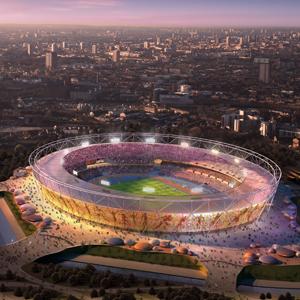 2012 Olympic London Beach Volleyball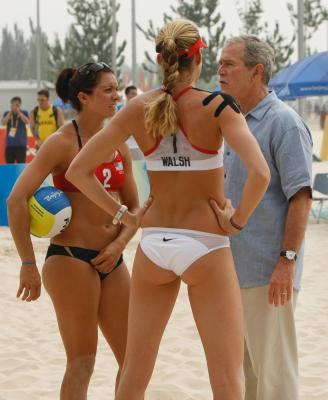 2012 Olympics - BMX team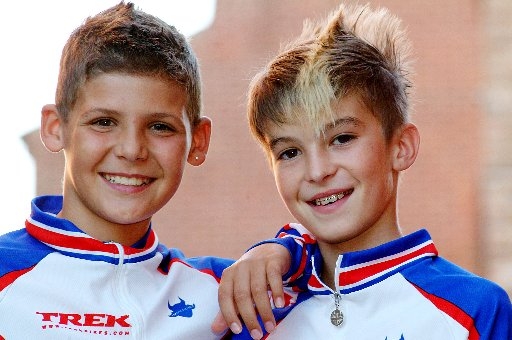 2012 Olympics London David Beckham host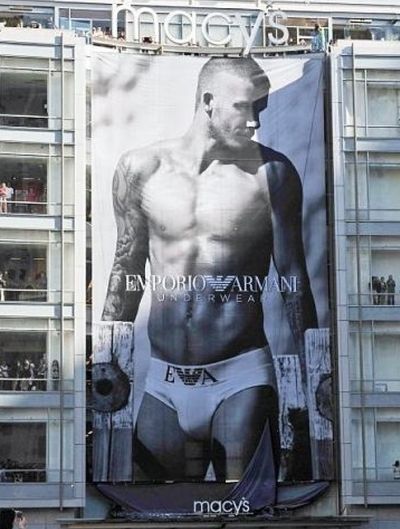 2012 Olympics London - dancing