280: London Villages - Hotspots for the Future
08-08-2009

PropertyInvesting.net team
Property within London Villages have been popular and relatively expensive for the last few decades. However, there are no signs that this trend will stop or slow. In fact, on the contrary, we expect the relative-proportional price differential prices between far flung London suburbia and London villages, particularly central ones, to increase. The reason are numerous – we will itemize the below: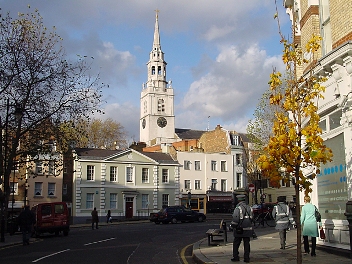 London Village – Benefits and Tendencies:
Good schools

Less crime

Trees, open space

Churches, historic buildings

Cafes, good shop

Cricket, good pubs

Popular for retiring wealthy baby-boomers that want to be close to culture-theatre

Popular with high paid city financial workers with young families

Best of both worlds – village type environment but close to big city culture-leisure-attractions and high paid jobs

Public schools

Away from big main roads and motorways

Away from run down large council estates and high crime areas

Community spirit
One of the significant insights we would now like to bring to your attention is that – as oil prices start to rise ever higher as the effects of Peak Oil kick-in - close proximity to high paid work via electric train/tube travel, cycling and walking achieve a higher premium. As oil prices sky-rocket, London villages are likely to be the least affected by pressure on property prices because they have relatively low oil intensity being close to efficient services industries. If power cuts occur or strikes and fuel shortages break out, most London village workers will be able to cycle to work – or even walk (e.g. Clerkenwell Village). As electric cars become more common, the environment will become cleaner still and the quality of city living will improve. As food prices rise, the canny London Village inhabitants will be securing allotments for their own organic produce. We think this is just a few years away. Outlying country areas will be hammered by high petrol-diesel and transportation costs. London distance car commute will become a thing of the past for the average person. The best place to be will be in a very pleasant city environment close to City jobs within cycling or walking distance of the London city centre – in case of transport disruptions. Relatively small energy efficient village Victorian terraces will become some of the most desirable properties in London.
Below we enclose a list of the well known London Villages
London Villages North of the River Thames (courtesy Time Out)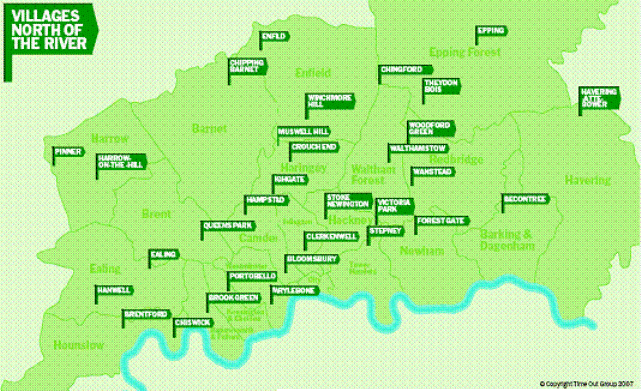 North of the Thames
Harrow-on-the-Hill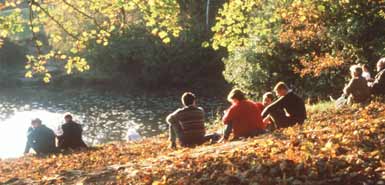 Pinner
Queen's Park
Winchmore Hill
Enfield
Chipping Barnet
Hampstead
Highgate
Muswell Hill
Crouch End
Ealing
Hanwell
Theydon Bois
Havering-atte-
Bower
Chingford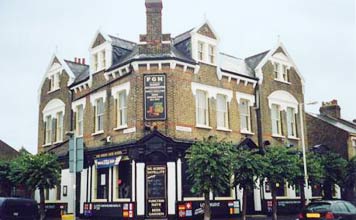 Stoke Newington
Walthamstow
Wanstead
Woodford Green
Epping
Forest Gate
Becontree
Chiswick
Brentford
Brook Green
Portobello
Marylebone
Bloomsbury
Clerkenwell
Stepney
Victoria Park
London Villages South of the River Thames (courtesy Time Out)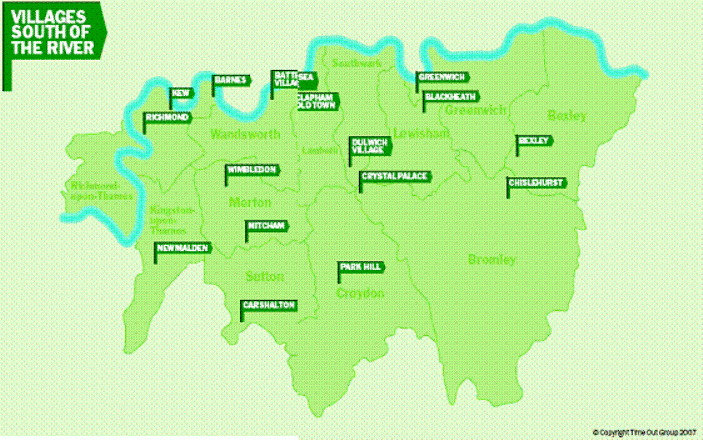 South of the Thames
Richmond
Kew
Barnes
Battersea Village
Clapham Old Town
Wimbledon
New Malden
Blackheath
Greenwich
Bexley
Chislehurst
Mitcham
Carshalton
Dulwich Village
Crystal Palace
Park Hill
Now we supply you with our overall London Hotspot map – for the next five years.
London Property Hotspots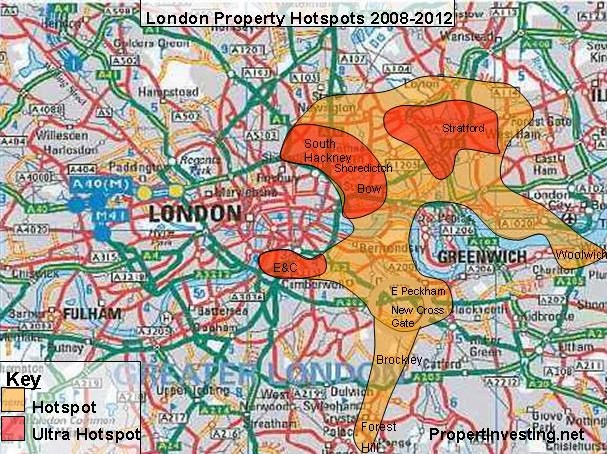 The trick is to overlay the villages with the hotspot map. What you will find is some potential mainstream gems, namely:
Forest Gate, Clerkenwell, Stepney, Victoria Park and possibly Walthamstow and Wanstead
But there are some Villages in our opinion that are missing from these very good "Time Out" maps - we can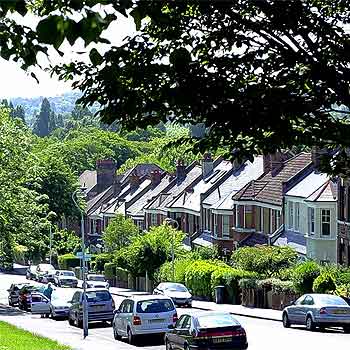 also advise you of these now:
Stratford

Village

(0.5 miles SE of Stratford City Centre)
Forest Hill (SE London)

Hatcham

Park

(north-west of New Cross Gate station)

Telegraph Hill (south of New Cross Gate station)

Brockley-Hilly Fields (west of Lewisham)

Ladywell (south of Lewisham)

Peckham Rye Lane-Park (just south of Peckham)

Herne Hill
These villages have only been partially discovered so far – they are all well worth a visit for the canny property investor. Take your bicycle and explore the areas - although most are rather hilly - note there is normally a good correlation between hilly areas and expensive areas in north and south London (these were populated by wealthy Victorian people who lived away from the smokey and industrial eastern and western river areas in the 1900s). You will also notice most of these villages are sprinkled nicely along the brand new East London Rail Line that will open in 2010. All are regenerating. And Stratford village (not to be confused with the new Olympic village) is a nice 0.3 mile square series of two story small Victorian terraces with close proximity to Ham Park and Olympic development plus Eurostar and Jubilee Line plus DLR and all the other gigantic retail developments – a clear winning investment hotspot.
As the effects of Peak Oil kick-in, London will be hedged better than any other city in the UK except Aberdeen (oil exploration and production capital of Western Europe). London makes huge revenues from oil and gas – and the foreign energy money keeps rolling in regardless. Furthermore the positive impact of the Olympics, Crossrail and financial sector will all help.
We supply some reference material for you below to help you assess the merits of these villages. We hope this special report has helped give some pointers to the best areas to look at investment in within London.
East London Line Map
London 2012 Olympic Park - Stratford East End regeneration and property boom. The Lower Leas Valley from Stratford, Pudding Mill, Old Ford to Canning Town is the largest regeneration project in Europe. A "buy recommendation" from PropertyInvesting.net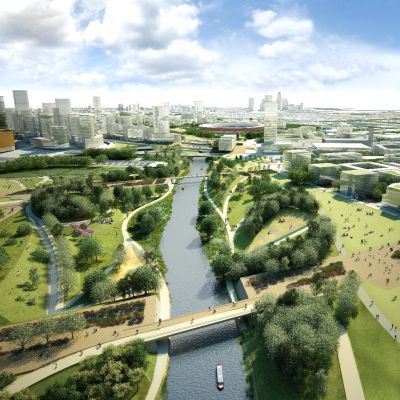 London 2012 Olympics - map - a property investing hotspot around Stratford - we particularly like the "Stratford Village" area - just 0.5 miles SE of the City Centre - a series of Victorian terraced roads just north of the pretty Ham Park.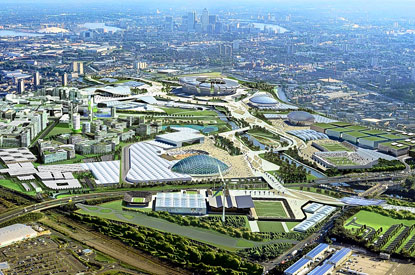 London 2012 Olympic Venues - Olympic Park Stratford - Lower Leas Valley - Eurostar Stratford International Station is the East-West tending white strip just SE of the Hockey. Stratford City centre is 0.3 miles further SE on the map. You can just see Ham Park - in green - to the far central east-south-east of Aquati Centre.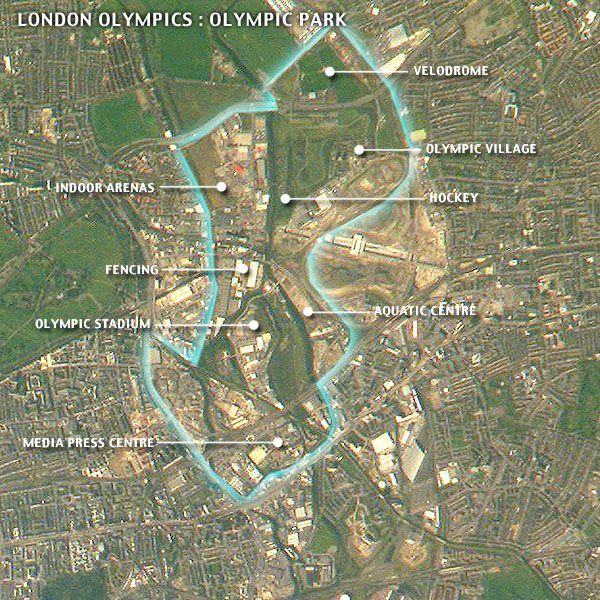 London Olympics 2012 Village Stratford - view looking SW towards Canary Wharf. Notice the Greenwich Dome in the mid-top left. This massive regeneration thoroughfare will bring big benefits to Hackney Wick, Stratford, Maryland, Bow, Bow Church, Pudding Mill, Old Ford, Canning Town, Plaistow and West Ham. Forest Gate, Shoreditch and Greenwich will also benefit as will Leytonstone, Hackney and East Ham. Forest Gate is a village, along with Greenwich and Hackney Wick can also stake a claim to be a village in conjunction with Victoria Park close by.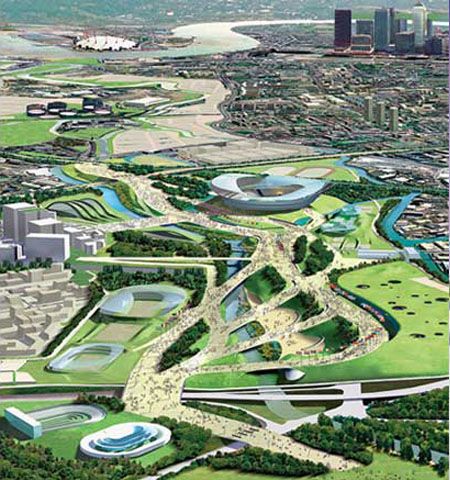 London Property Investment - Westminster at night - one of the most expensive areas in London and very popular amongst the wealthy because of access to West End, City and airports etc.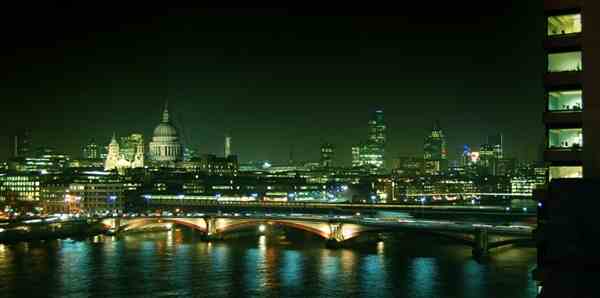 London Property Prices - expected to rise with Olympics - view from South Bank towards the City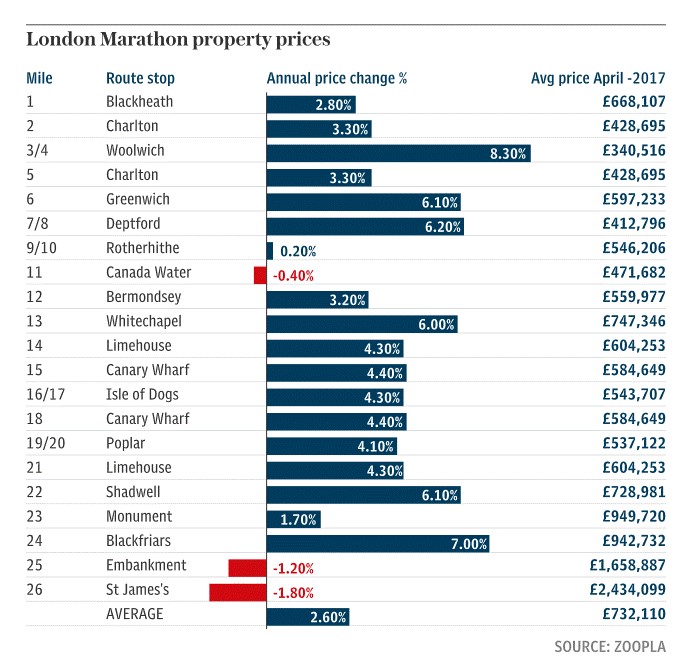 London Olympic Map 2012 - main venues with the Olympic Park in white being the focus (80+% of development activity will be here)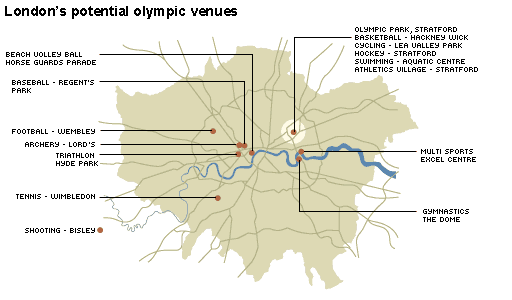 London Olympic Stadium - artist's impression after completion in early 2012. Building work is well on course - there is talk of using this stadium for the England World Cup 2018 bid