286: UK property update - into 2010 and beyond
09-06-2009
PropertyInvesting.net team

Objectivity is Key
In this Special Report, we would like to highlight some key underlying drivers that will shape the property investment landscape in the UK over the next five years. As ever, we aim to be objective, dispassionate – with the aim of helping increase property investment returns for visitors. As experienced investors, we hope our views strike a cord with you. And we hope you can see we try and hel
p provide this service.
An Opinion
First of all, there are many expert and varied view out there – all have some form of substance and are generated by many highly intelligent and intellectual commentators. We compare ourselves to no-one and we would rather focus on giving some well thought out views rather than slinging kud at others.
Lost the Plot
We believe the political establishment have lost the plot – their combined understanding of business, markets and enterprise is lacking. So few have any experience in business, this is hardly surprising. Years ago, successful business people went into politics in the later stages of their career to give something back to society. Michael Haseltine was an example. Many came from the forces – and sho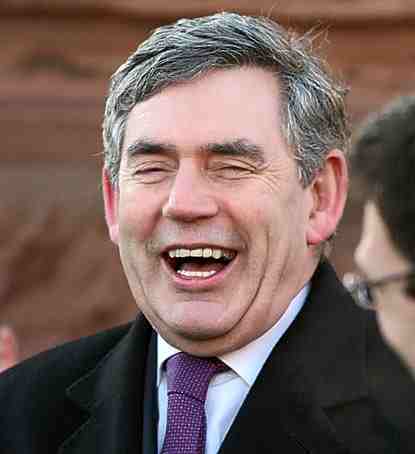 wed leadership to match – an example was Churchill. Now, we have career politicians running the country. So when they encourage the Bank of England to print money to try and stimulate an already way over en-debited Britain, it makes use very nervous. If our public deficit was less bad, it would be less of a concern. But how one can spend our way out of a financial crisis when we have no money coming in to pay for it – except higher taxation that harms businesses and individuals, it is difficult to get ones head around it. For too many years – since 1998 – the government has been increasing the public sector at double the rate of GDP growth. Taxes have skyrocketted. We end from one of the lowest taxed employees to some of the highest in Europe in the space of a decade of over-expenditure. If the service quality and infra-structure improvements had match this doubling of expenditure, we would be more encouraged. But it frankly has not.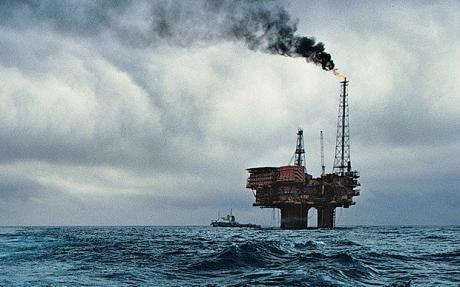 North Sea Oil in Decline
Meanwhile, from 1999 the North Sea oil and gas production entered a period of terminal decline. Just as this was becoming evident, North Sea taxes increase in 2005 which further suppressed North Sea oil investment that has increase declines. This of course has affected our balance of payment deficits. From being the world's fifth biggest oil producer in 1998 when Labour came to power, we have transformed ourselves into a net oil and gas importer as from 2007 – in the space of 8 years.
UK Sterling Decline
UK Sterling used to be a Petrocurrency. It lost it's luster after the financial crisis hit in 2008 and probably finds a home more because of the US dollar underperformance than anything else.
Inflation Will Rise
Inflation last month, despite GDP dropping 5% in the last year, has stayed at 1.8%. This is very worrying.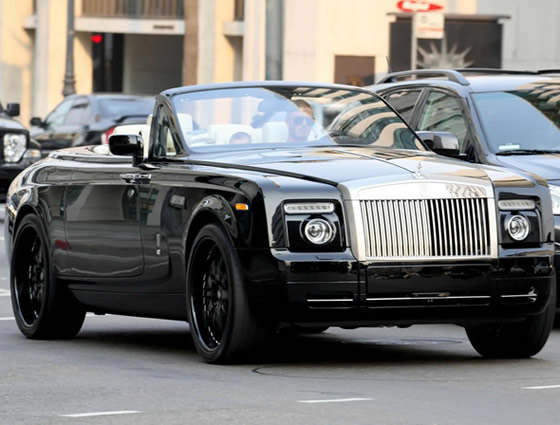 Because oil prices have risen from $38/bbl in October 2008 to $70/bbl now, the Sterling has declined against the dollar, we expect inflation to rear its ugly head again. Watch out early in 2010 – because we believe (unlike the market) that interest rates will go shooting up early 2010. This should be enough to stifle any recovery and with it stall-out house prices. The key message is, it will be and stay turbulent and not be like anything we have seen since the 1980s (for those that can remember). We don't think it will be as bad as the 1970s though. But energy price will rise further creating real hardship for many people living in high energy intensive areas – e.g. remote farming districts, manufacturing centres.
UK positives
But there are a few positives out there which are worth highlighting:
London

remains a premier global financial centre and has not been hit too badly despite the economic meltdown of late 2008

Democratic

Education in the UK is excellent – some of the best Universities in the world
Health Service is still admired – and a reason why many retirees and expats end up returning to the UK after periods abroad

Beautiful countryside, rich culture and history

London

global cosmopolitan centre – people from all around the world feel at home in London – a massive wealth generating centre for business and investment

British people – motivation, knowledge, creativity and enterprise

Expanding population prevents skew of elderly people – with too few young to support

Import bills for oil and gas very small (although increasing)

Change of government highly likely to reduce deficit and improve business and public sector productivity and efficiency

Speak English – global business language

Sense of humour, pubs, football, free media and fashion

Multi-cultural diversity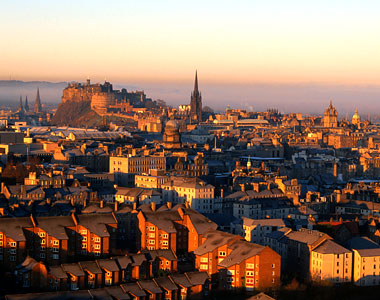 Key Growth Areas – "long" or invest
Oil, gas, coal, metals exploration, development and production

Energy conservation and efficiency

Electric vehicle manufacture

Property in energy efficient areas – London
Property in cities and town most exposed to energy businesses – London, Aberdeen, Reading
Property close to good quality and/or high speed rail lines – Stratford, St Pancras, Gravesend, Reading, Ashford, Folkestone, Woking, Bedford, St Albans
Holiday and retirement property within range of London in Southern England (Weymouth, Whitstable, Ramsgate, Dorset, Devon, Cornwall) – as fewer people take airlines abroad for holiday and more people travel in UK by car or train for annual and weekend leave
Areas exposed to 2101 Olympics – London, Stratford, Weymouth
Areas exposed to infra-structure improvements – London, Stratford, Gravesend, Ashford, Canterbury, Ramsgate, Folkestone (plus East London Line – Haggerston, New Cross, Brockley, Croydon and DLR - Woolwich)
Key Decline Areas – "short"or divest
Airline business

Northern areas serviced by small regional airports where services will be curtailed (e.g. East Midland, Newcastle, Teeside)
Remote areas with long distance commute to cities – with very few second or retirement homes in London catchment area (e.g. west Wales)

UK

manufacturing – anything that can be built in China, India or mainland Europe cheaper (e.g. Liverpool-Merseyside)

Areas most exposed to public sector jobs losses if/when Tories get into power – Newcastle, most of Scotland (except Aberdeen), many parts of Wales, Midlands and northern England
Safe in the South
Overall – we would summaries by saying it's safer in the south – with the focus on London. Cornwall, Devon, Dorset and Wiltshire also rank high because of the lack of homes being built and expanding populations in the counties. Plus rail links to London. As oil prices rise, and airline travel becomes more expensive, people will choose to holiday more in southern England and also retire in southern England. Historic cities and towns, plus coastal resorts in southern England we anticipate to continue to perform well. But don't forget the classic inland cities and towns that are attracti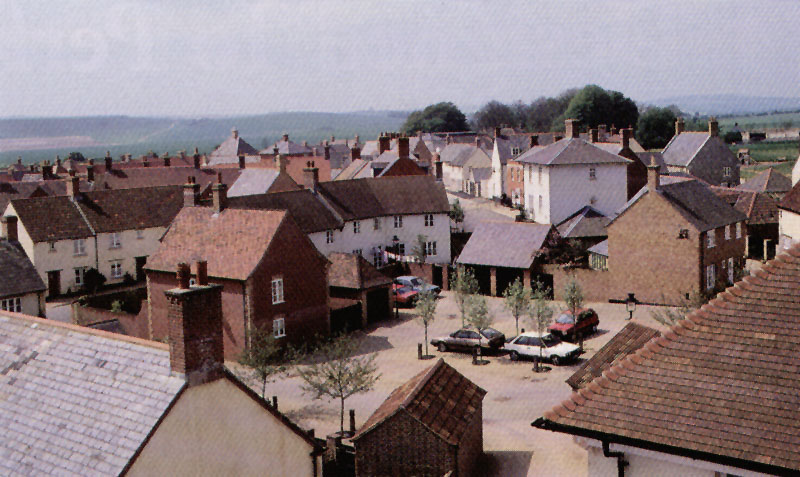 ve:
Bath

Winchester

Oxford

Cambridge

Ludlow

Marlborough

Chichester

Banbury

Truro

Exeter

Wells

Shaftsbury

Salisbury

Stratford-on-Avon

Malvern

Gloucester

Cheltenham

Spa

Canterbury

Ely
All these cities and towns have tight planning controls, very little building and all are very desirable places to live. It's probably safest selecting the Universities cities with fast train services to London – hence Canterbury, Cambridge and Oxford probably rank the highest on this measure. Any corner of these cities that is close to the centre but regenerating will see the biggest property price rises in future years. For a more down-to-earth town, Kettering is an interesting place with continued regeneration and fast trains service to London. Northampton is another similar property play. Both are in an area of expanding population close to the expensive and high knowledge base Cambridge-St Neots-St Ives area.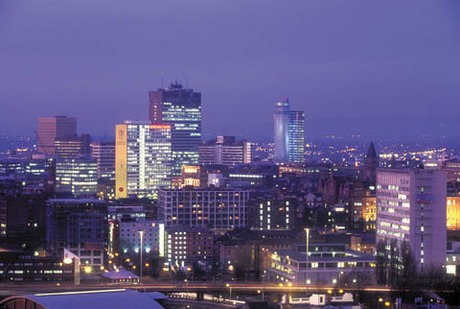 Many wealth Midlanders and Northerners will head south for retirement – and the mix of good health care, culture, cuisine, proximity to London and the sea will benefit these wealth retiring babyboomer. This is very similar to our advice from five years ago! Its just that Peak Oil and the financial meltdown will probably keep people in the UK far more than we originally envisaged – so head south to the coast in close proximity by fast rail to London and you cant go far wrong (may by Southend and Clacton have their merits after all!).
Change of Government? - Impact
Another consideration is that come June 2010, it's highly likely the UK will see a change of government. Anyone that currently thinks differently is probably not being dispassionate or objective (or you coudl always wager a bet on this down the bookies). As a rule, when Labour governments take power - they boost the public sector in part because these employees tend to vote labour - they therefore have a higher chance of retaining power. Of course it is also part of the Labour value set. However, when Tory governments take power, they tend to do the converse - boost the private sec
tor and cut the public sector - part of their value set and it would also lead to a higher chance of them retaining power.
Change mid 2010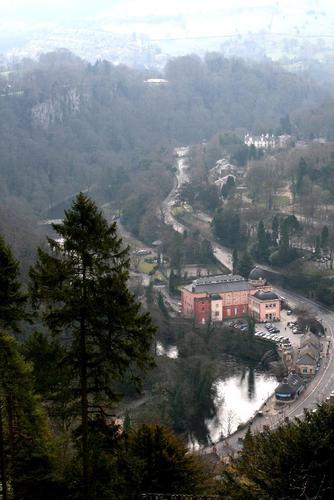 So, what do you think will happen in mid 2010? It's pretty obvious to us that the public sector will be cut, and with it jobs. This will have a disproportionately negative impact on areas of very high (and expanded) public sector workforce - read: Wales, northern England, Scotland, parts of the Midlands. The private sector in such areas will also be hit as funding for contractors and consultants dries up. So we believe this will suppress house prices in these areas. Like most people, we don't want property prices to drop (we have property investments in the north as well), but objectively - it's very likely to happen. We can see and have a good stab at predicting this. If you disagree, we will res
pect your view and judgement. But we thought we should flag this now - it's not the sort of correlation one sees mentioned.
North - South
We also cannot help notice the huge positive impact the Labour government have had on property prices in outlying northern areas - 200 to 300% in 10 years - but is it any wonder when the public sector employment has expanded so markedly in these areas (Newcastle has 53% of its wrking population in the public sector, more than Hungary during communism before the Wall came down). So we hope you can see that this cannot last forever - as the UK has run out of money, has declining oil revenues and public sector retrenchment is expected in mid 2010 - this we believe will increase the difference between southern and northern property prices. Talk of the "North - South Divide" - as in the 1980s to early 1990s - will start again come 2011. And just as this begins, London will see a further boost from the Olympics, tourism and infra-structure expansion as the last big public sector fling before the true uncommitted expenditure it cut. Oil prices rising will also benefit London the most out of all UK towns and cities.
China Factor - will it help?
Finally, watch out for the China. They will be investing more heavily in London in future years as a safe heaven and currency hedge against the declining dollar. This has just begun - the South Korean's are also just getting started. Expect to see a positive uplift for West End and commercial City and Docklands property from this inward investment. Also, watch out for resources venture, equity and acquisitive activities. The reason - according to our analysis - is clear. By 2015 according to our mathematical modelling (based on bottoms up build of country production ad consumption forecasts), the Far East will be importing a gigantic 22.5 million barrels of oil a day. If one assumes a very conservative $110 per barrel by 2015, that's a gigantic $ 0.82 Trillion a year oil import bill. Yes, we are serious. China will be using the opportunity in 2009 during these low oil price times to acquire equity and stakes in as many assets as possible - particularly in Africa, Middle East, Canada and possible even the North Sea. This includes oil, gas, coal, metals and forestry. The Far East - with it booming car usage - will need as much oil as possible to fuel growth. The Chinese have 25 million cars today. We estimate there will be 500 million cars by 2050 - requiring 20 million barrels of oil a day assuming 50% re powered by electricity. London being the global centre for so many large energy, mining and engineering companies - along with Aberdeen - is well placed to benefit from this resources investment - this should also boost the FT100 and FT250. A further boost is likely if there is a change of government in mid 2010. And expect more of the Far East wealth to end up in expensive West End property. So it's not all bad news. But the focus of the UK growth we believe will be in London and surrounding areas. With oil prices and Peak Oil controlling overall growth.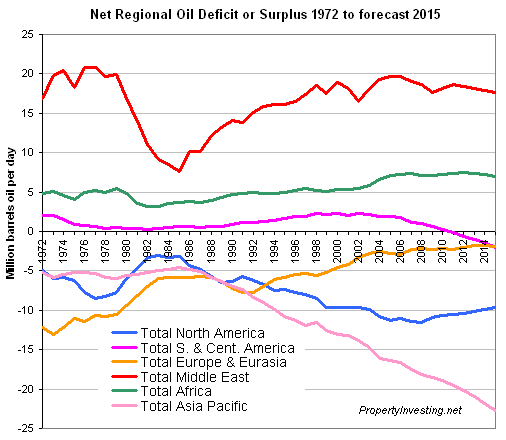 UK versus the USA
Finally, UK residents may find the following interesting. If you wander whether the US is a good place to invest in real estate versus back home in the Uk, take a look at some of these numbers.
UK Oil Import Bill $2 Billion per annum ($42 per person per year)

US Oil Import Bill $460 Billion per annum ($1500 per person per year)

UK Healthcare Costs $3000 per person per year (ranked 18th in quality in the world)

USA Healthcare Costs $7000 per person per year (ranked 31nd in quality in the world)
This means the UK citizen has a $4500 per annum head start over the average US citizen. The trends looking forward are favourable for the UK with a change of government predicted by mid 2010. Meanwhile, the new government in the USA will raise taxes, increase public expenditure, print money and without much doubt we will see a decling dollar against Sterling for the next few years. So although on the face of it, the UK seems to have a number of pressing problems, the medium to longer term outlook are probably more favourable than most people realize. For property investors, 18% capital gains tax is a big benefit - down from 40% before 2007. And if the top rate of tax is changed back from 50% to 40% - this will also help prevent a brain and wealth drain into 2010 - all the super-rich decamping to Switzerland and Monaco....
If you have any comment, please contact us on enquiries@propertyinvesting.net
Saltaire Salts Mill Bradford NW - English Heritage - one of the great mills of England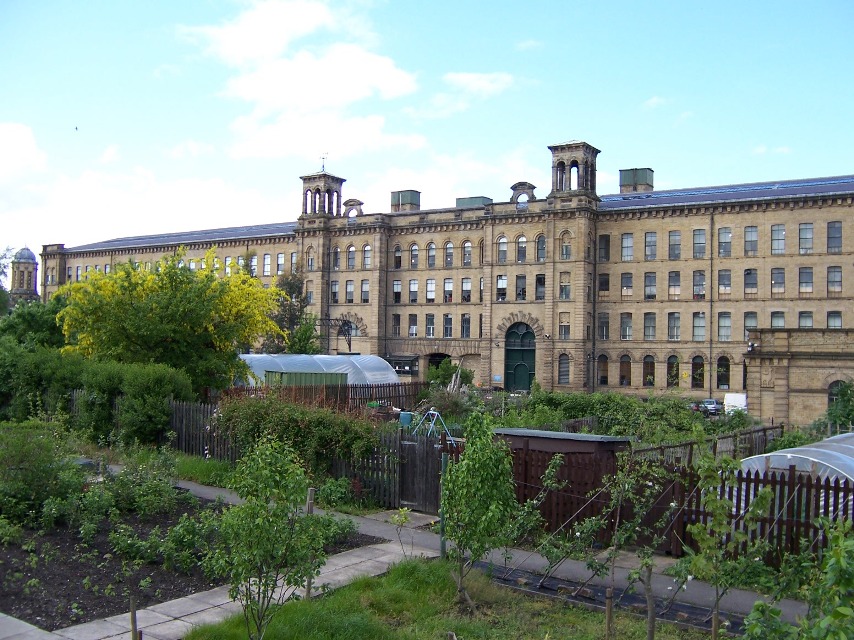 Bradford Regeneration City Centre - with historic German Quarter to the NE of the centre
Cambridge - most prestigious science University in the UK, technology centre and boom city
Liverpool - southern docks and Liver Building in background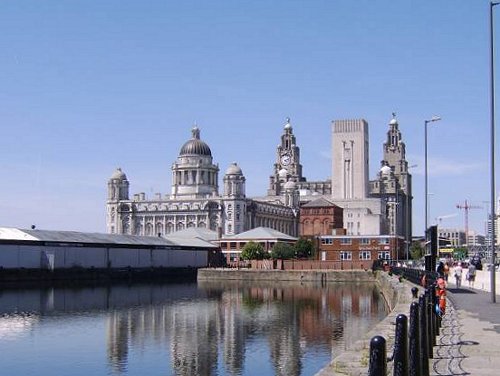 South Liverpool - upmarket Aigburth victoriana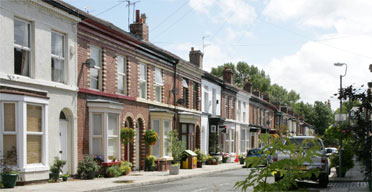 Coldplay - one of many successful UK rock bands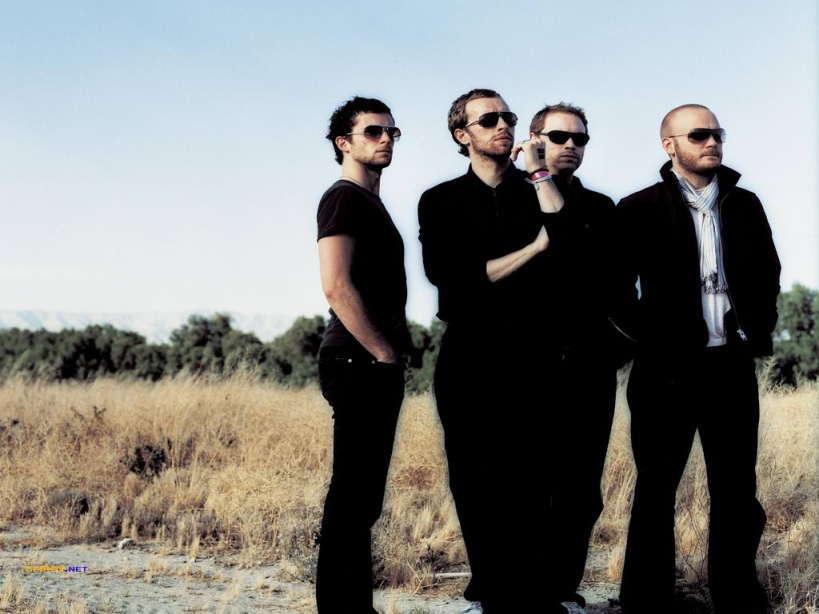 Harlaxton Manor SE of Nottingham
- "crisp Spring evening" - built during the textile boom in the 19th Century - from technological advances in textile machinary and steam power. This house is far bigger than Bill Gates's - "what magnificant wealth was created from this green and pleasant land"