52: Do not buy new-build in the UK at the moment!
12-10-2005
PropertyInvesting.net
Let's face it – the budget was a shocker! The U-turn on rolling residential property into Self Invested Pension Plans was a stunner. It caught everyone off guard. Many investors had spent between £500 and £5000 preparing SIPPs prior to 6th April 2006, in readiness for rolling residential property into. Worse still, the current rule is borrowing of 75% on commercial property in SIPPs, but this will go DOWN to 50% on April 6th – worsening conditions for investors. The good news though was REITs will be introduced, though these funds are managed by larger institutions with associated fees – therefore its like buy a unit trust. Something most small property investors will steer clear of – because they will surely believe they can make higher returns themselves by buying in selected places and renting out property – either residential or commercial. However, these REIT vehicles are leveraged and if you wish to be hand-off with property investment (possibly attractive is older property investors that have sold their property portfolios) they should be attractive to access tax advantages.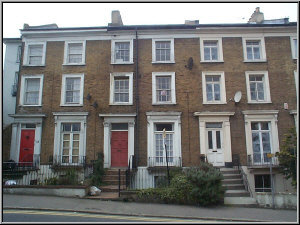 Meanwhile, there has been negative media coverage on companies that specialise in pooling investors into syndicates that then negotiate discounts on new build apartments - claimed to be in the range 5-20%. Some investors have then used these discounts as deposits to fund the acquisitions – so called "no money down" purchases. This week, The Mortgage Works, the buy-to-let arm of the Portman Building Society announced it was ceasing giving mortgages for new-build property because it considered them "too high risk" – media coverage indicates this is at least in part because of discounts being used for deposits – as has been reported on by the Financial Times. Basically, this methodology is a scam – and banks consider it highly unethical.
Meanwhile, there has been a slight oversupply of new-build flats in many parts of the UK – which have hung on the market as the housing boom has cooled. As apartments have been completed, the flood of rental property onto the market has driven down yields and increase voids – yields of 4% are common – and not enough to pay for the mortage.
Reports that new build prices in the UK have dropped by 5% in the last year, whilst used properties have risen by 5% are further proof that there is an oversupply of new build apartments. I refer to apartments because the bulk of new build are apartments – in part because of land shortages, local planners wanting homes for key workers, and in part because developers make higher overall profits from cramming many apartments into a small parcels of land. It is in large part an economic necessity – particularly if the local planning authority stipulates that say 40% of the properties on a building site have to be sold at low prices (believe true market value) to key workers.
Most people in the UK would prefer to live in a house with a garden – something the local planners are quietly ignoring. Developers know they can sell houses easily, but there is not enough building land to make this economically attractive in many areas. Also, it's lower risk to build apartments because overall returns are higher.
Meanwhile, the stock of post war, pre-war and Victorian homes gets older – and these building just seem to last forever. Remember all those late 1940 pre-fab buildings that were supposed to last 10 years – many are still around – nice detached homes with gardens!
Wealthy individuals particularly like large period Victorian houses, Edwardian and Georgian homes are even more popular – and Elizabethan the most popular.
So with all the dynamics occurring in the new build property market at present e.g.
Probably oversupply

Question marks over the future strength of the market

Concerns that building societies might decide not to fund new-build mortgages

Bad press from syndicate groups gaining discounts for deposits
PropertyInvesting.net currently advises that investment in pre-1990s property is best during this period of uncertainty – the older the better.  If you can purchase a piece of history in good condition for a low price, we would argue this would be a far safer investment than new build in the current market.
And remember, when you purchase new-build – surely some of your money has to be passed as profit to the developer, otherwise the developer would not be in business! And I have bought many old properties from people who know nothing about business – and I am pretty sure I extracted wealth from them, rather than the other way around! And I was helping them move in the process…and they thanked me for it!