4: Cornish Population Increase Drives Up Prices - will this last?
05-21-2004
Summary: There has been a 25% population increase in Cornwall from 1971 until 2002. All areas have seen a significant increase. The shortage of housing and increase in second homes is driving up prices. If the population trends continue and housing supply does not increase significantly, PropertInvesting.Net believes prices will continue to rise as baby-boomers start retiring from SE England, London and the Midlands, and migrate to Cornwall.
Demographic History: Cornwall suffered significant population reduction from Victorian times through to the 1960s as employment from tin mines, china clay, quarrying, agriculture and fisheries reduced or disappeared and were not compensated for by an increase in jobs from tourism. Many people left Cornwall to find work in other parts of the UK ("up-country" as they say in Cornwall) and abroad. However, since the 1970s there has been a net migration back to Cornwall, many of these retiring people - their average age has increased which has adding to the trend.
Analysis: Of particular notes have been the rises in population in North Cornwall (Bude/ Padstow Wadebridge/ Camelford areas) - this district is closer to London and many parts such as Bude until recently had relatively low property prices. The towns of Padstow and Rock in particular have always been popular, though this has increases significantly of late. Truro and Falmouth's population has increased as these two towns have become very desirable retirement centres. House building has been minimal - in part because of the environmental impact and concerns of infra-structure overload. This does not look likley to change in the medium term and has put pressure on house prices, in particular for locals who earn on average far less than most other regions in the UK.
Penwith has some interesting correlations with general UK house prices - it seems whenever there is a surge in house prices in SE England, there is a net migration to West Cornwall. This may be explained in part because of people acquiring second homes (in-frequent residents) though it is probably in most part because when house prices have risen in London/SE England, people have decided to take this opportunity to "sell-up" and retire to West Cornwall.
During periods of recession, migration to Penwith has reduced - probably because unemployment has been higher and people of working age have left to find work "up country". During periods of strong UK growth (e.g. late 1980s and from mid 1990s to present) when jobs have appeared, people have stayed and found work in the area. Many of these jobs are seasonal - tourism and also agriculture related. New lighter industries and some service sector and along with quite a few pubic sector jobs have arrived in the last decade that have provided stable employment for Cornish people wishing to "stay" and people from other parts of the UK wishing to settle in Cornwall. This should increase with the initiatives such as the Prince Wales's sponsorship of new light industries in Cornwall, moving through this decade.
For the property investor, there are significant opportunities to help the local population - buy working with councils to provide affordable housing. The market for retirement properties is likely to be stronger, particularly after 2008 when the first wave of baby-boomers will be retiring (the oldest is now 58 years). There is a big shortage of flats and good quality small homes since most of the housing stock is houses. Problems getting planning permission for conversion of homes has been a problem in the past though there are indications this is changing and the councils are starting to encourage any initiative to increase the availability of homes (terraces and flats) for small families and individuals. Many of these are so called "key workers" - others are people that cannot find suitable rented accomodation and/or cannot afford the 5-10 times multiples of salary required now to purchase property (note the average wage in most parts of Cornwall is about 16,000 pounds, whilst the average house prices is 150,000 pounds). PropertyInvesting.Net does not know of any other region in the UK where there is such a huge disparity between wages and house prices - this is cause by a combination of the following forces:
Relatively wealthy people from other parts of the UK (mainly SE England/ London/ Midlands) buying retirement homes and second homes
Lack of building of affordable new homes of all types
Cost of conversion of old buildings to affordable homes
Deprived area status (e.g. most of Penwith, Cambourne/Redruth etc) - note: there is the possibility that Penwith may be the last remaining EU Directive One funded deprived area in western Europe now the eastern European countries have joined
Until recently, high unemployment - still higher than the national average
Low wages from employment in agriculture, fisheries, tourism
Lack of large businesses and service sector
Impact on Future House Prices: Whilst it is easy to make the deduction that prices cannot rise further because of the large earnings to house price disparity, PropertyInvesting.Net believes prices will continue to rise as more relatively wealthy people migrate to Cornwall from other parts of the UK:
Buying retirement homes
Buying second homes (part-time residence)
Downshifting - change of lifestyle - taking advantage of IT and consultancy
Telecommuting to London using low priced flights from Newquay Airport to Stansted/Gatwick
Lack of house building
Planning adn infra-structure restrictions
Improved reputation of schools
Low crime rate
Beautiful scenery
Popular community environment
PropertyInvesting.net expect house prices to be particularly strong in the Truro, Newquay and Redruth areas that have good access to the A30 and Newquay Airport. Coastal properties with sea-views are expected to command an ever increasing premium - analysis of house prices in South Hams (e.g. Salcombe) support this view. Ever popular and select areas around the Helford River and Falmouth (e.g. Buddock Water, Gweek, Penryn) are likely to command an even bigger premium as more wealthy retirees move to the nicest parts of Cornwall. Other examples include "boaty" villages like Rock, Polperro, St Isaac, St Ives, Mousehole and Fowey.
In summary, PropertyInvesting.Net is not surprised at the high price growth in the area so far - and expects this to continue in the future as the baby-boomers aspire to retire in the south-western parts of the UK to take advantage of the warmer climate, sea, beaches, scenery and relaxed lifestyle.
Cornwall Population General Population has increased 25% since 1971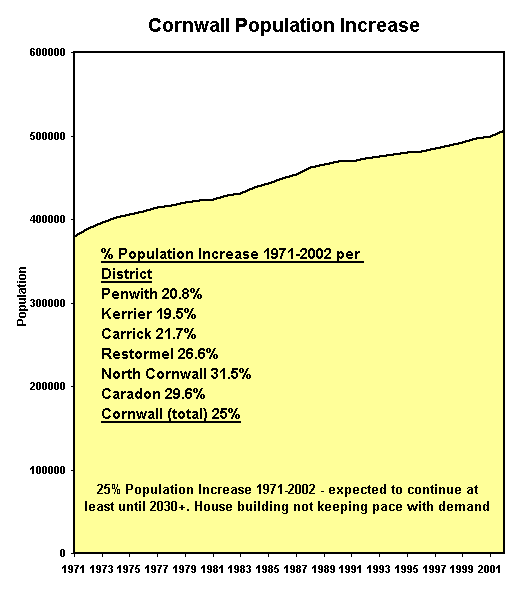 Population has increase in all area, with North Cornwall leading the trend..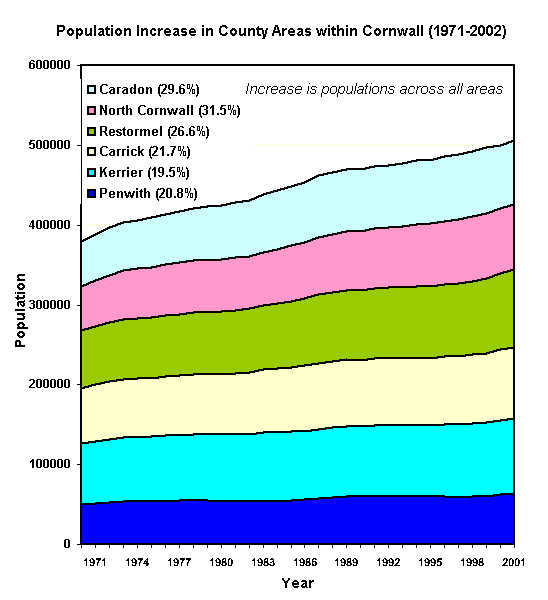 West Cornwall population correlates with SE England house prices and growth..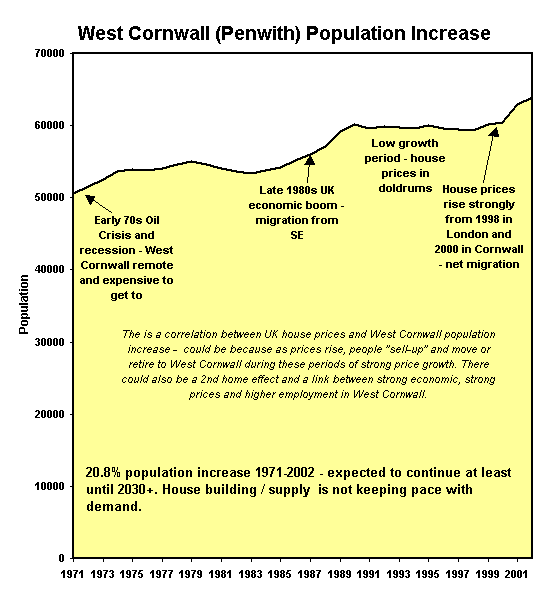 As national house prices increases, the population of West Cornwall increases..