68: Investment in Holbeck - Leeds
05-20-2006
PropertyInvesting.net
Holbeck is one of the poorest areas of Leeds but benefits from being only half a mile from the city centre. In the 1970s it was cut off from the city centre by a new motorway and degenerated - many properties became derelict. However, in past five years this started to change and in the next five years the building of a direct pedestrian bridge over the motorway/canal will make access to the city far easier. This is likely to lead to workers in the city centre financial district choosing to live in the up and coming neighbourhood of Holbeck - parking is such a problem in Leeds city centre it will be quicker to walk!
In part to stimulate re-generation, the area's postcode will be reclassified from LS11 to LS1 - e.g. central Leeds. This should further improve the area's image and may lead to higher business investment in the area.
Holbeck has good motorway communications, just off the main Leeds - Manchester route.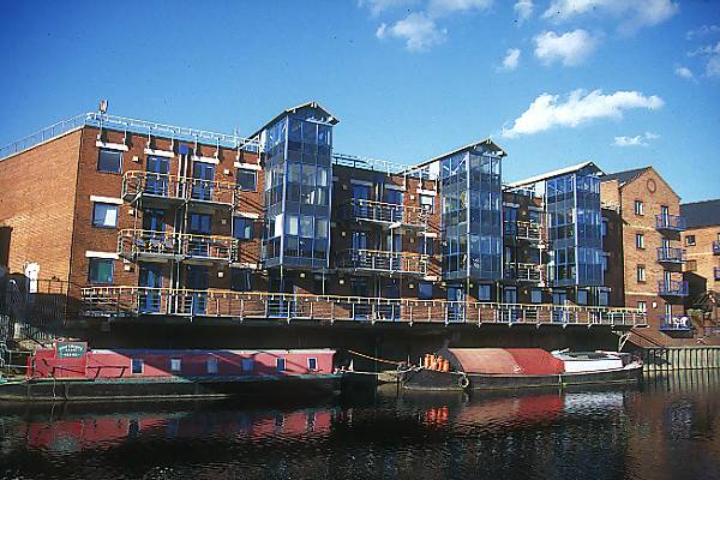 Leeds City Centre Waterfront is within 1/2 mile distance
House prices doubled about two years ago (see below chart) and have now levelled off - but PropertyInvesting.net would expects this area of Leeds to outperform other suburbs in the next 5 years as regeneration takes off. Leeds is the main financial centre of the north, and is only second to Manchester for commerce. Yorkshire house prices have risen dramatically in the last 4 years and the city benefits from an expanding Leeds - Bradford airport about 5 miles NW of Holbeck.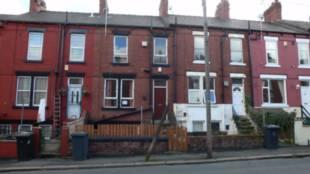 Beeston to the East - SE of Holbeck is another regenerating area with larger houses and more green space, and this part of south Leeds is definately on the up.
The ariel photograph shows Holbeck - many high rise blocks mixed with Victorian terraces and some 1970s infill. The Leeds railway stations is in the NE corner, with the canal beside. There are quite a few rather delapidated commercial areas - though these are likely to turn residential or office based in future years.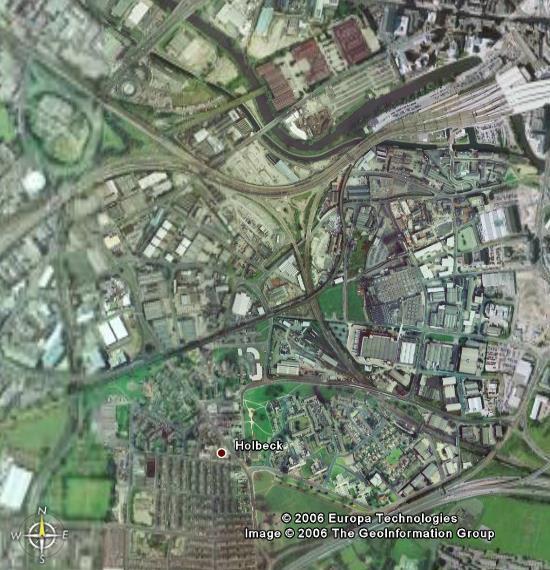 Crime in Holbeck is relatively high as is unemployment though these have both come down over the last five years - the area is very central so it is getting particular focussed attention from Leeds City council. There will undoubtedly by a good ripple effect of prices from central Leeds areas - particularly as suburbs to the west such as the University area of Headlingley area about three times the price of Holbeck. There has been talk of the University buying high-rise blocks in Holbeck and turning them into student halls of residences, though this is yet to be implemented.
The main risks to Holbeck is crime and unemployment - with northern public sector money drying up and public sector jobs growth stagnating, this may edge unemployment up in the medium term. Leeds is likely to become more important as a financial centre, though some of these jobs that may have been shifted from London to Leeds (lower cost) might be outsourced aboard eventually. However, Holbeck is clearly an improving and changing area - any property that can be purchased at very low cost and have some simple work done on it to add value is likely to prove a good investment. Be careful not to purchase in an area where properties are "being" boarded up - rather best to invest in a road whether there is clear positive actions - e.g. skips, building work, boards coming off, renovations, people walking about and not looking threatening!
Typical Holbeck terrace house