30: Manningham Lister Mills investment area in Bradford
02-27-2005
PropertyInvesting.net
Urban Splash is converting Lister Mills in Manningham Bradford into luxury warehouse flats for professionals. This project is phased and will not be complete until 2007. The flats are 3 miles NW of Bradford city centre and 13 miles from Leeds city centre.
Urban Splash has been working closely with Bradford Metropolitan Council and Yorkshire Forward to secure the regeneration of what was the world's largest silk mills and remains one of the UK's most majestic mill complexes. After many years of uncertainty the first phase of regeneration began recently when building work commenced to convert the magnificent mills into a range of new uses including residential apartments, commercial offices and studios, community space and leisure activities. It is the intention to create a vibrant community of activity which will support the regeneration of the broader Bradford area.
The area suffered in 1995 and 2001 from race riots, and has been a depressed area because of high unemployment levels – partly from the closer of Lister Textile Mills in 1992 which used to employ 11,000 people. Things have been improving of late because the depopulation of Bradford has ended and demographics are now stable. Unemployment rates have come down significantly and Bradford re-generation has begun. The proximity of Bradford to Leeds (10 miles) and the Leeds-Bradford airport (10 miles), Yorkshire Dales and M62 also benefit the area.
The below chart compares terrace house prices in Manningham versus Leeds LS1 (Leeds city centre area). Whilst the comparison is rather extreme, the question that it raises is whether or not there is a good deal of house price capital value potential in Manningham as the suburb of Bradford re-generates?
Prices since the riots of 2001 have doubled – but in the last this is also true of the last ten years – they have "only" doubled. The national average for terraces house (grey line) has tripled. Terraced prices in neighbouring Leeds LS1 have risen from £68,000 to £185,000 since 1999 - the last 5 years.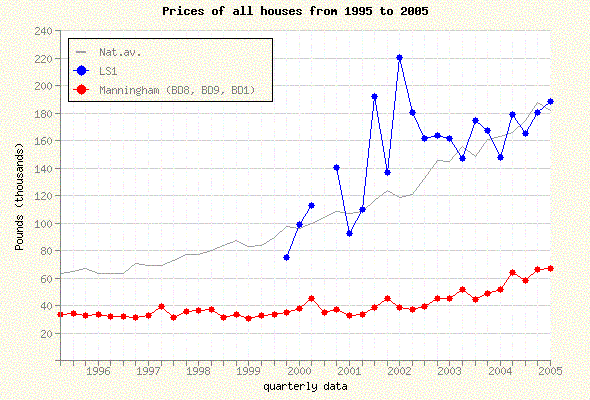 For the experienced investor, purchase of good quality terraces or flats close to the Urban Splash development might be attractive – though be careful to do some proper research into whether there is a robust rental demand and what yields you could expect. The area is some 2½ miles from Bradford University – if you managed to do a deal with the University to provide student accommodation, or some local businesses/factories or construction workers, this would reduce your chances of high void periods and having to lower your rents. It's a strategy which is potentially risky (and high reward), but it's difficult to see prices not rising in the medium to long term as the area re-generates, as long as there are no more riots of course.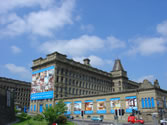 One attractive aspect of buying such terraces in the Bradford area is that most are built from local Millstone Grit – many even have original stone slab roof tiles. Many are in conservation areas and most were built during the prosperous Victorian times when textile manufacturing created huge wealth in the Bradford area. The area is now being re-generated after years of decline, mainly from the demise of the textile and other manufacturing industries – banking and services are moving in, the unemployment is rapidly declining. This means more people have a higher disposable income, and many are looking to purchase there own properties, close to areas of work. There has also been an influx of Eastern European factory and construction workers who need rental accommodation – it seems there is a heck of a lot of building going on in the area. The University and Hospitals are expanding, which means more rental accomodation is required from students and key workers.
For people who would prefer a more stable rental area in Bradford, close to the University, Hospitals and City Centre (trains to Leeds) BD5, BD3 and BD1 are probably the most attractive areas to research. Little Germany (BD1) in particular is a very special up-an-coming area and, again, it seems very difficult to imagine prices will not rise significantly in the future with the ripple effect from Leeds, Halifax, Huddersfield and towns on the edge of the Yorkshire Dales (e.g. Skipton) kicking in.
A final comment - the terraces are three time cheaper than central Leeds. The question is - are they undervalued or not? To reduce your risk, make sure you buy property clustered aorund either the Urban Splash development, train station, Bradford city centre and/or University and Hospitals. And make sure the rental demand is okay.
Any feedaback, please contact PropertyInvesting.net on enquiries@propertyinvesting.net.