518: UK Oil Production Collapse and Deficit
10-12-2014

PropertyInvesting.net team
UK net annual oil revenue deficit over time as oil production has crashed - actual from 1973 through to end 2013 an forecast to 2020. Regrettably the surplus years were meagre in view of oil prices averaging around $14/bbl during the main North Sea production boom. As oil production crashed from 1999 onwards - this coincided with oil prices skyrocketed from $9/bbl in 1999 to over $95/bbl from 2008 through to 2014 - about a ten fold increase. This has led to record oil import costs for the UK economy that has help drag the country into record deficits. Fortunately oil consumption has dropped over the years - likely in large part because manufacturing has been in decline and the service industries require less oil per GDP unit than manufacturing-production. The current deficit (or oil import costs) total $25 billion - and the UK heading towards $35/bbl deficit by 2020 as oil production continues to decline and as oil prices are likely to keep rising. We have modelled in a softening of oil prices in the next 18 months since prices have dropped to $90/bbl as of 8 October.
% UK Deficit: To put this into perspective, as of April 2014 the annual deficit was £107.7 billion (which is $174 billion). Hence the oil import bill of $25 billion is approximately 14.4% of the annual deficit, no inconsiderable. This is without including the deficit from gas imports.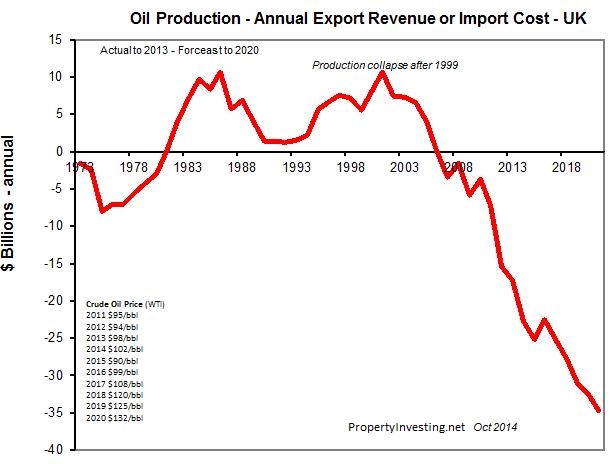 UK net annual oil revenue deficit over times as oil production has crashed - actual from 2020 through to end 2013 an forecast to 2020.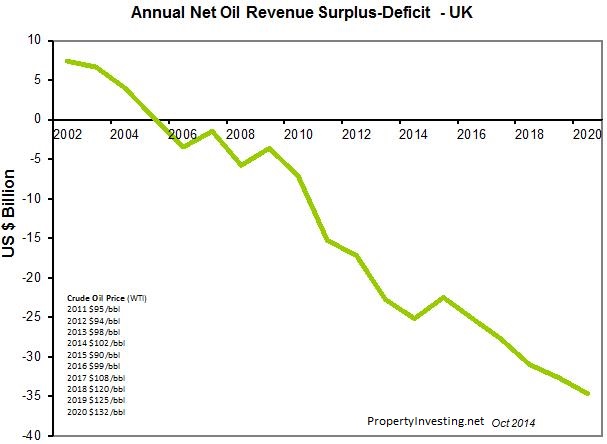 UK oil production and consumption - deficit/surplus (exports-imports) through to end 2013 and forecast to 2020.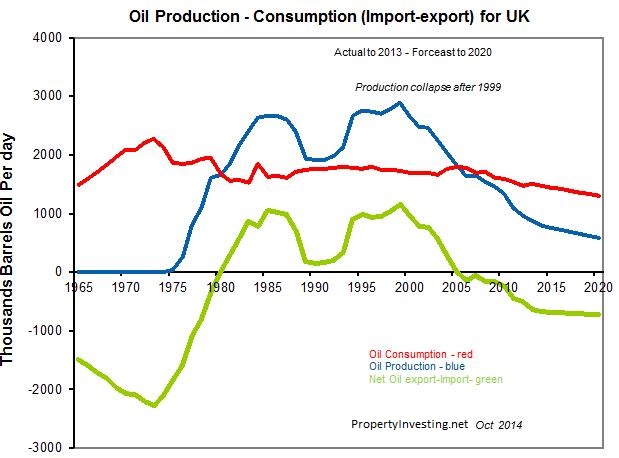 UK Oil Production Forecast, Crisis and Collapse: This chart shows the history of the UK oil production from its start in the North Sea in 1975 with its huge production increase to 2.8 million bbls/day by 1999 shortly after Labour got into power in 1997. Three successful punitive North Sea tax increase - two under Labour and one under the Tories - help precipitate a gigantic production collapse as international oil companies deserted the North Sea despite oil prices rising from $9/bbl in 1999 to $95/bbl by 2008. Successive governments seem to have "killed the goose that lay the golden egg" - as they say. We have forecast production from mid 2014 through to 2020 - probably being optimistic as the production decline is modelled to slow. However, as oil prices are likely to increase in the longer term - oil import will will almost certainly continue to rise year on year as the decline continues. As sorry story and probably the steeped decline in the world of any major oil produce that has lead to the UK going from a "Petrocurrency" nation in the period 1980 to 2002 to a net oil importer by 2005 just as oil prices skyrocketed.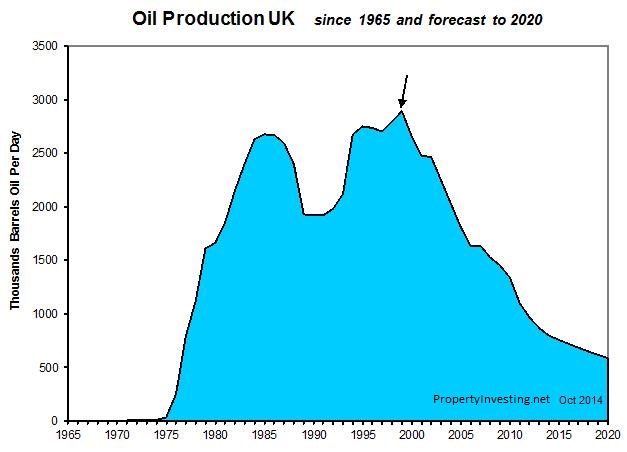 Gas Production Collapse: Regrettably the picture for gas is even worse. Treasuries have tax gas and oil in a similar way - and this has made most development sub-economic and lead to a gigantic gas production crash that started in 2001 after Gordon Brown introduced punitive taxes. The UK now imports most of its gas requirements at high costs from countries like Norway and indirectly Russia (via the Interconnector pipeline). Its little wonder gas prices are rising as the UK has to import more volumes - also via expensive LNG imports all the way from Qatar in the Middle East.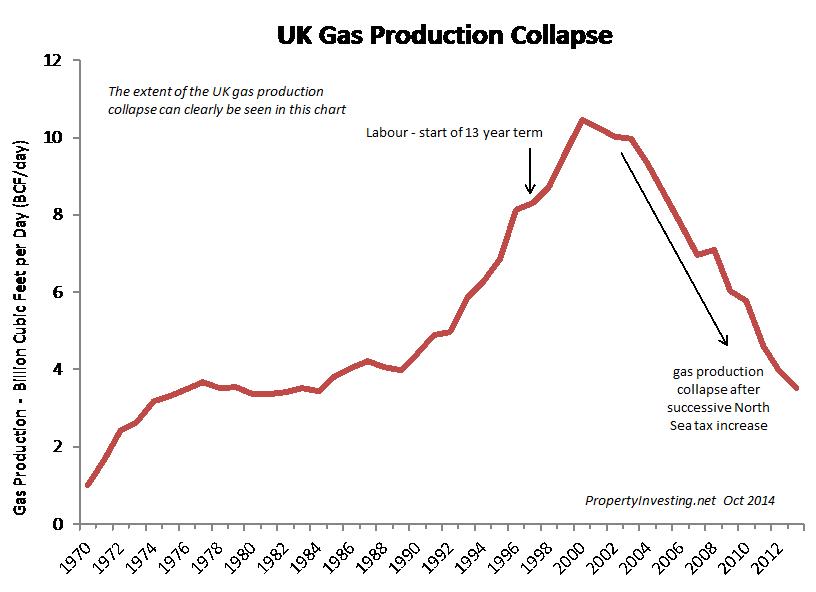 The last tax increase on North Sea operators was March 2011 - in the 12 months after this increase, oil production crashed a gigantic 23% on an annualized basis - and accelerated the already poor decline trend of -10% per year.
For property investors, this is likely to put pressure on Sterling over time, as deficits increase and oil related jobs are lost in Scotland and NE England. The softening of oil prices Oct 2014 are likely to speed the production decline as more projects are cancelled due to high taxes and poor economics. the UK oil imports now total about 550,000 bbls a day - which cost $50 million a day (at $90/bbl cost).