49: Risks to UK property prices - analysis
12-03-2005
PropertyInvesting.net
For the benefit of all PropertyInvesting.net visitors, we enclose our latest risk analysis for UK property investment. The analysis presents the likelihood that capital values will rise (green) or fall (red) versus the importance/impact of the risk. The risk in the top right quadrant are the ones with highest importance and likelihood. Therefore these are the risks which we should be most conscious of, with regard to property capital value fluctuations. What comes out of the analysis are three key risks of high likelihood to occur that can drive prices higher, and three key risks of high likelihood to occur that can drive prices lower.
Risk to higher prices (opportunities to realise value - green)
Population increase (in south of UK)
Lack of building and land
Rising employment
Risks to lower prices (threats to lower wealth and negative equity - red)
Rise in interest rates
Increase in taxes
Oil/gas price causes inflation (>3%)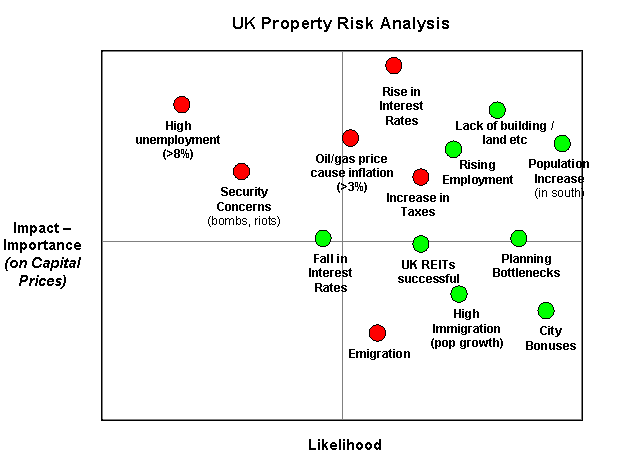 We hope this analysis is helpful in pointing you in the right direction with regard to monitoring the economic environment and indicators for these key risks.
It should be pointed out this analysis is judgemental and is the considered view of PropertyInvesting.net. It attempts to summarise the key risk areas to help focus investors on the key indicators to monitor.
Key Conclusions
Planning bottlenecks are likely to support capital value increases, as demand continues to out-strip supply. There is no evidence that the recommendation of the March 2004 Barker Report show any real signs of being promptly implemented. This lack of action will likely support prices.
Rising employment along with wage growth at considerably higher levels (2%) above inflation should support prices – employment has recently increased suggesting renewed economic vigour after a quiet summer. Monitoring employment levels is important.
Increase in population – primarily due to a combination of people living longer and immigration far out-stripping emigration will support prices, particularly in the faster expanding population areas (London, SE England, south coast, M11/M4 corridors)
Rising interest rates are the single biggest threat to capital value increases. For experienced investors, times of high interest rates are normally the best time to purchase property – since there are distressed sellers and bargains can be negotiated. Hence for property investors with large portfolios, it is prudent to keep cash in reserve in case property prices drop during high interest rate periods – thereby allowing purchase of under valued property for the medium-long term.
Oil/gas prices present a significant risk to capital value increases – if oil prices rises above $80/bbl – this would likely lead to inflation rising above 3%, interest rates increasing to counter-act, growth slowing and house prices falling. A vigilant eye on oil prices is required by property investors both in the UK and globally (remember oil acts like a tax on economies).
UK-REITs – if successful, will support property prices. However, their impact is likely only to be moderate in view of the low amount one can borrow against pension cash sums (likely 50%, hence meagre 33.3% gearing). It seems this vehicle could be good for high earning salaried people with large cash sums and lower exposure investment mentality (re: low gearing).
City bonuses of large magnitude are very likely, but their impact will be relatively small, except for London and the SE where their impact could be moderate from Dec 2005 until say April 2006. This period overlaps with the April 2006 introduction of UK-REITs – so this double positive impact should support both residential and commercial property prices in SE England in the next 6 months.
Security concerns are a key risk – these could be bomb attacks or riots in cities (similar to France). Such riots would have a very damaging impact on area affected – likely to be inner city areas which are currently being re-generated. Difficult to predict the most likely riot areas – but a review of city areas affected historically by riots is probably the most accurate reflection of the most exposed areas.
High unemployment is not considered likely though if this did happen, its impact would be large – historical reference to the early 1990s and early 1980s is testament to the impact of high unemployment on house prices. With globalisation and an increasingly competitive low-cost manufacturing (China/India) should help keep inflation down
Impact on UK Outlook
With affordability stretched, taxes increasing and the economy growing at less than 2%, its likely the risk on the upside and downside are fairly finely balanced. Our best estimate looking at all the sosio-economic data in early December 2005 is that we should expect property price increases to stagnate in December, then rise by a range 0.1-1% per month until June 2006 – then flatten and stagnate again. Price increases in London and proximal areas in the SE are likely to be the strongest. Interest rates will likely stay the same at 4.5% for the next 4 months.