About Dubai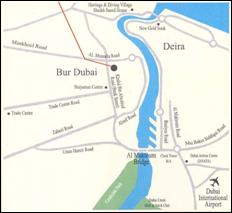 The Emirate of Dubai extends along the Arabian Gulf coast of the UAE for approximately 72 kilometres. Dubai has an area of c. 3,885 square kilometres, which is equivalent to 5 per cent of the country's total area, excluding the islands. The major part of the Dubai emirate consists of rolling sand dunes lapping the foothills of the arid Hajar Mountains in the East.
Dubai city is built along the edge of a narrow 10km long, winding creek which divides the southern section of Bur Dubai, the city's traditional heart, from the northern area of Deira.
Jebel Ali, home of a huge man-made port, has the largest free-trade zone in Arabia housing an ever growing list of international corporations which use the zone for both manufacturing and as a redistribution point.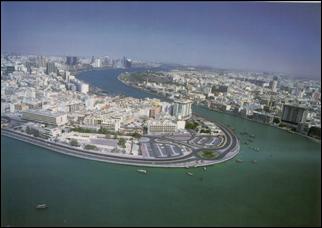 Inland, the mountain resort town of Hatta is an extremely attractive location. Adjacent to a lake reservoir, the Hatta Fort Hotel is set in extensive parkland and provides a perfect base for exploring the nearby wadis and mountains, which extend into Omani territory.
Dubai International Airport is second only to Tokyo in the number of daily transit passengers it handles and second only to Seattle as a sea-air hub. Its harbour is the most important port in the Middle East and is ranked among the world's top 15 in terms of container throughput.
Considered the Middle East's premier and busiest airport, in 2003, a total of 18 million passengers passed through the airport registering a 13% growth over 2002. The ACI traffic statistics have ranked Dubai International Airport as one of the fastest growing airport in the world.
Anticipating the travel demands of the 21st century, the Dubai Department of Civil Aviation commenced a US$540 million expansion program in 1997 which was completed with the opening of the Sheikh Rashid Terminal in 2000.
Dubai International Airport at present has the capacity to handle 22 million passengers annually. However, according to projections, 60 million passengers are expected to use Dubai International Airport by 2010. With this in mind, the Department of Civil Aviation began the 2nd phase of expansion costing US$ 4.1bn in the first quarter of 2002. The expansion is scheduled to be completed by 2006.
History and Population
Modern Dubai is the product of the past 20 years of intensive development. Prior to that, Dubai was a small trading port, clustered around the mouth of the Creek.
It had grown gradually from a fishing village inhabited in the 18th century by members of the Bani Yas tribe. Its origins, however, go back into the far more distant past. The town's museum displays a rich collection of objects found in graves of the first millennium BC at nearby Al Qusais, while a caravan station of the sixth century AD was excavated in the expatriate suburb of Jumeirah.
Beginning in 1820, Great Britain entered into treaties with various leaders in the area out of a desire to protect its ships in the Gulf and the Indian Ocean. In addition, Britain was allowed to handle foreign relations for the area known as "Trucial Oman" or "the Trucial States" because of the Perpetual Maritime Truce which the Arab rulers signed with the British in 1853. The United Arab Emirates became fully independent on 2 December 1971, although Ras Al Khaimah did not join until 1972.
By the turn of the 20th century, Dubai was a sufficiently prosperous port to attract settlers from Iran, India and Baluchistan, while the souk on Deira side was thought to be the largest on the coast, with some 350 shops. The facilities for trade and free enterprise were enough to make Dubai a natural haven for merchants who left Lingah, on the Persian coast, after the introduction of high customs' dues there in 1902. These people were mostly of distant Arab origin and Sunni, unlike most Persians, and naturally looked across to the Arab shore of the Gulf finally making their homes in Dubai.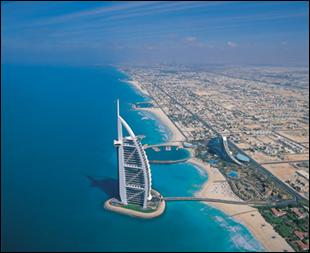 Meanwhile a flourishing Indian population had also settled in Dubai and was particularly active in the shops and alleys of the souk. The cosmopolitan atmosphere and air of tolerance began to attract other foreigners too: by the 1930s, nearly a quarter of the 20,000 population was foreign, including 2,000 Persians, 1,000 Baluchis, many Indians and substantial communities from Bahrain, Kuwait and the Hasa province in eastern South Arabia. Some years later the British also made it their centre on the coast, establishing a political agency in 1954.
The population has increased tenfold since the 1960s to over a million people and now over 400 hotels accommodate the ex-pat workers and tourists who help run the economy. Indeed, only 22% of the emirate's population, at the last count, were actually ethnically Emirati in a population mixture that has to be one of the worlds most cosmopolitan. This diversity discourages any real ethnic tensions and while war and the threat of war might simmer further north, it creates far less tension in Dubai than many might imagine it would. There are large groups of Indians, Pakistanis, Iranians and Southeast Asians. The population is, however, 95% Muslim. Arabic is of course the official language but English is widely spoken as are Urdu, Malayalam and from the Philippines, Tagalog.
Government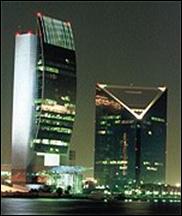 There are no elections or legal political parties in the UAE. Power rests with the seven hereditary sheikhs - also known as emirs, and hence the area ruled by an emir is known as an Emirate - who control the seven traditional sheikhdoms ( Abu Dhabi, Dubai, Sharjah, Ajman, Umm Al Qaiwain, Ras Al Khaimah and Fujairah - each Emirate is named after its principal town) and choose a president from among themselves. Since 1971, the ruler of Abu Dhabi, Sheikh Zayed bin Sultan Al Nahayan, has been President. After the passing away of Sheikh Zayed in early November 2004, Sheikh Khalifa bin Zayed Al Nahayan was appointed President of the Emirates.
The parliament is known as the Federal National Council (FNC). It was established on 13th February 1972 and is considered a landmark in the country's constitutional and legislative process. The FNC advises the Cabinet and the Supreme Council but cannot overrule them. According to the constitution, the FNC consists of 40 members who are drawn proportionately from each of the seven emirates. Each ruler appoints the members for his emirate.
The UAE was a founding member of the Gulf Cooperation Council (GCC) created at a summit conference in Abu Dhabi in 1981. The members of the GCC include Saudi Arabia, Kuwait, Bahrain, Qatar, the Sultanate of Oman as well as the UAE. The country is also a member of the League of Arab States, the Islamic Conference Organization, and the United Nations.
On 1st January 2003, the unified customs area of the Gulf Co-operation Council came into effect, covering Kuwait, Qatar, Oman, Saudi Arabia, Bahrain, and the United Arab Emirates (including Dubai).
Negotiations continue for a joint EU/GCC (Gulf Cooperation Council) customs union, although the original target date of 2005 now seems unachievable. After the approval of the EU negotiating directives in 2002, five rounds took place in 2002 and two in 2003. The last round took place from 19-21 January 2004, in Riyadh. Offers have been exchanged on goods and negotiations are currently taking place on the dismantling modalities and goods subject thereto. Discussion on services has already started. The EU and the GCC exchanged initial requests at the last meeting, in January 2004.
Economy and Currency
Petroleum dominates the economy of the UAE. The immense wealth has been invested in capital improvements and social services in all seven of the emirates. Petroleum production is centred in Abu Dhabi and Dubai. Industrial development is essentially petroleum related and is limited by a lack of trained personnel and raw materials.
The UAE GDP grew by 12.3 per cent in 2003 to a record USD79.8bn, according to Ministry of Planning figures. Oil contributed 38 per cent, up from 34 per cent in 2002. Minister of Planning Ahmed Al Mualla forecast 6.5 per cent growth in 2004 to USD85bn.
The emirate of Dubai is strategically located between Africa and the Middle East and between the Far East and Europe making it a gateway to over 1.5 billion consumers located in countries surrounding the Red Sea and the Gulf. It has a superb infrastructure with the consequence that it has become a key link in the global transport and distribution system.
Dubai is served by more than 170 shipping lines and more than 86 airlines offering links to over 100 cities worldwide. The strong shipping and transportation sector is composed of most of the leading regional and international freight forwarders, insurers and shipping agents. It has a rapidly developing high quality manufacturing sector and a buoyant and prosperous domestic market. In a nutshell, its infrastructure and services match the highest international standards.
Despite a relatively small population, Dubai's total imports in 1994 exceeded $14 billion. The reason is that Dubai is the major re-export centre for the region. The Emirate's non-oil imports expanded by 200% between 1986 and 1994. Many of the economies of the region served by Dubai are still at a relatively early stage of development, so there is plenty of long term scope for diversification and expansion in the future. Another important consideration is Dubai's rapidly developing role as a supplier to such emerging markets as India, the CIS, Central Asia and South Africa.
There are no foreign exchange controls, quotas or trade barriers. Import duties are extremely low, and many products are exempt. The UAE Dirham is freely convertible and is linked to the US dollar, the currency in which oil revenues are paid. The current exchange rate is Dh 3.675 = US$ 1 and no revaluation has occurred since 1977.
In 2003, the government of Dubai set a precedent by launching the country's first ever government bond issue worth Dh1.5 billion ($400 million). Dealings in the bond, which are being traded and cleared on the Dubai Financial Market (see below), are expected to commence in June.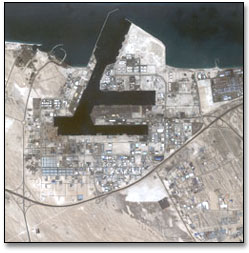 Following the success of the Jebel Ali free zone, the Government has developed Dubai Investment Park, also known as Dubai Internet City (DIC), which has a highly developed technical infrastructure. The first phase of the project was completed in 2002. Hundreds of international companies have already taken out licenses to locate in DIC and e-commerce is rapidly developing in Dubai. The DIC occupies 3,200 hectares in the South of Dubai, near the Jebel Ali Free Zone. When completed, the DIP will offer state of the art facilities and sites for manufacturing, offices, housing, and academic, research, distributions and logistics institutions. According to the project's Managing Director, 35% of the space has been earmarked for industries, 20% for residential housing, 40% for infrastructure, landscaping, and recreational facilities, with the remainder to be allocated to regional offices, headquarters, showrooms, and business centres.
During 2002, Dubai developed plans for the Dubai International Financial Centre (DIFC), intended to be a major financial entrepot. The DIFC intends to fill a significant gap in the market for international Shariah banking, fund management and life assurance. One of its biggest selling points is that it will appeal to both Arab money looking for a local centre of excellence and Western cash seeking sophistication and safety. The proposed regulatory framework was published for industry consultation in June, 2003. Philip Thorpe, chief executive of the DIFC Regulatory Authority, explained that: 'We have made good use of our freedom to create a single, logical framework - in contrast to older-established jurisdictions, who often have to make (do) and mend within existing frameworks which may gradually become more complex and less relevant.'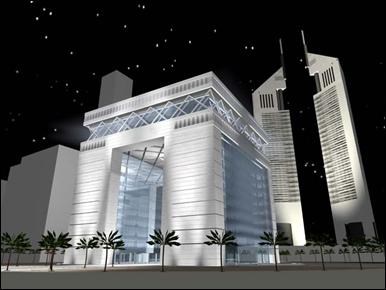 Deutsche Bank, HSBC and Standard Chartered Bank are among dozens of international financial sector firms who have already signed up to be amongst the first residents of DIFC. More than 90 privatisations are expected in the DIFC's area, (from Cairo to Calcutta and Almati to Sudan), fuelling plans for developing a stock market over the next few years.
It is hoped that when the DIFC starts operations, it will double (to about 20%) the financial sector's contribution to the GDP of the United Arab Emirates by 2010.
In July 2003, the Federal Cabinet of the United Arab Emirates (UAE) approved a Federal Decree allowing the Dubai International Financial Centre (DIFC) a large degree of sovereignty. The approval of the Decree, which allows for Financial Free Zones to be established in the UAE, marks a significant step forward for the Centre which hosted a summit between the World Bank and the IMF in September 2003.
In January 2004, the Dubai Financial Services Authority (DFSA) announced 12 new laws relating to operations within the Dubai International Finance Centre (DIFC), providing a wide-ranging corporate legal envelope. The laws will go into effect after a short consultation period.
In July 2004, Sheikh Mohammed bin Rashid Al Maktoum acted decisively to guarantee the independence of the Dubai Financial Services Authority (DFSA), giving his personal commitment to the independence of the DFSA and declared that this will be formally enshrined in the Dubai Law which will signal the launch of the DIFC. Dr Habib Al Mulla, Chairman of the DFSA Regulatory Council, said: "The way is now clear for the DIFC when it launches to become the powerful engine of business and employment creation that our region needs."
Entry and Residence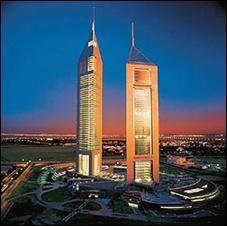 The Naturalization and Immigration Department at the Ministry of Interior is the only administrative authority responsible for issuing visas to foreigners wishing to enter the UAE. The visas issued by the Department differ in accordance with the purpose of the visit of the foreign visitor. Citizens of GCC countries (Gulf Cooperation Council: Saudi Arabia, Kuwait, Bahrain, Qatar and the Sultanate of Oman) and British nationals with the right of abode in the UK do not need visas to enter the UAE. GCC nationals can stay more or less as long as they like. Britons can stay for a month and can then apply for a visa for a further two months.
In June, 2003, the government announced that it planned to allow expatriate residents to move freely among GCC countries by the end of the year, something which will in any case become possible with the establishment of the GCC Common Market scheduled for 2005.
In 2003, Dubai, and the United Arab Emirates (UAE), of which it forms a part, started making a determined push to increase the participation of locals in the work-force under a policy known as 'emiratisation'. The UAE said it was considering 'intervention policies' that will secure the interests of employers and ensure the job stability of UAE nationals in the private sector. No hard and fast legislation has emerged, however, other than some quota rules in the financial sector, and it turns out that Dubai employers have been too pragmatic to be much influenced by government suasions.
Under-Secretary for the Ministry of Labour and Social Affairs Dr Khalid Al Khazraji confirmed there were no plans to enforce a job emiratisation quota on the private sector or to restrict certain jobs to UAE nationals, saying: "The private sector is already cooperating and we should not jump to ban the recruitment of expatriate employees for certain jobs or add quotas to the private sector". Dr Al Khazraji said the ministry had reached several agreements with the private sector for emiratisation and there was no current need for quotas such as the ones implemented in the insurance and banking sectors.
Dr Omar bin Sulaiman, CEO of Dubai Internet City, noted that while the Dubai Internet City is devoted to emiratisation, it does not mean that all UAE nationals will be guaranteed a job there - only those who are dedicated and hard-working will be absorbed. "Nationals must not take for granted that jobs are waiting for them at DIC, which will scour the market to hire the most dedicated individuals irrespective of nationality. Dubai is a cosmopolitan city and we will look at all individuals of various nationalities to recruit the best. You will secure a job not because you are a citizen but because you are a hard-working citizen."
In June 2004, the Dubai government unveiled plans to enshrine in law rules governing foreign freehold ownership of property. Deputy director general of the Dubai Chamber of Commerce and Industry (DCCI), Ahmed Abdul Rahman Al Banna explained: "At present there is no federal law to govern foreign freehold ownership of property in Dubai," although he added that as an interim measure "major property developers have got together to offer guarantees to investors on freehold ownership, which has been endorsed by the Dubai government."
Business Environment
Overseas businessmen will find that their counterparts combine local and regional expertise with a full understanding of international business practices. English ranks on a par with Arabic as the main business language and there are plenty of foreign banks, lawyers and other advisors - as well as the Department of Tourism and Commerce Marketing, The Economic Department, Chamber of Commerce and Industry and Jebel Ali Free Zone Authority to help those wishing to enter the market.
The emirate's transport infrastructure is unrivalled in the region in terms of size, facilities and efficiency. Its ports are served by more than 100 shipping lines and the airport by nearly 100 airlines.
The postal system in the UAE is very modern and the post offices are among the most efficient in the Gulf. Between the UAE and Europe or the USA, mail takes about ten days. To Australia, mail takes about eight to ten days. There is an excellent telephone system and you can phone anywhere in the world from the most remote areas. Throughout the country there are telephone offices which are equipped to send and receive fax, telex and telegraph messages.
There is no corporate tax in Dubai. The only exceptions to this are for oil producing companies and branches of foreign banks. Likewise, there are no personal taxes. Direct taxation is against the traditions of the UAE and it is highly unlikely that it will be introduced in the near future.
Trade practices in Dubai are in line with normal international standards. All correspondence should be in Arabic or English. As a sophisticated market, full technical specifications should be provided with CIF Dubai prices and Middle East references. Payments are normally effected by letter of credit.
The UAE is a signatory of the General Agreement on Tariffs and Trade (GATT).
The registration of accountants and auditors in the UAE is governed by Federal Law No. 9 of 1975. There is no local professional body of accountants but many of the large international accountancy firms have offices in Dubai. Under Federal Law No.13 of 1988, as amended, all businesses are required to keep financial records but current legislation is not specific as to the nature of such records.
There is a comprehensive framework of legislation to ensure that business in the UAE is conducted in a fair and orderly manner. There are laws dealing with commercial transactions, intellectual property, labour and other aspects of business life.
Dubai has many local and international law firms willing to advise foreign business organisations on legal matters. Dubai has civil, criminal and Shariah (Islamic) Courts of first instance. All court decisions may be brought to the Dubai Court of Appeal. Thereafter, a final appeal may be made to the Dubai Court of Cassation.
The Civil Court (as opposed to the Shariah court) has jurisdiction over labour, civil and commercial transactions, as well as personal matters (e.g. wills, divorces etc) relating to non-Muslims. The language of the Courts is Arabic and advocates admitted to plead are Arab nationals.
Dubai Stock Exchange
Dubai stock market trading began in March 2000 in the Dubai Financial Market (DFM); previously there had been a lively over-the-counter market which still continues other than for the 12 mostly finance sector stocks quoted on the Market.
DFM operates as a secondary market for trading of securities issued by public shareholding companies, bonds issued by the Federal Government or any of the Local Governments and public institutions in the country, investment units issued by local investment funds and any other financial instruments, local or foreign, which are accepted by the Market. Located in the Dubai World Trade Centre, the Market is regulated by the Emirates Securities and Commodities Market Authority (ESCA). Its rules ban insider trading and enforce transparency rules and release of information guidelines.
The fall of Saddam Hussein in Iraq led to a major influx of investment in the stock markets of the United Arab Emirates, including the Dubai Financial Market, with market capitalisation jumping significantly to reach a level of Dh4.5 billion ($1.23 billion), up 17%, by late 2003.
Abdullah Salim Al Turifi, Executive Director of ESCA, said: "Adoption of stringent regulations and corporate governance, transparency of the companies' half yearly and quarterly profits, restoration of investors' confidence in the stock market regulations and absence of alternative investments opportunities are some of the reasons that helped in local market growth in the last nine months."
DFM has an electronic share registry, order-driven trading and a clearing system that can support six trading floors and link more than 3,000 terminals. Share tickers are displayed on TV, the Internet, Reuters, Bridge and Teletext. Trading hours are divided into a pre-opening session between 10.00-10.30am and a main session from 10.30am to 12.30pm, Saturday through Thursday.
About 16 brokers are allowed to trade via DFM. Each broker is required to have $1.36 million paid-up capital and a $2.72 million bank guarantee. A 0.1 per cent commission per deal is levied by DFM and the Clearing House. The maximum commission for brokers is 0.3 per cent.
According to the ESCA, in March, 2003, over-the-counter (OTC) trading of shares in the UAE may end soon and licensed stock brokers could set up a formal association. ESCA said it planned invite companies whose shares are currently traded across the OTC for talks to get their shares listed on the formal stock market. "Our aim is to get all companies to list their shares on the stock market," said Abdullah S. Alturifi, chief executive.
In March, 2004, the UAE's stock market regulator stepped up the region's campaign against money laundering and terrorist financing. In a circular sent to the Abu Dhabi and Dubai stock exchanges, and to 25 stock-broking firms in the United Arab Emirates, the UAE Securities and Commodities Authority announced that: "You are requested to verify all information and documents when accepting cash or opening accounts for clients." A UAE-based broker explained that: "You can say it is an official umbrella. Before, we did not have written instruction concerning money laundering. Most of us had refused to accept big amounts of cash before because we wanted to make sure the money is clean and legal. But now the process is more organised and clear as we have official instructions in this respect. You can say that we are now part of the campaign launched by the UAE against money laundering."
Real Estate Market
Whatever you might have heard about Dubai's over-the-top property boom, witnessing it still can be a shock.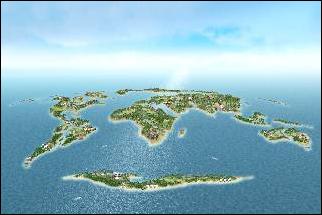 Stand on the top floor of the world's tallest hotel, the landmark Burj Al Arab - which is as high as the Eiffel Tower and has the world's tallest atrium, at 180 meters, or 590 feet - and look out to sea. You can see Palm Jumeirah and the World taking shape, two vast offshore residential projects that will be visible from space when they are complete. (Most of Palm Jumeirah has been sold; the World has 250 man-made islands for sale at $7 million to $9 million each).
Look inland, across what was desert two years ago, and cranes are everywhere in this portion of the United Arab Emirates. Madinat Jumeirah, a vast hotel-restaurant complex, is finished. But work is continuing on other big projects.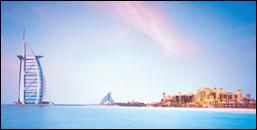 There is Burj Dubai, which at 800 meters will be the world's tallest tower linked to the world's biggest shopping mall. The Dubai International Financial Center, a 45-hectare, or 110-acre, commercial-cum-residential project, is intended to realize this city's long-held ambition to be the Gulf's financial heart. Then there is Dubailand, a huge theme park to be completed in 2010.
Dubai already has spread north into the neighbouring emirate, Sharjah, and is growing southward, through the upscale seaside suburb of Jumeirah toward Jebel Ali, which is 25 kilometres or 15 miles away. Approval was given recently for a $3.9 billion light-rail project that will connect Jebel Ali to Sharjah, a service that the authorities hope will ease Dubai's burgeoning traffic problem.
Ever since the summer of 2002 when Dubai allowed investors of any nationality to come in on select property developments, the face of Dubai has never been the same. The vibrancy in Dubai's property market can be seen from the fact that projects worth over US$ 30 billion are currently under development in Dubai. Further, US$5.5 billion of new construction related projects have been tendered since the beginning of 2004, and between 2004 and 2010, the total investment in the real estate sector will be in the range of US$ 50 billion.
Even businesses in the real estate sector are struggling to keep up with the sheer pace of developments in Dubai. As soon as properties are released - and this often happens before they are completed - they get snapped up and are often sold on at a significant premium. Those who could have bought Dubai property two years ago, and did not are already kicking themselves.
Villas on The Palm Jumeirah have doubled since the launch and buyers have enjoyed tremendous capital gains with a down payment of only 10%. Initial buyers of The Meadows villas have enjoyed 30% to 50% price gains with just a 20% down payment.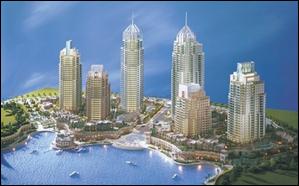 Among the recent residential additions are the Dubai Marina, a $10 billion project that features luxury homes for 150,000 residents, and the equally luxurious Emirates Hills.
At Emirates Hills, for example, two-bedroom Springs Town Houses measuring 1,690 square feet, or 150 square meters, were sold by the developer in 2002 for about AED 500,000, or $136,000; they now exchange hands for AED 700,000.
Prices for larger houses in the complex show the same trend. Four-bedroom, 3,578-square-foot villas and six-bedroom, 4,924-square-foot villas were sold for AED 1.23 million and AED 1.75 million respectively. Now, if they are available, they go for AED 1.7 million and AED 2.5 million.
In September 2004, 100 new residences were released at the 2,000-unit golf- and equestrian-themed Arabian Ranches development. Hundreds of would-be buyers lined up in heat of 45 degrees Celsius, their deposit money in hand. Most of the estate's five-bedroom, 2,456-square-foot houses already have sold, with many now fetching as much as 30% more than their original selling price of AED 1.55 million.
To further enhance the appeal of Dubai as the top tourist destination in the world, Dubai is forging ahead with a US$5bn project aimed to give the Middle East its own version of Disneyland's wholesome family entertainment.
The "Dubailand" theme park will be built on a two billion square feet (185 million square metre) swathe of desert and will comprise 45 different developments with labels such as Aviation World, Motor Racing World, Arabian Theme Park, Pharaohs Theme Park, Snow World and Dinosaur World.
The estimated cost of the project is AED 18bn (US$5bn) with the Dubai government already contributing AED 2.6bn (US$700m) for infrastructure work, while the remaining amount will be raised from investors both inside and outside the UAE.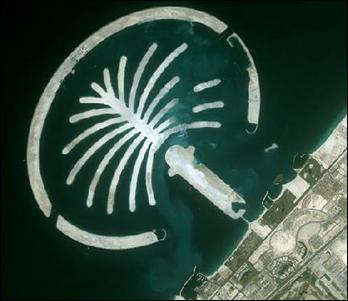 Supply and demand
The Dubai property sector is booming and will continue to do so. Most new developments are now sold out. Some of those who have not yet bought property hope that things will slow down. But all evidence suggests to the contrary. Local, regional and global interest in buying Dubai property is getting stronger not weaker. There is a new wave of local buyers, who have been hanging back and are now frightened of missing out.
This massive demand stems from the fact that Dubai is attracting young, upwardly mobile entrepreneurs, businessmen and professionals, who are increasingly looking to set up businesses or homes in this city.
Dubai is one of the few cities in the world that embraces nearly 170 nationalities having different cultures, languages and cuisines. Four key factors are driving the real estate boom:
First, the historically low level of international interest rates has cut debt servicing costs and allow-ed companies and households to borrow more.

Second, there is a lack of obvious investment opportunities. The end of the 1990s equity bull market and the low level of current bond yields have led to an unusual amount of uncertainty over future returns from traditional investments. Real estate tends to offer a predictable income and the possibility of capital gains, and has performed well over the long term.

Third, global liquidity is high. There is a lot of cash chasing few assets.

Lastly, the well-paid professional workforce employed in Dubai is no longer seeking to go back some day. They have made Dubai their home.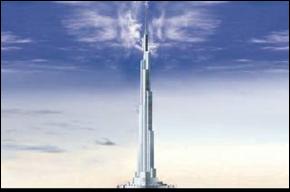 Interest from other Gulf countries has also been considerable, with oil-rich house hunters and investors from Kuwait and Saudi Arabia, in particular, attracted by the emirate's relaxed lifestyle. Buyers from India and Pakistan and, to a lesser extent, Britain and the Continent have also been involved.
Westerners, attracted by Dubai's year-round sunny climate, are most interested in the beachfront property in the Jumeirah district, while buyers from the Indian subcontinent tend to focus on areas closer to Dubai's historic centre, Deira and Bur Dubai.
All this sales activity has had an effect on rentals, too, with prices rising so sharply that some less well-paid expatriates have moved to Sharjah, even though it bans alcohol and the rush-hour drive into Dubai takes more than an hour.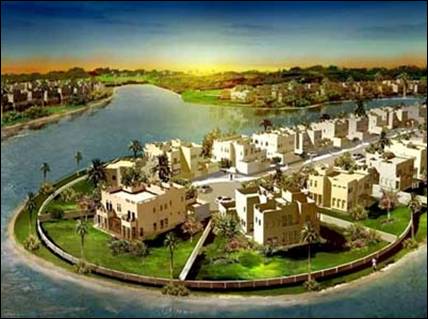 First, there is more supply coming on stream, though not enough yet to keep up with the expansion of Dubai. Secondly, there is no shortage of investors with cash and finance for would-be buyers at affordable rates.

House prices are also still at very reasonable levels by international standards. The Meadows villas in Phase Four, for instance, presently sell for around $143 per square foot compared with $91 per square foot on handover. A similar home in a top location in London would be around ten times as much.

Now the 'wait-and-see' potential buyer has already missed out. The argument for waiting longer only holds if there is a market correction coming in the near future. Otherwise the potential upside will more than compensate for a downturn, when it happens.
Outlook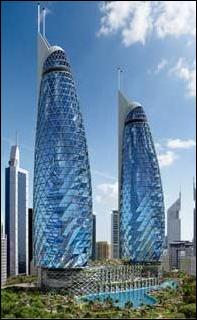 The arrival of some big speculators, the like of whom buy up 250 villas in one go, has spooked some potential average investors in Dubai property. However, the investment case for the average buyer who wants to live in Dubai for five to 10 years and then either sell-up or rent-out their property is still very much intact.

The basic reason is that Dubai property remains inexpensive compared to international standards, and that the alternative of renting for five to 10 years is a complete waste of money.

'Why rent when you can own?' was the original Emaar advertising slogan, and this basic argument remains. For even if property prices fell by half over five or 10 years, you would still be better off than renting the same property for that period - because that would give no return whatsoever.

But what if you only plan to stay in Dubai for two to three years? Again if you can obtain 70% finance then it is a no-brainer. Buy on 15-year finance and then either sell or hold on to your investment when you leave.

Now with rentals at present levels you should easily cover your mortgage payments. This means that you have effectively created a savings policy with zero annual contributions in a tax-free country.
The logic that underpins this option for the average investor is unshakeable. The price of villas and apartments would have to double to even begin to undermine this investment case, or rents would have to plunge, or interest rates rocket. None of these scenarios seems likely.

Speculators, of course, are also positioning themselves on the back of this argument. Their downside risk is much higher because they are often taking a short-term and not a long-term view of financing.

For them a downturn in the Dubai property market at the wrong time would mean that instead of funding a 20% deposit on a number of properties, and quickly selling them on, they would have to pay up the 100% which they might not be able to afford or borrow at a time when prices were lower than what they paid.

It is very different for the average buyer taking the long-term view with a 10-15 year mortgage from Amlak Finance, Tamweel or HSBC. Then the ups and downs of the market can be ignored and housing treated as an engine for saving money on rentals and rolling up capital gains.
Some people still argue that the legal position of ownership is not clear enough yet in Dubai. It is true, an expatriate buyer does not get a document with a legal title, but there is nothing to prevent you buying, selling or letting your property, and thousands already do. Possession is nine-tenths of the law, and a legal title is more about what you can do rather than the piece of paper in your hand.
Real estate agents expect the law to change soon - most buyers in such prestige developments as Palm Jumeirah and the Dubai Marina are Westerners - but a change is strongly opposed by Abu Dhabi, the oil-rich emirate that controls the United Arab Emirates' purse strings and what goes in the federal Parliament.
"Correction" has become a favourite catch-all phrase for all those who believe that the market is headed for a "softening", another favourite expression.
If one takes the reported prices achieved for the top floors of the Burj Dubai residences as AED 1,284.50 ($350) per square foot, it is cheaper than the highest prices paid in every city in our survey, excluding Moscow at AED 1,101 ($300) per square foot.
Mumbai is at AED 1,835 per square foot ($500), Geneva at AED 3,670 ($1,000), Singapore AED 4,037 ($1,100), Paris AED 4,587.5 ($1,250), Tokyo and New York AED 7,340 ($2,000), and London and Hong Kong AED 11,010 ($3,000).
In this context, while Dubai cannot be considered as mature as any of the cities listed above, prices being achieved are not out of the "ball park". Look at this another way, if you accept that Dubai house prices are very reasonable by world standards, then you would also have to accept that buying a home anywhere else also makes no sense whatsoever. Perhaps real estate is about to trip into a universal bear market but most people have a good experience with property investment over time.

For capital gains on a property held over a 10-15 year period are almost certain, unless inflation disappears from the global financial system. This again serves the long-term investor well, while short-term speculators can only hope it happens at a time to benefit them. With the outlook for equities and bonds not too bright for 2005, it is hardly surprising that many choose bricks-and-mortar as a solid investment.
Investment Report by: Investors Provident - specialising in providing off-plan investment properties in various parts of the world including Dubai, Spain, France, Portugal, Cyprus, Australia and the UK.
Investors Provident, 14 George Street, Longworth House, St Albans, Hertfordshire, AL3 4ER, United Kingdom. t:+44 (0) 870 1999 859 f:+44 (0) 870 1991 858