The Ripple Effect: Comparison of Northern towns house prices
The graphs below show how house prices have risen in the neighbouring Northern towns of Leeds and Skipton since 1995. Huddersfield is now beginning noticeably to rise, and the signs are that Bradford will soon follow suit.
Headingley (Leeds University)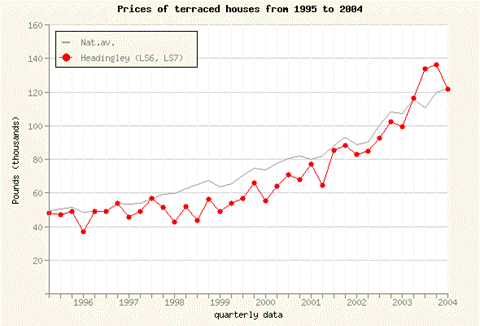 Skipton (nice market town)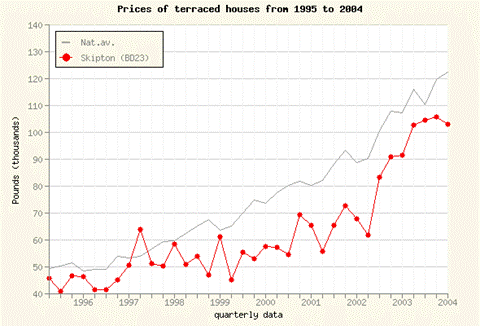 Huddersfield (regenerating town)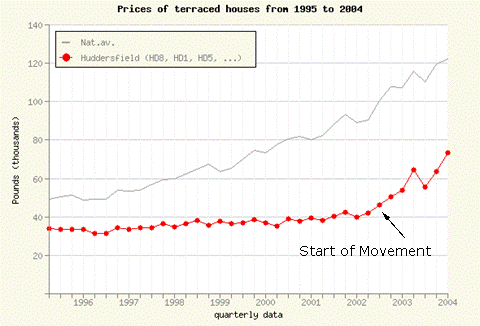 Bradford BD5 (Bradford University)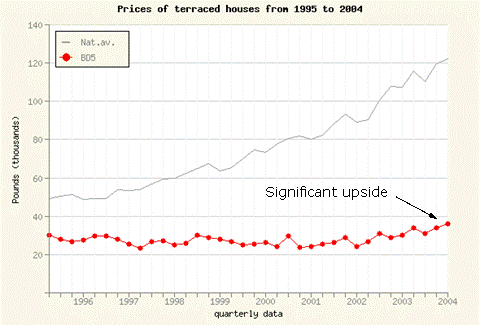 Insights on Bradford Property prices
Bradford BD5 is a similar University area to Leeds Headingley (LS6, LS7) – price are three times less
Increase in student numbers and redevelopment of Bradford city centre and tourism should support price increases – population stable, increasing in centre
Council seem to be well coordinated with tourism and regeneration
Ripple effect probably just beginning – started in Leeds, spread to Skipton, started recently in Huddersfield, likely now to begin rapid rise in Bradford
Early entry important – to maximise capital gains
Bradford prices were depressed because of Mannington riots media coverage – memories are fading of this event, improving law and order and regeneration helping (suburb well away from centre of city)
Best options close to Interchange station for rail to Leeds and close to city centre (threatre/night life) and University (BD5/BD7)
Prices started moving up quickly 2-3 months ago at about 2-3% per month
Shouldn't we see a significant increase in prices in the next two years?