Property Investment - Pas de Calais, France - French Property Investment Opportunity Related to the Channel Tunnel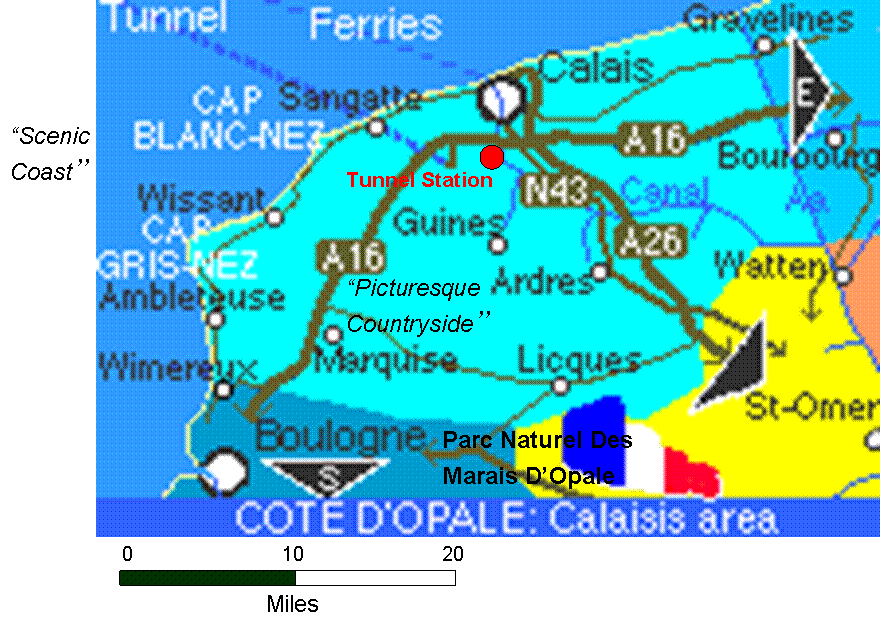 The completion of the high speed channel tunnel rail link from Calais/Folkestone to London in 2007 will allow people to commute from NE France to London St Pancras in some 70 minutes. Living in NE France and working in the UK will at last be a realistic option.
Many wealthy UK city workers aspire to own land and a country home in the UK – however, land and such properties within commuting distance to London are desperately short supply and prices have risen dramatically in the last five years, pricing many people out of the market. There are about ten purchasers chasing each property and agents have waiting lists for such properties. However, there is another option. That is to buy a small-holding in the Calais area of NE France and commute to London, St Pancras on the new high speed link from 2007. Properties with say 5-10 acres cans still be purchased for as little as 50,000 to 100,000 pounds, though prices are rising at about 20% a year and should continue to do so or at higher rates leading up to 2007. I visited the area in April 2004 and enclose a brief property investment report below.
The most picturesque coastal area is between Sandgate (8 miles west of Calais) and some 4 miles north of Boulogne-sur-Mer. This coastal area has many fine sandy beaches, high cliffs, and some magnificent undulating to sometimes steep hills. Sandgate is an average sea-side resort but benefits from its proximity to Calais, the train stations, schools and shops. Escalles is a large historic village with good restaurants and hotels. Wissant further south is more of a beach resort, popular in the summer but relatively undeveloped. Wimereaux, close to Boulogne, is more of a mainstream seaside resort, fairly upmarket with a new golf course development on the outskirts. The promontories of Cap Gris-Nez and Cap Blanc-Nez offer fabulous views along the coast and are popular areas for cliff walks.
Moving inland from the coast, the countryside is picturesque with rolling hills, many woods, forests with most farmland given over to arable and pasture. There are many villages with quite historic houses and churches – examples include Rety, Hardinghen, Wierre-Effroy. Further east is the Parc Des Caps Naturel et Marais D'Opale, a national park, and north towards Calais the Foret de Guines, a picturesque forested area south of Guines. The road leading from Guines northwards to Calais has many fine houses on the canal and is only 10 minutes drive to Calais. Most of the coastal and country areas are between 10 minutes and 50 minutes drive to Calais International Station – traffic jams are rare and the A16 cuts through he area allowing fast access to Calais and Boulogne.
Calais itself is a fairly non-descript place with a small though historic centre and a quite nice though flat sandy beach with dunes to the north-west of the town (Bieriot-Plage, complete with many desirable beach huts). Shopping at the hypermarkets is what Calais is famous for, and there is an International School.
East and south from Calais is a flat area of farmland, well served by the motorway and with easy access to the port, station and shops. There are many quite nice villages on this lowland strip all the way to the Belgium border. Gravelines closer to the Belgium border is rather industrial although it also has some history to the town.
In summary, the area is well worth considering if you are interested in:
Low price farmhouse and small-holdings
Proximity by rail to London (post 2007)
Investment potential for prices to rise
Picturesque scenery (it rather reminds me of Sussex)
Nice sandy beaches and dunes
Pleasant coastal scenery
French culture
Good communications to UK, Paris, Lille and Brussels
If you are telecommuting, make sure there is access to Broadband in the location you are considering. Also, make sure you employ a reputable solicitor for the conveyancing. You also need to look at all the practical aspects of living in such an environment, e.g.
What are realistic commuting times?
How far is a good school (has it got a waiting list)?
Do you speak French – a must if you need work doing on a French house and live there permanently?
Would you be happy in a rural area, away from UK city culture?
Would you be close enough to your family and friends – is it easy to visit them?
Have you got the energy and enthusiasm to live on a small-holding or farm – doing the maintenance and looking after the land? Could you do this into old age – what is your exit strategy into senior retirement?
The weather in Calais is similar to the weather in Kent – could you manage living in a rural French community in the cold, dark and damp winter months?
If you are desperate to own a farm for a low price and do not mind commuting to London (70 minutes from 2007) – the area could be just the place to settle. If you happen to work for a European company that operates from Brussels, London and Paris (and Lille?), this is a very central location with low property prices.
The final comment I have is, farmhouses in this area seem to sell at five times lower prices for similar types of property in Kent, so I cannot help thinking they are a good investment within the next few years as the baby-boomers aspire to own land and a small-holding for semi-retirement and employees start working more virtually.
Websites that offer property for sale in Pas de Calais: